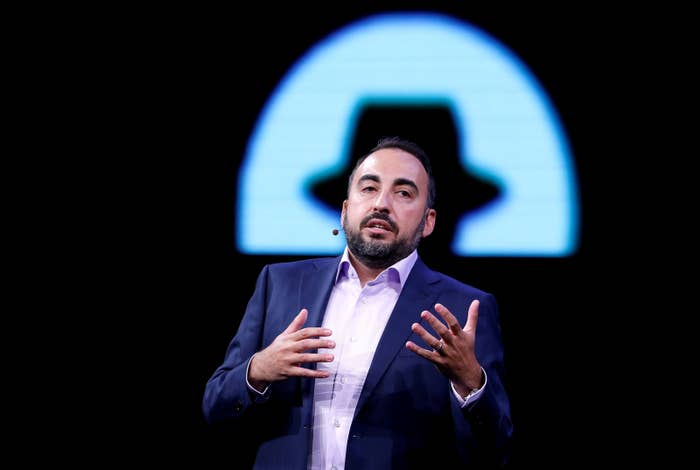 Facebook's head of information security is leaving over disagreements about how the company polices the spread of disinformation on its platform, the New York Times first reported Monday.
Alex Stamos joined Facebook as chief information security officer in June 2015 and has been a staunch proponent of uncovering and publicly disclosing how Russia used the social network to influence the US presidential election. But in doing so, he has clashed with other top executives, including Chief Executive Mark Zuckerberg, the Times reported, citing current and former employees who asked not to be identified.

Facebook declined to confirm whether Stamos would be leaving the company in the next few months, stating that Stamos continues to lead the company's security team.
"He has held this position for nearly three years and leads our security efforts especially around emerging security risks," a spokesperson said in a statement. "He is a valued member of the team and we are grateful for all he does each and every day."
In a tweet, Stamos dismissed reports of his departure as "rumors," and said he is "still fully engaged" with his work at Facebook despite his role changing.

"It's true that my role did change," he wrote shortly after the Times story broke. "I'm currently spending more time exploring emerging security risks and working on election security."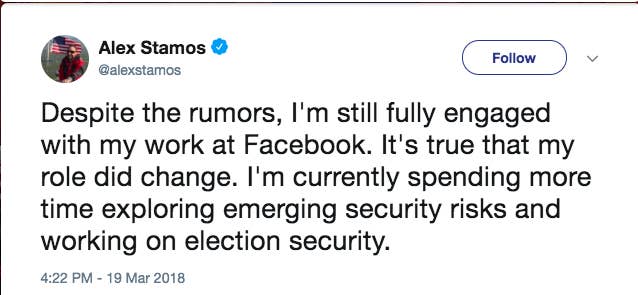 According to the Times, Stamos plans to leave in August and has been helping his dwindling security team transfer to other divisions across the company.
If he does leave, Stamos will be the first high-level employee to depart Facebook since the platform's misinformation crisis came into public view. The Times report also follows Facebook's announcement last week that it had suspended Cambridge Analytica over evidence that it had used data from 50 million user profiles to craft messages on the social network designed at influencing elections.

Cambridge Analytica rose to prominence for its work on Donald Trump's presidential campaign, and has been accused of having exercised shadowy influence over British voters.
In now-deleted tweets sent this weekend, Stamos pushed back against calling the Cambridge Analytica data grab a "breach," explaining that the company had since updated its interface "to remove the ability to see this kind of friend data," a move he said was "controversial with app developers at the time."
Before joining Facebook, Stamos led information security at Yahoo, a role he took over shortly after more than 1 billion user accounts were hacked in 2013. Stamos similarly clashed with top Yahoo executives over the need for tighter user privacy, according to a 2016 New York Times report.
According to that account, Stamos's push to strengthen privacy controls did not bode well with then-Yahoo CEO Marissa Mayer, who reportedly rejected enacting security measures like automatically resetting all user passwords and withheld financial resources from Stamos's security team.
Stamos resigned after about a year on the job, after he discovered that Yahoo, at the request of the US government, built a secret custom program that searched all its users' emails for certain information, Reuters reported.
He then moved on to Facebook.
This is a developing story. Check back for updates and follow BuzzFeed News on Twitter.
3 Simple Ways We Give Up A Ton Of Very Personal Information To Facebook And Random Apps
None