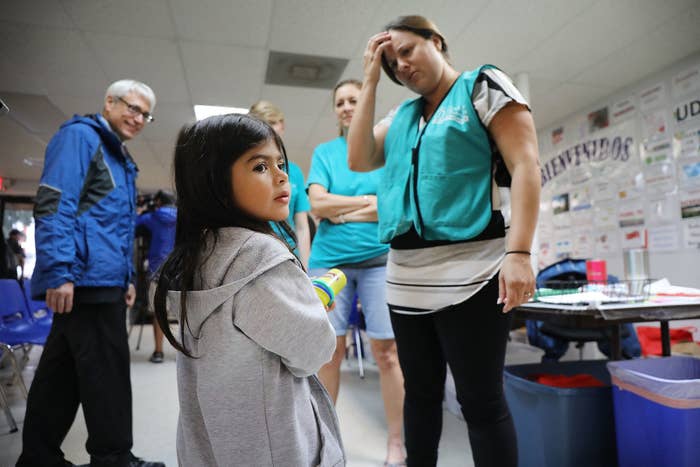 Frustrated and concerned Democratic lawmakers want a briefing from the federal agencies in charge of reuniting immigrant families, saying they have been given scant to no information about the scores of children now strewn across their states or the government's plan to reconnect them with their parents.
As of Tuesday, Health and Human Services, which oversees the Office of Refugee Resettlement, the agency in charge of the children, said it still has 2,047 separated kids in its custody. Over the weekend, the agency reported that 2,053 children were in their care — meaning that officials have reunited just six children with their parents since Trump signed his executive order halting the controversial piece of his "zero tolerance" policy.
Late that night, a federal judge ordered the Trump administration to end separations for most immigrant families at the border and to reunify parents and children who were already separated within the next month, with limited exceptions. Furthermore, the reunification process must happen in two weeks if a child is younger than 5 and parents need to be able to contact them within 10 days.
How the government plans to execute reconnecting thousands of families, however, is still a mystery — even for members of Congress.
"We are extremely frustrated and have been pushing agencies for answers for weeks, even before this order," Rep. Jared Polis, a Democrat from Colorado who spearheaded the letter along with Rep. Don Beyer, told BuzzFeed News Wednesday. "We have been stonewalled."
Despite repeated requests to ORR for information about the children, members like Polis say the agency has remained mum and will not answer specific questions about where the children are, which facilities they are being housed in, or their welfare.
In a letter sent to the leaders of Health and Human Services, Customs and Border Protection, Homeland Security, the ORR, Immigration and Customs Enforcement, and Attorney General Jeff Sessions, Polis and about 80 other Democratic lawmakers are demanding a briefing to obtain "basic" information.
"The failure of these agencies to provide the public, parents that have been detained, attorneys representing detained children and adults and Congressional offices meaningful information is unacceptable," they wrote, lambasting the agencies for not engaging in "any meaningful coordination prior to putting the cruel family separation policy in place and currently have no formal plan to ensure that family members are reunited."
Clusters of children are known to be in New York, Florida, Michigan, Colorado, and California, but exactly how many and whose care they are under has remained murky.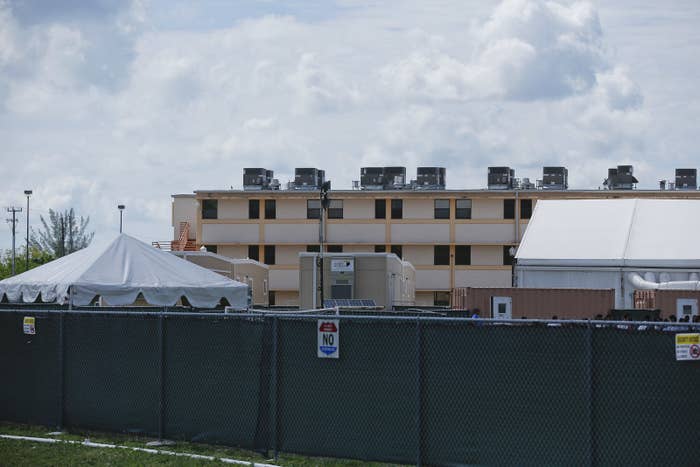 "I still have no idea which kids or parents are in Colorado and my staffers have been calling ORR every day for weeks," Polis exclaimed, adding that he has heard the same from other lawmakers. "If they can't even tell a member of Congress how many kids are in their own state how can they have an efficient plan to reunite them?"
He said that he's been told some children in Colorado are with foster families, but cannot get any confirmation from the agencies that allegedly placed them there.
Rep. Beyer, the Congressman from Virginia who also initiated the letter, has had a similar experience the past several weeks trying to track down children he heard were in the DC-area.
"We picked up rumors of kids staying in a shelter in a small town in Prince William County but we couldn't get ORR clearance to visit or even get them to admit they were there," the Democrat said. "We were able to get in on a courtesy-only basis because I knew the person who founded it."
When he visited a jail in Baltimore looking for other children, he was instead surprised to find a group of detained parents.
"There are all these holes and no one is telling us anything," Beyer went on. "And when we had a pre-meeting with ICE about these parents, they told us officials had extensively interviewed these parents about their kids and they knew where they were, but when we talked to these parents all of them said they were never interviewed."
With the help of aid groups, the Congressman says he is estimating there are about 60 children in his area, but he says "I still really have no idea."
Beyer and other lawmakers say they've heard bits and pieces of how ICE, ORR, and other agencies intend to patch families back together, such as an ICE locator and "name tags" for the kids.
The group is also calling for dedicated phone lines to help congressional staffers working with families in their states to speed up the reunification process.

In another letter requesting information about the government's reunification efforts and well-being of children still separated and detained, House Democrats demanded a "detailed plan" and a "single point of contact" to help keep Congress apprised of the government's progress.
The letters, exasperated lawmakers, and other sources illustrate an agency underprepared for and overwhelmed by the massive undertaking of separating and caring for more than 2,000 children while their parents are kept in custody until their immigration court hearings.
Often, distraught parents have been out of contact with their children for more than a month and have no idea where they are or how to find them.
A group of 32 immigrants released from a detention center in El Paso, Texas, say US officials told them that their children would be waiting for them at a shelter that takes in immigrant families. But when they arrived, their children were not there.
Furthermore, they said that the official number they were told to call to find out where their child is being held was either blocked or no one answered. Attorneys working with other recently released parents detailed similar accounts, despite the government's promise of a quick and seamless reunification process.
"They gave me a number so I can communicate with my daughter. You call, and they don't pick up or the call doesn't go out," Mario, a father from Honduras who has been trying to find his 10-year-old daughter, said tearfully Tuesday. "I've been wrecked since they took my daughter away, I know nothing of her."