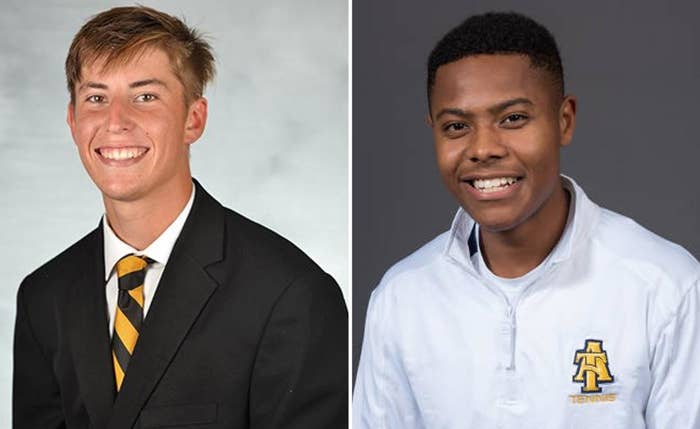 A white college men's tennis player has been suspended indefinitely after allegedly telling his black opponent "at least I know my dad" during a match on Sunday.
Appalachian State University suspended Spencer Brown after his opponent, John Wilson IV, a freshman at the historically black A&T University in North Carolina, tweeted that the comment was made during their NCAA Division I match.
"Their coach responded by saying, 'we have a black guy on our team.' Black Twitter, do ya thing," Wilson posted that night.
The tweet quickly went viral.
On Monday, Appalachian State said it immediately suspended Brown because he "engaged in behavior that was derogatory and offensive."
"We have reached out to the #NCAT to convey our apologies on behalf of Appalachian athletics and the university for the conduct for this member of the team," the school stated.
The university's athletics department later said it had also suspended Coach Bob Lake after further review.

"I am suspending Coach Lake from all coaching duties effective immediately through the next four match," Doug Gillin, the school athletics director, said in a statement Tuesday afternoon. "The conduct displayed on Sunday does not reflect the values of our tennis program, department and university."
Lake has served as Appalachian State's tennis coach since 2000, Joey Jones, a spokesman for the university, told BuzzFeed News.
School officials said they learned about the comment around 10 p.m. Sunday night and started investigating the next morning, the Winston-Salem Journal reported.

"It didn't take us long to know that this student-athlete of ours made this statement and therefore, we acted immediately," Gillin told the paper.
Brown is still enrolled as a student at Appalachian State, the university's communications director said Tuesday.

Meanwhile, Wilson said no one from Appalachian State's administration had reached out to him yet, but thanked the school for acting so quickly.
"Thank you for all the help," he tweeted. "This is something I've always dealt with being a black tennis player."
Attempts to reach Wilson and Brown were not immediately successful Tuesday.