Amy Kremer, the cofounder of Women for Trump, made a false claim about immigration policy in a contentious CNN interview Saturday, and misquoted a former Obama official to prove her point — so anchor Victor Blackwell pulled out the receipts for an on-air fact check.
The CNN host and the former Georgia congressional candidate were sparring about President Trump's "zero tolerance" immigration policy resulting in the separation of families at the southern border. During the interview, Kremer repeatedly claimed that the White House hadn't really changed immigration rules and was merely following the Obama administration's existing practices.
Kremer asserted that it wasn't Trump's decision to separate children from their parents after they had crossed the border illegally, and that the blame belonged with Congress.
"This is the policy of this administration," Blackwell interjected.

"It's Congress's responsibility to fix the problem. This was going on during the Obama administration," Kremer claimed, sparking this super-fun exchange:
"This was not happening to this level during the Obama administration," he fired back.

"It absolutely was, Victor," she replied.

"It absolutely was not," Blackwell retorted. "That is just a clear fact, Amy."

"No. It's a fact, it was happening," she alleged, and to back up her claim, cited former Department of Homeland Security secretary Jeh Johnson.
"Victor, you're wrong. Jeh Johnson, the Department of Homeland Security, under President Obama, said on Thursday that they were separating families and they actually were asking Mexico to enforce their border. That's correct, Victor," Kremer said.
The thing is, the interview which she was referring to happened on CNN.
"The control room is watching this. We'll get the sound bite and play it for the viewers," Blackwell promised. "We will settle this one."
After a break, producers found the tape and Blackwell played it on air, showing the former Homeland Security chief effectively saying the opposite of what Kremer had claimed. The department, Johnson said, had no such policy to separate parents from their children, though he conceded there "were individual cases" where that did happen.
Yep.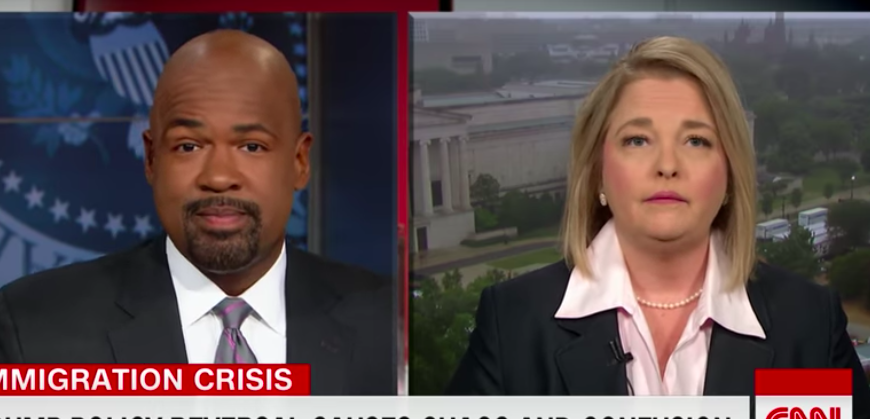 "I don't have the ability to pull up what I read but it happened," she explained.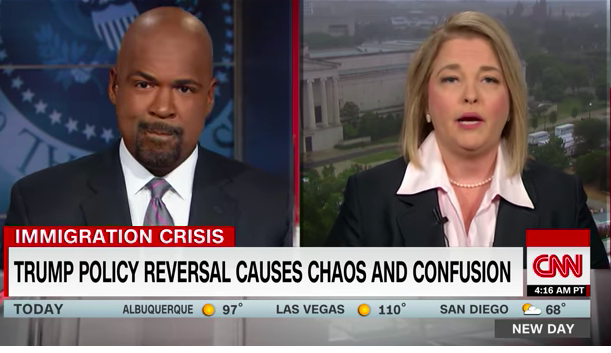 Kremer and Blackwell's contentious exchange went viral, with many Twitter users noting that, even when presented with the actual footage, the Women for Trump cofounder still clung to her false statements.
Later, Kremer said on Twitter that she "conflated two different articles with quotes from two different Obama administration officials" and apologized "for any confusion."
Under the Obama administration, some families were separated after they were apprehended at the border. Trump's predecessor also enacted controversial, tough immigration policies and detained and deported large numbers of people who entered the country illegally.

However, as experts have pointed out, the previous administration did not have a policy that prosecuted every person caught trying to cross the border illegally, resulting in more than 2,300 children being removed from their parents over a six-week period before Trump signed an executive order halting the very policy he created.
As for Kremer, she had this to say to her "haters":