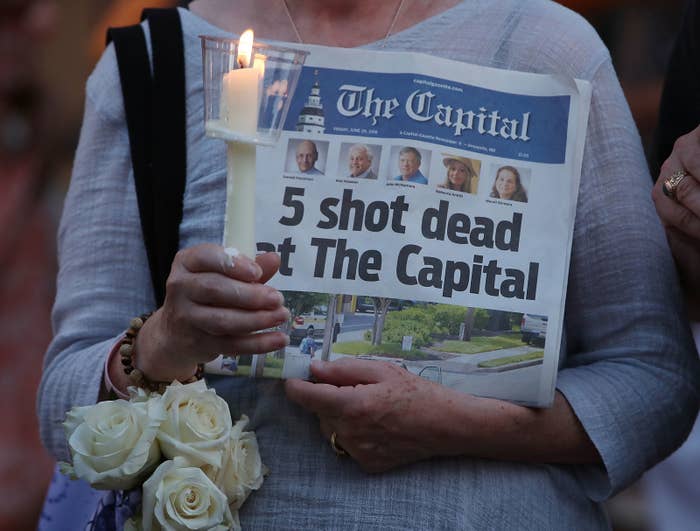 The man accused of killing five people at the offices of Maryland's Capital Gazette newspaper last week is believed to have sent three threatening letters before he opened fire.
Anne Arundel County police confirmed to BuzzFeed News that the 38-year-old suspect, Jarrod Ramos, is thought to have sent the letters, which were received by the Capital Gazette's former attorney, a Baltimore City Court judge, and the Maryland Court of Special Appeals.
"They were very threatening in nature," Sgt. Jacklyn Davis said Monday night, adding that detectives are now examining the new evidence. Davis declined to provide further details about the content of the letters.
One of the letters, received by the Capital Gazette's former attorney and published by the Baltimore Sun, is typed to look a court filing and appears to have been signed by Jarrod Ramos on June 28, the day of the shooting.
Under a section titled "Certificate of Service," the letter states that after serving the document, the signer "then did proceed" to the Capital Gazette offices "with the objective of killing every person present." The section is followed by a signature.
Ramos, who had a years-long vendetta against the paper, has been charged with five counts of first-degree murder.
Thomas Marquardt, the Capital's former publisher, told the Sun that the paper's former attorney received the chilling letter on Monday and turned it over to authorities.

It appears Ramos spent years harboring a deep-rooted grudge against the Capital, and one of its journalists in particular, after losing a defamation suit he'd filed against the paper over a column about his pleading guilty to harassing a former high school classmate in 2011.
Authorities said they believe that, before he allegedly blasted through the glass doors of the newsroom with a shotgun last Thursday, Ramos sent the letters to those he felt had wronged him in connection to the defamation case.
Written as a "Motion for Consideration," the document obtained by the Sun, which owns the Capital Gazette, targets Maryland's appeals court, which refused to rehear Ramos's defamation case in 2015.
"If this is how the Maryland Judiciary operates, the law means nothing," the letter states, adding, "you were too cowardly to confront those lies, and this is your receipt. I told you so."
In another section, the letter addresses Judge Charles Moylan Jr., who upheld the initial dismissal of Ramos's defamation suit, in a harshly worded opinion several years ago.
"Welcome, Mr. Moylan, to your unexpected legacy: YOU should have died," the letter states.
The letter concludes, "Friends forever, Jarrod W. Ramos" — an apparent reference to the Capital column about his guilty plea, which was titled "Jarrod wants to be your friend."