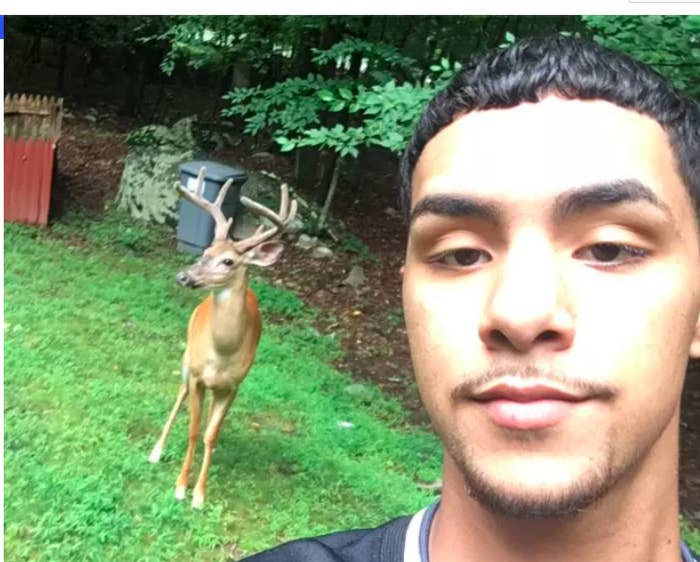 In what has become a familiar ritual in 2018, Kelvin Peña, a viral sensation known as "Brother Nature" or the "deer whisperer," began trending on Twitter this weekend after a series of racist, sexist, and anti-Semitic tweets he sent years ago resurfaced among his millions of followers.

If you've never heard of Peña, he's a 20-year-old internet celebrity who blew up in 2016 after he posted a video to Vine called "Money and the deer squad." The clip featured Peña's deer gal pal, Canela, wearing a gold chain and romping through a backyard. Naturally, it went viral, spurring the then-teenager to create his "Brother Nature" brand by continuing to post videos of him with his deer "pets."
In an interview with BuzzFeed in 2016, Peña, then 17, described his relationship with his deer pals, including one named Money, whom he called his "best friend."
"Every day since, he comes to my house and brings his lil' family, which I all gave names too — they're my deer squad," he said.
Peña now has over 2 million followers on Instagram and over 1 million on Twitter. At the height of his internet fame, he founded a nonprofit called Everybody Eats, geared toward "helping single-parent families during the holidays and after-school kids year-round." And last year, he used the foundation to help send supplies to hurricane victims in Puerto Rico.

He also still posts about Canela, Money, and a host of other animals, as well as sponsored ads and plugs for businesses and brands.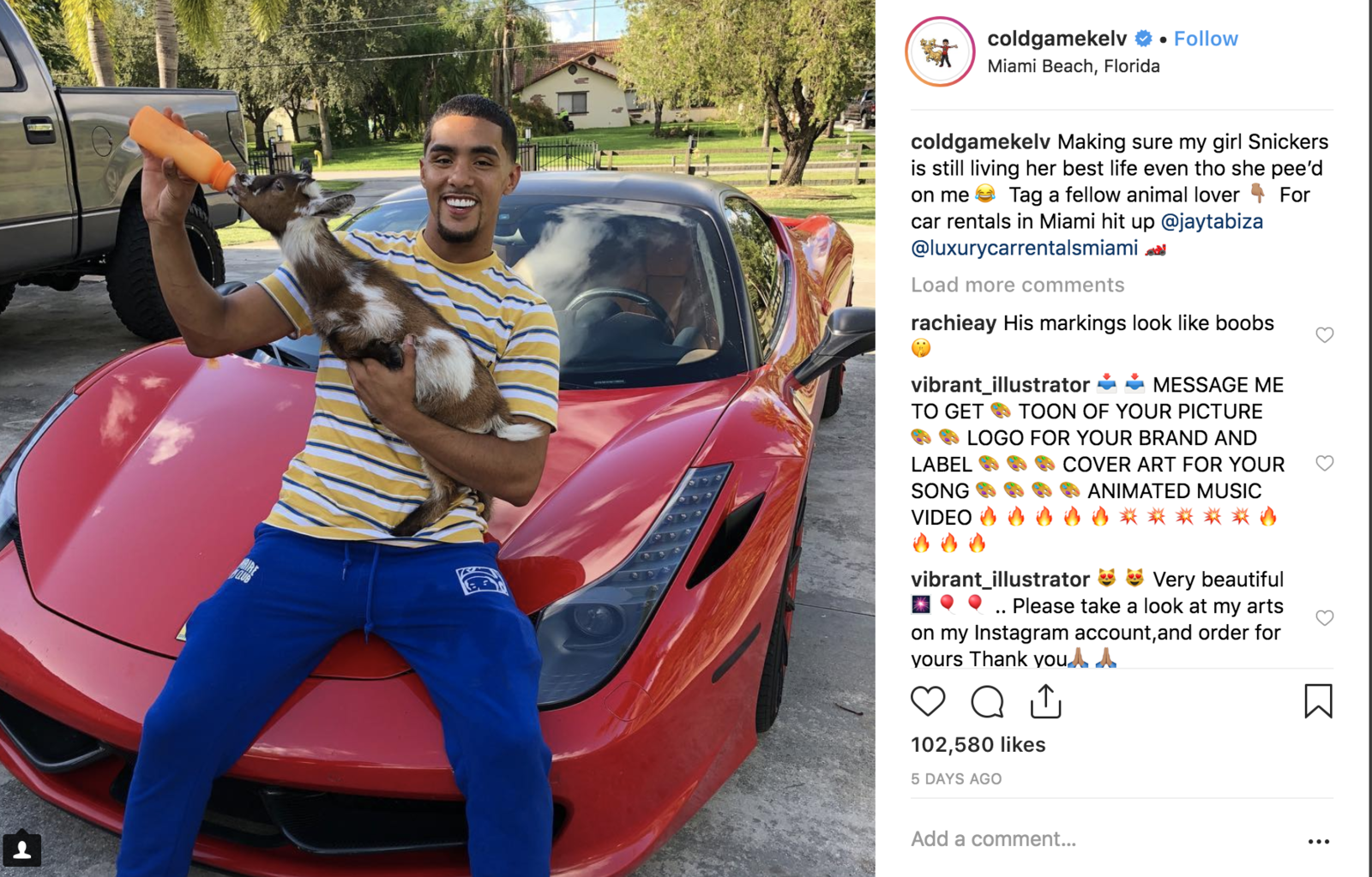 Over the weekend, a collection of Peña's old tweets began recirculating, featuring phrases like "Heil Hitler," "Jay Z look like a monkey," "I hate coons damnit," and other racist, sexist, and anti-Semitic hot takes.
"[W]hen I grow up I wanna be like Chris Brown. So if my girlfriend tried to look through my phone while driving I can choke and punch her :D," one such tweet reads.
By Sunday, Peña's Twitter account, @COLDGAMEKELV, had been set to private. His representatives did not immediately return BuzzFeed News' requests for comment.
Later that night, though, he tweeted an apology and explanation, saying that when he woke up to see his old tweets circulating on his timeline, "my heart dropped."
"I started using twitter when I was 12 years old, I was very impressionable and was seeking attention," Peña wrote. "I am sorry to all of the people that I offended and have let down. I apologize for 12-year-old Kelvin and take total responsibility for my words. Everyone changes, everyone learns, everyone makes mistakes."

He concluded by promising that he has "evolved as a human being."

"I was a child and am now a man asking you to accept the apology of a young boy," he wrote.
The apology came as "Brother Nature" fans — and the internet in general — expressed mixed feelings about the appropriate response to the emergence of Peña's old tweets.

Many were very disappointed in the Instagram star.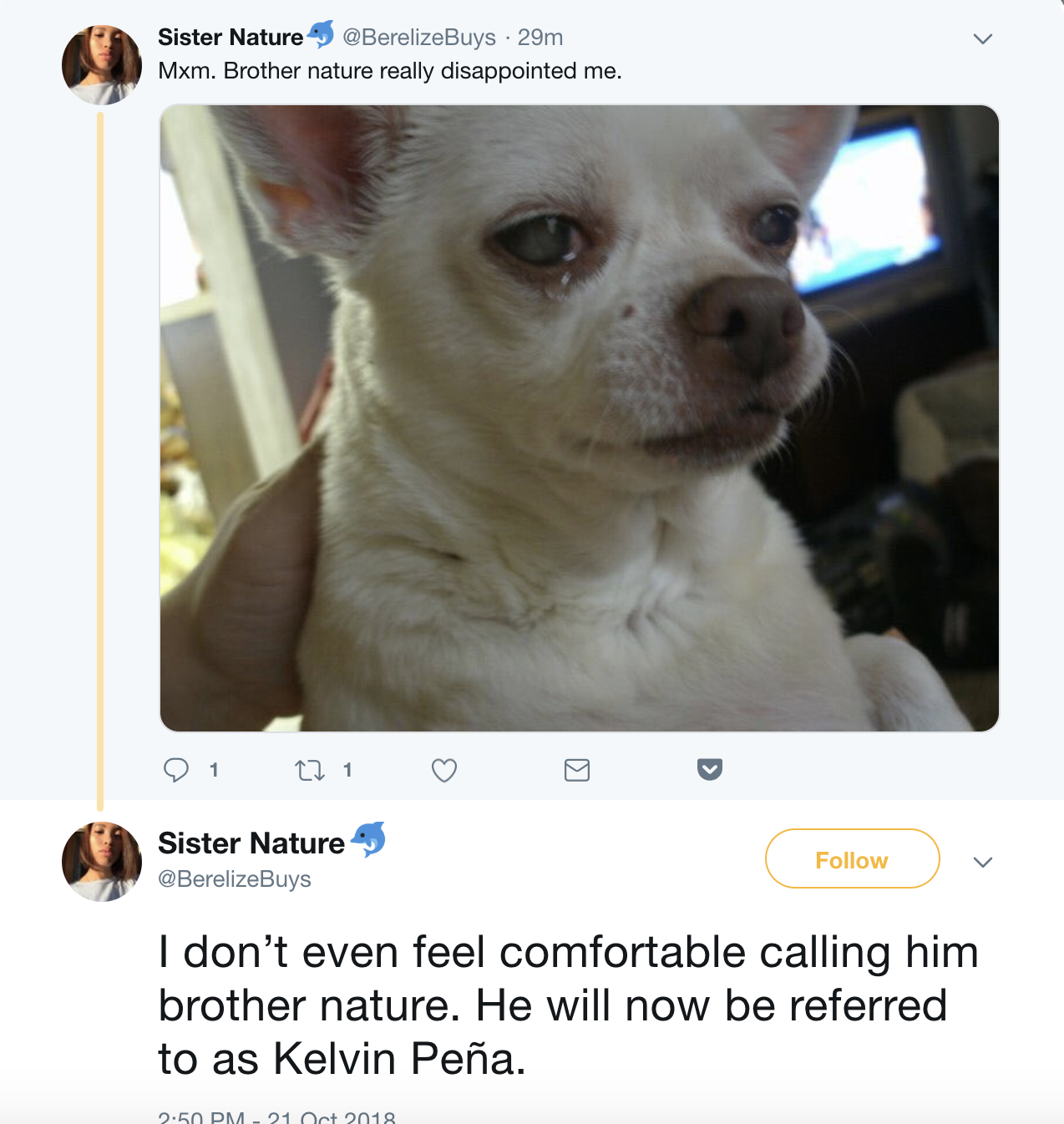 Others stood up for Peña, pointing out that he was 13 when the offensive tweets came out, back in 2011 and 2012.
Users also noted that people said "literally anything" on Twitter back in 2012, and that such behavior was encouraged on the platform at the time.
Mixed in with the serious debate over judging, slandering, and "canceling" people for their past behavior and questionable social media histories were quite a few jokes and memes...because the internet.
People imagined what Peña's animals would have had to say when they heard about his old tweets.
What would Canela think???
"I just want to thank God that the truth is finally exposed and I am free."
...but this guy believes she will be "still taking carrots from Brother Nature even though he's cancelled."