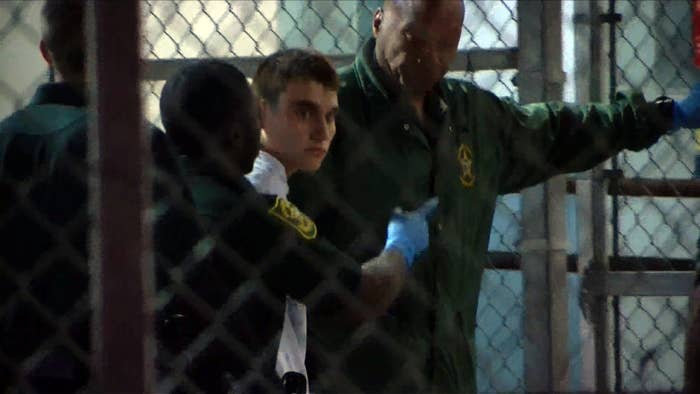 On Sept. 28, 2016, the Broward County Sheriff's Office in Florida responded to a 911 call about an 18-year-old who had been fighting with his mom.
Nikolas Cruz and his mother, Lynda, had been fighting over paperwork needed for the high school student to get an ID card, the officer's report states. It goes on to detail how the teen had been harming himself and had talked about buying a gun.
He suffers from mental illness, the deputy noted, and a therapist and an investigator from the Department of Children and Families were also on the scene.
"He has been cutting his arms, his mother said, to get attention, as he learned it from an ex-girlfriend," the report says. "He has mentioned in the past that he would like to purchase a firearm."

However, Jared Bienenfeld, a therapist with Henderson Mental Health, "deemed Nikolas to be no threat to anyone or himself at this present time," according to the report.

The deputy and the investigator "saw no signs of mental illness or criminal activity and left without incident," the report concludes.
From 2010 until November 2016, Broward County sheriff's deputies responded to at least 36 emergency 911 calls from a pleasant-looking, tree-lined suburban home on 80th Terrace, the street in Parkland where Cruz lived with his younger brother, Zachary, and mother, who died last November at the age of 68.
However, despite the repeated calls to authorities for disturbing behavior, Cruz had never been arrested until this Valentine's Day, when he took an Uber to Marjory Stoneman Douglas High School, pulled an AR-15 from a black duffle bag, and began gunning down former classmates and teachers, killing at least 17 people.
After concealing himself among the crowd of terrified students fleeing campus, Cruz went to Subway to buy a drink and then to McDonald's before authorities caught him in a nearby neighborhood. The 19-year-old has admitted to being the shooter and faces 17 counts of premeditated murder.
He purchased his gun legally last year, officials said.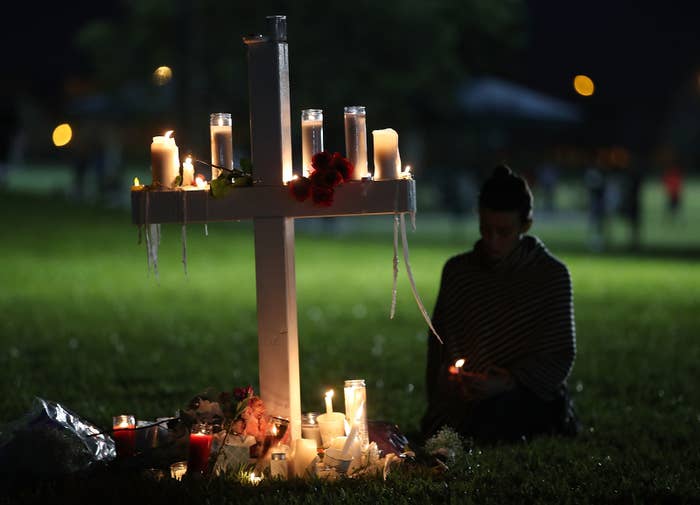 Bolstering the narrative that many glaring and alarming warning signs about Cruz's emotional state were repeatedly missed, the sheriff's reports shed light on consistent problems with two erratic, violent, and turbulent boys who repeatedly "threw items," were "out of control," "ran away from home," and fought and argued loudly with their mother and each other.

Nikolas and Zachary both have mental health issues, including ADHD and OCD, and take medication, officers wrote. Nikolas Cruz had sought treatment at Henderson Mental Health Clinic and had attended a school for students with behavioral problems.
On Aug. 22, 2012, Lynda Cruz called 911 because her sons, 12 and 13 at the time, were "threatening her." In November of that year, officers came because Nikolas had beat up his brother. A few weeks later they returned after he attacked his mother with the plastic hose from the vacuum cleaner, one report says.
One evening in January 2013, officers responded to a call from Lynda Cruz, detailing that Nikolas's behavior was escalating after she took away his video games. The 14-year-old then threw a chair, dog bowl, and glass across the room, screaming that his mom was a "useless bitch," the sheriff's report said. After the teen barricaded himself in his room, deputies briefly handcuffed him and put him in the back of a squad car until a youth emergency services counselor arrived.
Nearly a year later, Nikolas Cruz punched a hole in the wall after his mother took away his Xbox.
Neighbors, classmates, and friends also described an estranged "loner" whose disturbing social media profiles were littered with guns, shooting targets, dead frogs, and a user always dressed in black with his face covered. He also reportedly left comments declaring his desire to shoot and kill people on YouTube, one of which was flagged to the FBI in September.
The FBI has said it was unable to verify the account.