Attorneys for right-wing media mogul Alex Jones are arguing that he should not be sued for defamation because, they say, when the inflammatory radio host broadcasts lies and conspiracy theories to his millions of viewers, he is merely stating his opinion, not facts.
Jones is currently fighting to dismiss three defamation lawsuits against him and his Austin-based site Infowars brought by parents who lost their children in the 2012 Sandy Hook massacre and a 24-year-old man who was, without any evidence, falsely identified as the Parkland shooter.
In a crowded Texas courtroom this week, two separate hearings set the framework for Jones' mounting legal battle over whether he should be held responsible for what he says and publishes on his platforms. For years, Jones, who has a massive, cultlike following, has unabatedly peddled conspiracy theories to an ever-growing number of fans, many of whom believe them to be the truth.
As a result, his sweeping fanbase has targeted, harassed, and attacked survivors of terror attacks and mass shootings and family members of victims, as well as other completely innocent people.
In the five years since a shooter killed 20 children and six adults in Newtown, Connecticut, Jones has aired several segments accusing the parents who lost their children of being "crisis actors" fabricating their anguish as part of an elaborate, government-backed plot to push a gun control agenda.

Now, a host of them are fighting back. Veronique De La Rosa and Leonard Pozner, whose 6-year-old son, Noah, died in the Sandy Hook shooting, and Marcel Fontaine, a Massachusetts man whom an Infowars "reporter" falsely identified as the Parkland shooter after finding his photo from days before the shooting on 4chan, a fringe website, are all taking action.
Each party is seeking more than $1 million in damages, though neither of them showed up in court because, their attorneys say, they are too "terrified to go out in public."
"These people have had to relocate and are fearing for their lives. These parents had to move hundreds of miles away from where their child is buried and a young man suffers from debilitating anxiety because of what this man has said," said Mark Bankston, an attorney with Farrar & Ball, who is representing three cases filed in Texas against Jones. "These are some of the most egregious cases of false information in the history of this country."
Jones is currently facing five defamation suits: three in Texas; one in Connecticut, in which six more families of students killed in Sandy Hook demand reparations for being accused of lying about their children's deaths; and another in Virginia connected to the Charlottesville white supremacist rally.

The cases highlight an increasingly common, murky intersection of incendiary content on the internet, the people responsible for creating it, and the legal ramifications of posturing misinformation as truth. They also raise a "very interesting question of law" as to whether a person like the parent of a mass shooting victim can become an "involuntary" public figure by speaking out about their experience, state District Judge Scott Jenkins explained Wednesday.
The judge has about a month to decide whether to let the lawsuits proceed.

Mark Enoch, Jones' attorney, is arguing that his client is a commentator and that he doesn't really mean what he says: He's espousing his opinions and is thus protected under the First Amendment. He also began the hearing by reminding the court that his client has admitted that the shooting occurred and wanted "to reiterate the fact that he is sorry for their loss."

Jones is seeking more than $100,000 from the Pozners to cover his court costs, citing the Texas Citizens Participation Act, which aims to protect people's right to free speech without fear of retaliatory, costly lawsuits.
"Maybe it's fringe speech. Maybe it's dangerous speech, but it is not defamation," Enoch told the judge in court on Wednesday, according to Reuters. "That is rhetorical hyperbole at its core."
To hammer home this point, Enoch and his team played about 40 minutes of an Infowars episode called "Sandy Hook Vampires Exposed," which lashed out at Muslims and outlined why he thinks the Sandy Hook shooting was a "false flag" created by the government.
"It's what they expect when they tune in," Enoch said of the incendiary content, noting that he had not heard of Jones before he took the case, and that he "personally" doesn't "listen to the guy," according to local media and Bill Ogden, another attorney representing the Sandy Hook families.
While the right-wing personality had been simmering in the fringes of the internet for about a decade, he's recently exploded more into the mainstream world, amassing millions of followers thanks to the power of social media and the boon of President Trump, who has been on Jones' program and lauded his "amazing" reputation. Infowars even briefly had a White House press pass, and the president's son and campaign adviser, Donald Trump Jr., has shared Infowars content on social media.
For years, Jones has used his platform to fuel and spread false stories accusing the government of concocting elaborate hoaxes — such as mass shootings like Sandy Hook and Las Vegas, and terror attacks like 9/11 and the Boston Marathon bombing — to propagate a liberal agenda. Other stories falsely claimed that Chobani, the yogurt company, imported "migrant rapists," and spread the now-viral, debunked theory that Hillary Clinton was running a child sex ring out of a Washington, DC, pizzeria, known as "Pizzagate."
His attorneys, however, are trying to convince the Austin judge that the radio host doesn't really mean what he says on his broadcasts or his site — where he takes the stance that he is the real purveyor of truth in a country working tirelessly to manipulate its citizens.
"They told the judge that we cannot sue him because what he says is his opinion disguised as facts," Bankston said. "But Infowars calls itself the 'front line of truth journalism.'"

Jones and his attorney did not respond to request for comment.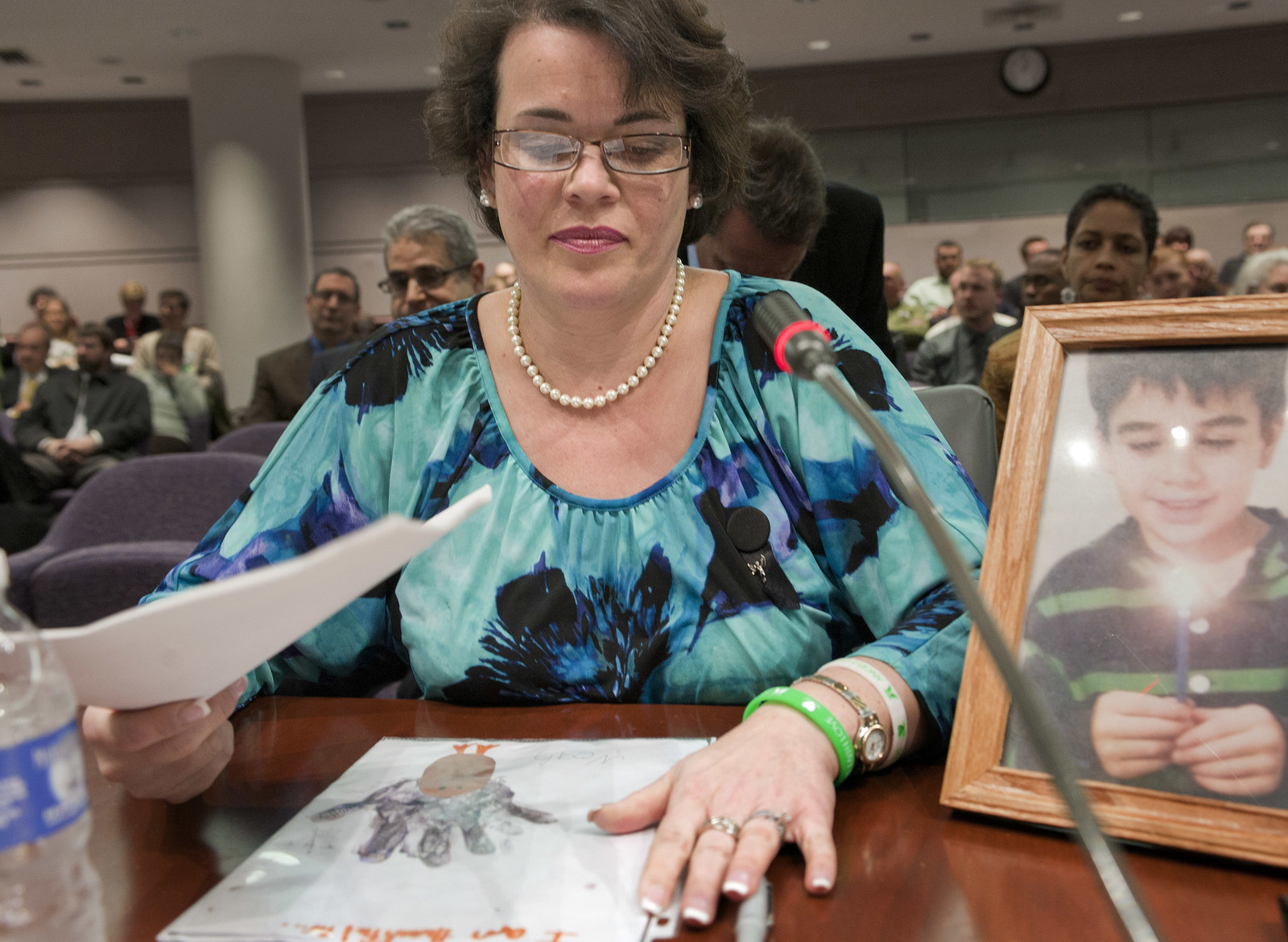 But for De La Rosa and Pozner, who lost their 6-year-old son, Noah, Jones' rhetoric has forced them to uproot their lives and relocate at least seven times, according to court documents. Their case centers around remarks Jones made in the "Sandy Hook Vampires Exposed" broadcast, in which he argued that De La Rosa was an actor and that her interview on CNN was faked.
Infowars also published maps to the Pozner family's home, their attorneys said, eliciting an audible gasp from the courtroom.
After moving to Florida in an attempt to escape such threats, the Pozners were again harassed by Infowars enthusiast Lucy Richardson, who sent four voice and email messages to Pozner, with threats such as "you gonna die, death is coming to you real soon" and "LOOK BEHIND YOU IT IS DEATH," according to the complaint.
She was sentenced to five months in prison last year and, as a condition of her parole, was banned from accessing conspiracy theory sites, including Infowars.

Through his attorneys, Jones also argues that the Sandy Hook parents are now public figures — given that they have been vocal about banning assault-style weapons after losing their children in a mass shooting — which would make it harder for them to claim defamation.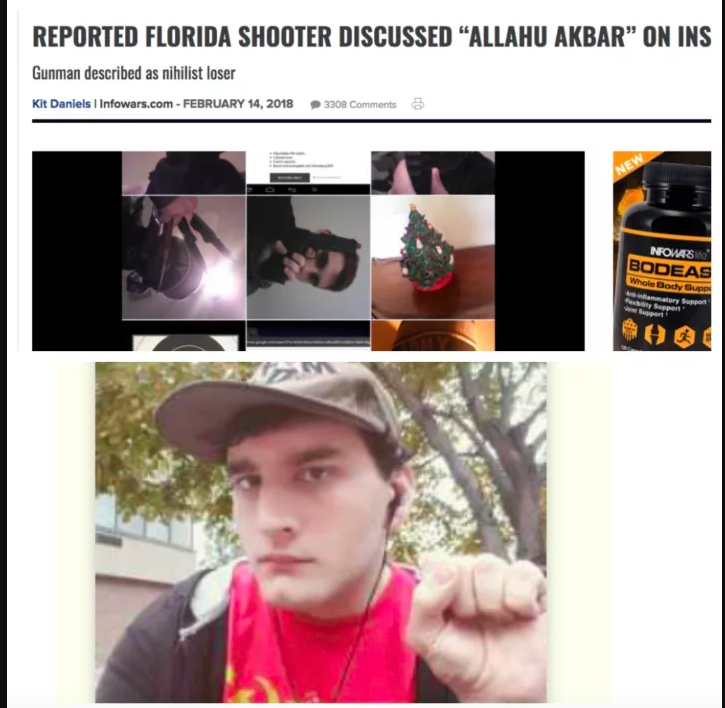 On Valentine's Day, almost immediately after a shooter opened fire at Marjory Stoneman Douglas High School, in Parkland, Florida, Marcel Fontaine, a 24-year-old from Massachusetts, found himself in a flurry of online hate and harassment. An Infowars writer had, without evidence, published an article with his photograph, insinuating he was the man who had walked onto campus and killed 17 people.
"This spread like fire all over the internet," Bankston said. "It was in China, Vietnam, all over the world, and has now amassed billions of clicks."
Fontaine repeatedly demanded a correction, and 12 days after it was published, Infowars obliged. However, the damage was done, according to the lawsuit. The 24-year-old still experiences regular waves of harassment and abuse online, Bankston told BuzzFeed News, noting that his client "is terrified and is really not doing well."
Along with the Fontaine and the Pozner families, Neil Heslin, the father of 6-year-old Jesse Lewis, is also demanding reparations for what he says he endured as a result of Jones' rhetoric. He will appear in court in September for his hearing against the host.

In his suit, Heslin hones in on an emotional June 2017 interview with Megyn Kelly, in which he described holding his son's dead body for the last time and seeing the bullet hole in his head.
Jones and Infowars correspondent Owen Shroyer, who is also named as a defendant in Heslin's lawsuit, then aired a segment accusing the father of lying. Shroyer claimed that Heslin couldn't have held his child because bodies were identified through photo identification after the shooting.
After the parents filed the suits against him in April, Jones backtracked on his beliefs about Sandy Hook, saying in a YouTube video that he does believe the shooting happened. About a year earlier, he also apologized for Pizzagate, though, shortly after, he was back espousing the theory.

Meanwhile, Jones' incessant peddling of conspiracy theories has also, finally, crossed the lines of major social media companies.
On Wednesday, the same day as his first hearing, Spotify became the third platform to take action against the far-right host. The streaming service announced it had deleted several episodes of Jones' podcast. Last week, Facebook suspended him from its site for 30 days due to "bullying" and "hate speech," though it has left the Infowars page intact. And YouTube removed several of his videos for perpetuating child endangerment and hate speech, and banned him from livestreaming on the platform for 90 days.
"I'm now as demonized as the president," Jones said on his Infowars broadcast Wednesday.