School officials in Utah are investigating a social media video that appears to shows five white teenagers in a car, smiling and giggling while shouting "Fuck niggers."
video-player.buzzfeed.com
The Weber High School students are juniors and seniors and three of them are on the cheerleading team, said Lane Findlay, a spokesman for the school district. Officials were alerted to the video clip on Monday after it erupted across social media.
The students have been asked not to return to school while the district investigates the footage and figures out the appropriate disciplinary measures, Findlay said.
"We have to get all the facts first," he said Wednesday. "We wanted to look at everything before we took serious disciplinary actions."
The teens apparently made the 10-second video a year ago while on a fall break, and one of the students recently shared it to one of her social media accounts.
Taking turns, the teens appear to be yelling "serggin cuff" and then used a rewind feature. One of the teens who posted the clip commented "serggin cuff" at the bottom.
After interviewing the students, Findlay said the group explained that they had just been "playing around saying gibberish words" and then tried the random phrase, which produced the racial slur.
However, Findlay said they knew what they were doing.
"They were kids joking around and it's unfortunate that they engaged in this kind of conduct, but that doesn't excuse it," he said.
In a statement Tuesday, the district wrote that "racism, whether intentional or not, has no place in our schools or society," but Findlay would not elaborate as to what kinds of disciplinary measures would be taken. Students who participate in extracurriculars are held to a higher standard, Findlay added, and therefore could receive a stricter punishment.
Officials have spoken with the teens multiple times and they "have all been very remorseful and apologetic for their actions," Findlay said.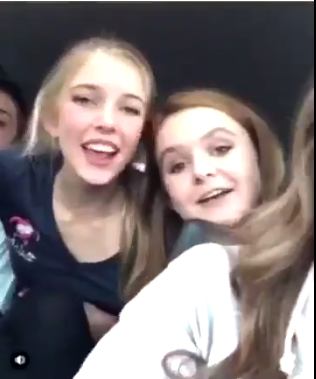 School officials and staff were "shocked by the conduct of these students and the content of the video," Findlay said, but also just as taken aback by the outpouring of threatening messages to them, their families, and on a Weber High School Facebook page.
"It got really ugly and there were a lot of threads calling these girls names an there is just no right for that," he said. "It's a stupid thing they did, but they don't deserve to be threatened, and some of the things that are being said are uncalled for."
After the story spread across the media, the district also pushed back against the swarm of attacks popping up on various platforms.
"Hatred only breeds more hatred," the district said. "These are teenagers who made a big mistake, and they will be held accountable. Please be patient and reasonable as we deal with the situation."
The year-old video exploded on social media this week after one of the teens shared it as a private post, Findlay explained. Shocked and outraged, other students who saw the video shared it on their own accounts, and it quickly went viral.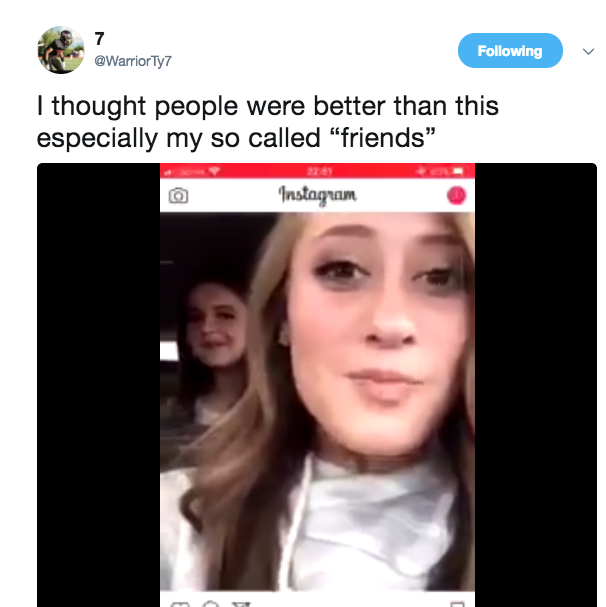 Although the video was not made at school, Findlay said they are taking the matter very seriously and "appropriate disciplinary action will be taken if the students involved are found to have violated the school's code of conduct."
According to the district's policy page, a student may be removed from school for disruptive behavior, as well as foul, profane, vulgar, or abusive language.
"If it seriously affected other students and caused a disruption we have to take that into account," Findlay said. "And it did cause disruption. A lot of students are upset."
"It makes us look bad in front of the entire state, maybe nation," tweeted Wyatt Decker, who says he's captain of the high school swim team.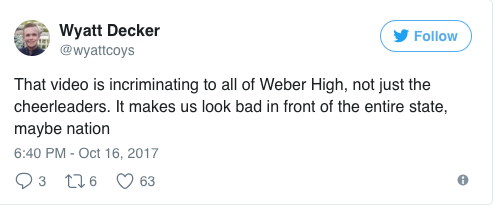 "Everyone was mad," Mataya Ruiz, a student at Weber High School, told BuzzFeed News. "We thought our cheerleaders were better than that."
Jeanetta Williams, president of NAACP's Idaho-Utah-Nevada chapter, called the video "appalling," according to the Associated Press, and wants the district to send a strong response, including suspending the cheerleaders from the squad.
"They knew what they were doing it. They did it, and they posted it," she said. "If they had any type of concerns about other people's feelings or about what other people would think they wouldn't have been laughing."
When the district does make its disciplinary decision, the public will not know the specifics due to a federal law the protects student privacy.
After widespread backlash, the teens apparently deleted their social media profiles. One student seemed to come back briefly on Instagram to defend herself and the post.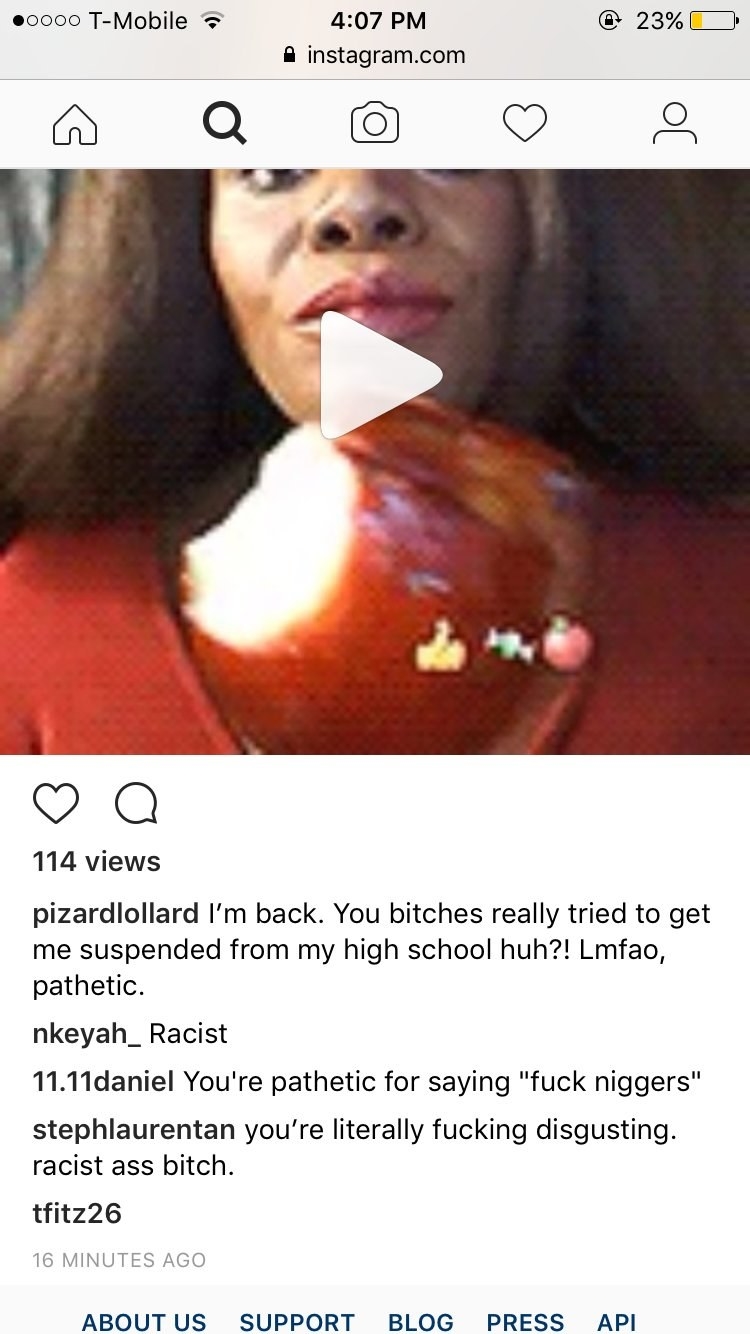 "I'm not a fucking racist. The person I'm closest to is black and have always loved them," she wrote on Instagram. "Just thought I would set the record straight."
However, a staff member who asked to remain anonymous due to the ongoing investigation contacted BuzzFeed News alleging that the Instagram account had been hacked.
BuzzFeed News reached out to the teen, but she deleted her Instagram shortly after.