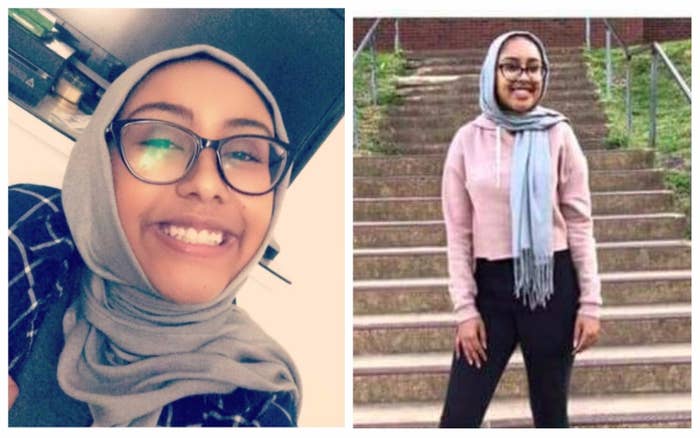 Police in Fairfax, Virginia, found the body of a 17-year-old Muslim girl who was reported missing early Sunday after leaving a mosque with a group of friends.
Shortly after finding her remains Sunday afternoon, officers arrested 22-year-old Darwin Martinez Torres and charged him with murder in connection to the case. Police said Monday evening that "the autopsy results show Nabra suffered from blunt force trauma to the upper body after a road rage incident."

Mosque officials said Hassanen and her friends were coming back from eating during a break from Ramadan prayers when a car pulled up and a man with a baseball bat jumped out and started swinging at the group of girls.
The teens were walking on Dranesville Road toward the All Dulles Area Muslim Society (ADAMS) Center in Sterling, Virginia, at around 3:30 a.m. on Sunday after grabbing breakfast at a nearby McDonald's before beginning their fast at sunrise for Ramadan, police and mosque officials said.
Torres was at the McDonald's at the same time Yufra Abdelmuid, a family friend of Hassanen's and who knows the other teens in the group, told BuzzFeed News on Monday.
The 21-year-old said Hassanen is close with her little sister and described the North Virginian Nubian community as "family." She has been helping Hassanen's father plan the funeral, which will be this week.
After the group finished, they started walking back and that's when a motorist confronted them and they got into an altercation, Deputy Aleksandra Kowalski, a spokesperson for the Loudoun County Sheriff's office, told BuzzFeed News. Police believed that Torres got out of his car and assaulted Hassanen. "Her friends could not find her and police were called to help," Fairfax County police said.

Abdelmuid said she was with the distraught teens, whose ages range from 13-16, when they were giving their statements to police detailing how Hassanen got separated during the attack.
"They told me that he was at the McDonald's at the same time and he followed them in his car," said Abdelmuid. "He then got into an argument with them and they started running into the Bowl America parking lot nearby and he got out of his car with a bat and chased them and hit her over the head."
The girls were all wearing traditional Muslim clothing called abayas and "definitely stood out," she added.

The manager at that McDonald's located in Towncenter Plaza told BuzzFeed News she could not comment on whether Torres was there.
While it was evident that the teens were Muslim, police on Monday emphasized that there is nothing to indicate at this point that the murder was a hate crime.
"No evidence has been uncovered that shows this murder was motivated by race or religion," said Julie Parker, the public affairs director for Fairfax County Police.

"If during the course of this ongoing criminal investigation, information or evidence later surfaces that would indicate this was hate-motivated, detectives would certainly ensure appropriate charges are filed," police said in a statement.

Nabra's mother, Sawsan Gazzar, told thw Washington Post, "I think it had to do with the way she was dressed and the fact that she's Muslim."

"Why would you kill a kid? What did my daughter do to deserve this?" she asked.
According to accounts from police and mosque officials, all of the teens except for one fled the scene. Members from the community found the group and directed them to the ADAMS Center, which immediately notified officials at around 4 a.m., Rizwan Jaka, a board member at ADAMS, said in a statement.

"They all dispersed after the incident and when they met back up they realized she was missing," Kowalski said.
"We are devastated and heartbroken as our community undergoes and processes this traumatic event. It is a time for us to come together to pray and care for our youth," the center's statement said.
After starting their search at 4 a.m. on Sunday, officers found her remains in a pond in Sterling around 3 p.m.
Nabra was the oldest of three and was "always laughing," Abdelmuid recalled. "She was very funny and I never saw her get down on anyone."
The 17-year-old attended the ADAMS youth camp every spring and also volunteered with a group of attorneys, interpreters, and volunteers at Dulles Airport in DC during the beginning of the travel ban.
"She was an active and conscientious girl who came out to stand for something important in her community with her family," said Molly Hartshorn, who worked with Nabra at the airport.

Gov. Terry McAuliffe said in a tweet Monday, "Dorothy & I are heartbroken over this senseless act of violence. We are praying for Nabra's family & ADAMS Community."
In a statement, Lieutenant Governor Ralph Northam, said, "At this time, Fairfax officials do not have evidence to confirm that this crime was racially or religiously motivated. I urge Fairfax County Police to conduct this investigation both thoroughly and urgently as our Islamic brothers and sisters and all Virginians deserve answers."

"Every Virginian should feel safe and welcome in our communities, and no parent should ever have to experience such a heartbreaking tragedy," Northam said.

Muslims across the world are in the final days of celebrating the holy month of Ramadan, in which adherents fast from sunrise to sunset. The religious observance ends with a massive feast and celebration, called Eid holiday, which is supposed to fall next weekend.
Abubakkar Choudry, who has attended prayer services at the ADAMS Center this Ramadan but was not there Saturday night, said the community is "shocked and horrified."
"This is the first time something has happened like this so close to home," Choudry told BuzzFeed News, explaining that many teens and kids took that same walk back to the center after eating at IHOP or McDonald's before attending the next prayer service around 3 a.m.
"The unspeakable murder in Sterling feels like an assault on our entire community," Virginia Attorney General Mark Herring said in a tweet. "Love and respect must overcome hate," he said.
While there was some guards at the ADAMS Center, Abdelmuid said they've bolstered the security presence since the attack as the community rallies together to finish the final days of Ramadan.

"We all feel scared," she said. "But I feel safe because everyone is coming together. We are all much closer than before."