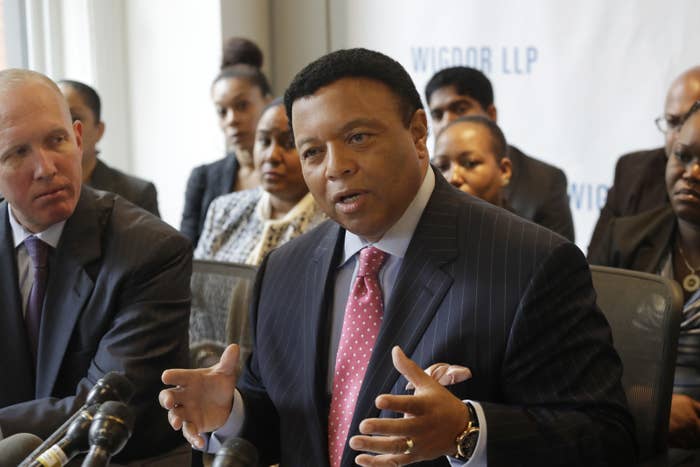 Led by Fox News anchor and reporter Kelly Wright, 15 other current and former employees are suing the cable news network, claiming they endured repeated racial discrimination and harassment for years while senior executives deliberately ignored it.

The suit comes as the embattled network scrambles to repair its image after the firing of top-rated host Bill O'Reilly last week over sexual harassment claims, and last summer's ousting of former chief Roger Ailes, who was also accused of sexually harassing women. Both men have vehemently denied the allegations.
On May 8, two more women, Elizabeth Hernandez and Claudine McLeod, joined the growing lawsuit against Fox, claiming that senior executives repeatedly berated them with racist, offensive comments. McLeod, who is a Black Panamanian, still works for the network.
"When it comes to racial discrimination, 21st Century Fox has been operating as if it should be called 18th Century Fox," lawyers Douglas Wigdor and Jeanne Christensen said in a statement Tuesday. More than half of the 15 people they are representing still work at Fox.
Wright, who has worked at Fox since 2003, says he was marginalized and his career sidelined because he is black, and he accused the network of "plantation-style management," according to the suit.
The veteran anchor says O'Reilly repeatedly refused to allow him on his show to discuss race relations in America, and in one instance, snubbed Wright's series focusing on the racial divide in Ferguson, Missouri, because it painted "blacks in too positive a light."

Wright also claims that Bill Shine, the network's co-president, obsessively focused on the anchor's skin color, often asking, "How do you think white viewers look at you?" Wright said he repeatedly flagged the treatment to senior Fox News executives, who did nothing.
At a press conference last month, Wright said "it hurts" to join the lawsuit but that he could no longer stay silent and pretend that he did not experience racial discrimination similar to what other employees detailed in the lawsuit.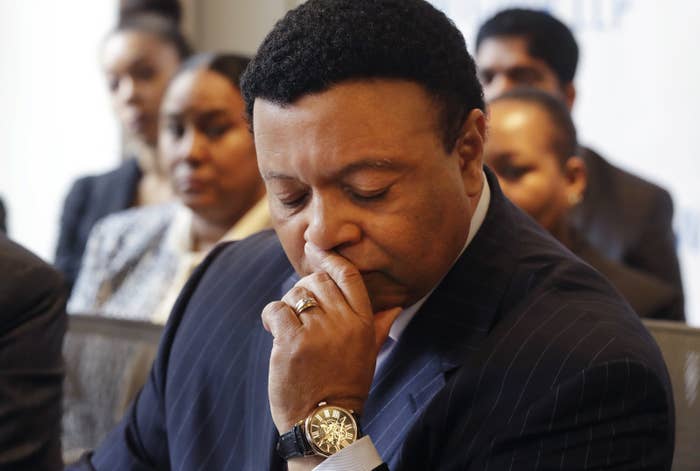 "I want to make it possible for whoever fills my shoes, the next generation, to never go through this," Wright said as he fought back tears, adding that media organizations around the country "must be better than this," and embrace diversity.
The other current and former Fox employees similarly detail instances in which they were allegedly targeted because of the color of their skin, and claim they repeatedly reported "abhorrent, intolerable, unlawful and hostile racial discrimination" to top executives, who brushed them aside.

In one example, Musfiq Rahman, who previously worked in the payroll department, claims he was banned from the second floor of Fox's New York City headquarters after mistakenly walking into the office of Ailes, the network's former chairman.
"The fallout for Mr. Rahman's 'mistake' was swift and severe," the lawsuit alleges. "Ailes was furious and his paranoia about being attacked came to the forefront. That same day, Ailes ordered that a wall be constructed immediately in his personal office to act as a barrier to entry." The next day, Rahman, who is described as a "dark-skinned Bangladeshi," and a number of black employees in his department had their security passes to the second floor revoked, the suit claims.
"If 21st Century Fox chooses to defend the indefensible, systemic race discrimination, we will utilize our collective efforts and resources to hold those responsible for these egregious discriminatory acts before a Bronx jury," the attorneys said.
The lawsuit, filed Tuesday in New York Supreme Court, builds upon a complaint filed in March by Tichaona Brown and Tabrese Wright, two black former Fox News employees who claim they experienced "horrific discrimination at the hands" of the network's former comptroller Judith Slater. The complaint also includes claims from current Fox employee Monica Douglas, who said she complained repeatedly about Slater's behavior.
In their claim, Brown and Wright detail a litany of Slater's alleged racist behavior, such as inquiring if all three of Wright's children were fathered by the same man, telling Wright that she had "too much afro" and needed to comb it before work, and asking both women if they knew how to beatbox, and if so, to perform for her.
According to Brown and Douglas, Slater regularly demanded that they and other employees of color arm wrestle, often against their white female supervisors, "similar to the way slave masters demanded that black slaves fight each other." They allege she did it "purely for her own entertainment and amusement."

The network has insisted that it fired Slater after learning of the allegations, though the plaintiffs' lawyers have questioned that defense.

"Slater will not be fired because she knows too much," Dianne Brandi, Fox's executive vice president for business and legal affairs, reportedly told Douglas. Brandi was "referring to Slater's knowledge regarding improprieties committed by Ailes, Kranz and O'Reilly," the complaint states.
Douglas, who currently works as a credit and collections manager at Fox, alleged that Slater warned her not to complain to the networks human resources department, saying "I am HR." Douglas, who is black and Panamanian, also claims Slater kicked her in the buttocks and told her she "would not even let her dog eat the food Panamanians eat."
In a separate lawsuit filed Tuesday against Fox, Slater, and Brandi in New York, another former employee, Adasa Blanco, claims she reported the racially hostile work environment to Brandi in 2008, and was repeatedly ignored. The suit also claims Blanco witnessed Slater relentlessly harass and mock other employees of color for nearly 10 years.
At Wednesday's press conference, Wigdor said he hopes that through the lawsuits "Fox News will finally recognize what it has done" and how it has affected so many people. He said he hopes that Fox News will begin attracting, promoting, and retaining black employees and on-air talent and giving them a fair opportunity to advance their careers within the network.
In a statement Tuesday, a spokesperson for Fox News said the network "vehemently denies the race discrimination claims in both lawsuits," calling them "copycat complaints."
"We will vigorously defend these cases," the spokesperson said.