Spotify Now Has 20 Million Paid Subscribers And An $8 Billion Valuation
It's still losing money, though.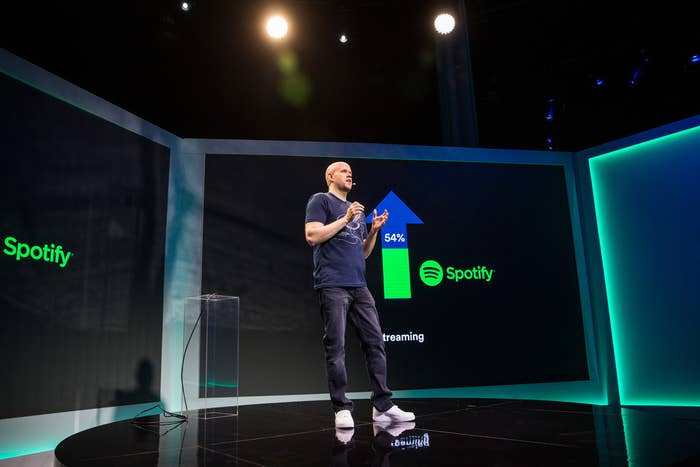 On Monday, Apple announced Apple Music, its play for the 6-plus billion dollar music streaming market. On Wednesday, Spotify — probably Apple's most significant competition in that sector — released its latest subscription numbers, and showed just how much ground Apple has to cover to keep up.
According to the numbers Spotify released, the company's customer base has grown to 75 million subscribers -- up from 60 million this January. Most important in those numbers is the increase from 15 to 20 million paid subscribers, a slightly faster pace proportionally than the gain in overall subscribers.
Lately, Spotify — which is still losing money despite a new valuation of over $8 billion — has come under fire for skewing too heavily towards the free market. Record labels have reportedly been agitating for Spotify to drop its free tier altogether. The more users Spotify can get to pay for its unlimited service, the closer it gets to a business model that delivers on the streaming economy's promise of sustainability. Adding 5 million to that tally is a large step in the right direction for the company.
An audience of 75 million also launches Spotify into the same league as the other big name in streaming: Pandora. With nearly 80 million reported active users, the internet radio giant has long been the industry leader, but with Spotify growing rapidly, that could shift by 2016.
That said, the two companies offer fundamentally different products. Spotify, especially on its premium tier, offers on-demand access to millions of tracks, while Pandora functions like a radio station. Spotify's product now has no close competitors — the closest is Deezer, which has 16 million users, 6 million of which are paid — except for the looming potential of Apple.
While 15 million paid subscribers seems like a large number, it's important to bear in mind that these are worldwide numbers. When it comes to the U.S. market, which Apple is undoubtedly gunning for, the jury is still out for the mass consumer. Currently, less than 8 million Americans pay for a music streaming subscription. The best benchmark for how big a streaming service can get here is Netflix, which is currently sitting on over 40 million paid subscribers in the U.S. alone.