Good Luck Bending The iPhone 6s
SquareTrade — a company that uses robots to stress test smartphones — says the iPhone 6s and iPhone 6s Plus are significantly stronger than their predecessors.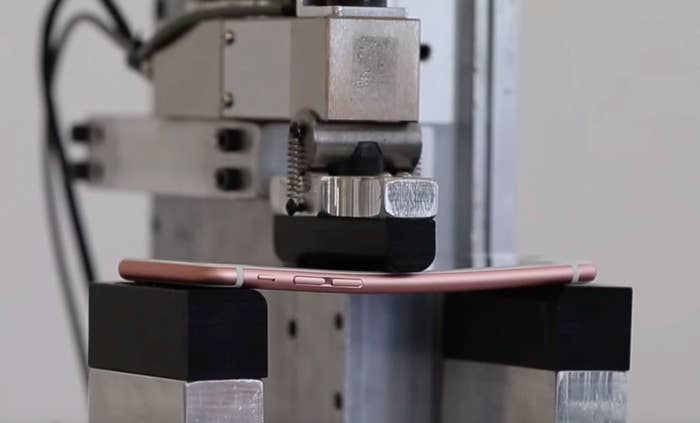 The good news: It takes a lot of pressure to bend all three devices.
In SquareTrade's tests, the iPhone 6s withstood about 170 pounds of pressure, while the iPhone 6s Plus handled about 180 pounds of pressure. Both figures are more than 50% improvement over the performance of the iPhone 6 and iPhone 6 Plus under similar testing. Meanwhile, the Galaxy Note 5 withstood about 170 pounds of pressure.
The bad news: Their displays are still likely to crack when dropped.
Both new iPhones and the Galaxy Note 5 continue to suffer from an issue that's long plagued smartphones — their displays often crack when dropped facedown.
None of them do particularly well submerged in water.
SquareTrade also tested all three new smartphones in extreme cold.
The Note 5 fared the best in SquareTrade's Thermo Rig. After two hours at zero degrees Fahrenheit it was still able to make a video call. The iPhone 6s and 6s Plus didn't do quite as well. The 6s Plus lasted only an hour at that temperature; The 6s lasted just 30 minutes.