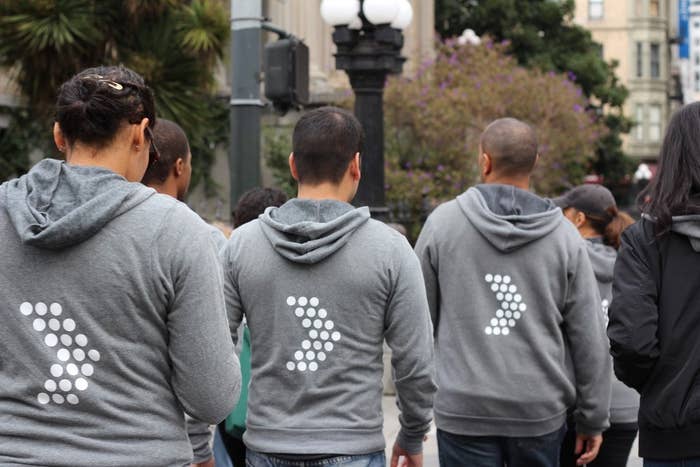 Apple is taking another step toward workplace diversity in Silicon Valley.
On Wednesday morning, the most valuable company in the world announced a partnership with Code2040, a nonprofit trying to close the diversity gap in the tech industry. That mission, in part, comes down to the organization's fellowship program. Each year since 2013, Code2040 has accepted a class of fellows — "top performing Black and Latino/a college level computer science students," per the organization's website — and given them both on-the-job skills as well as tools to help them prepare for situations that might arise when you're the only minority in the room at work. Then, it places them at prestigious internships in the tech industry.
"These are immensely talented students," Karla Monterroso, Code2040's vice president of student programs, told BuzzFeed News. "Helping them through the process is an opportunity to help institutionalize diversity."
That's where Apple comes in. As a "platinum" sponsor of the fellowship program, it will hire as paid interns 10 of the 80 fellows in Code2040's current class, and an additional 2 beyond that. For three months, these fellows will work at the company's Cupertino headquarters, shipping hardware and software.
"I think that diversity requires early adoption in Silicon Valley," said Monterroso. "Apple has innovation in their DNA, so it makes sense that they're willing to go on this journey."
In a statement provided to BuzzFeed News, Apple's Vice President for Worldwide Human Resources Denise Young Smith said, "We're excited to be working with CODE2040 toward our shared goal of more opportunities in tech for young Latino/as and African-Americans. We want every young person to have the opportunity to get the job of their dreams, and we want our teams at Apple to be as diverse as the customers that buy our products."
This story has been updated to note Apple's plans to hire 2 additional interns.