Apple Music Is Here, And It's Pretty Sweet
The tech giant's new streaming service debuted today. Here's what it looks like.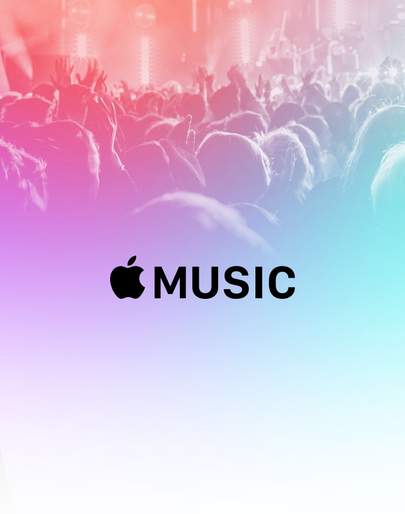 Apple Music is finally here.
After months of anticipation, Apple's music service debuted at 8 a.m. PT with a three-month free for all iOS users. (Android users, you'll have to wait until the fall.)
To get it, you have to update your device to iOS 8.4 — it comes with a completely revamped music app, Apple Music, and the Beats 1 global radio station, which debuted at 9 a.m. PT.
Here's what it looks like: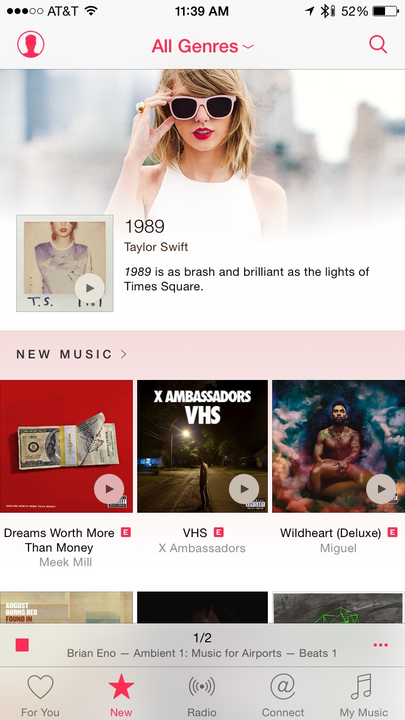 The "New" tab surfaces what's been recently added to the service
Currently leading the page is Taylor Swift's 1989, despite the album being over six months old. It's not available on Spotify — one of Apple's primary competitors in the streaming market — and getting Swift on board with the service was a long-negotiated coup for Apple.
Also streaming on Apple, though not exactly new: Dr. Dre's The Chronic and AC/DC's entire catalog, which arrived on both Spotify and Apple Music today.
"For You" lets you drag in the genres you like, so Apple Music can start to predict what you want to listen to.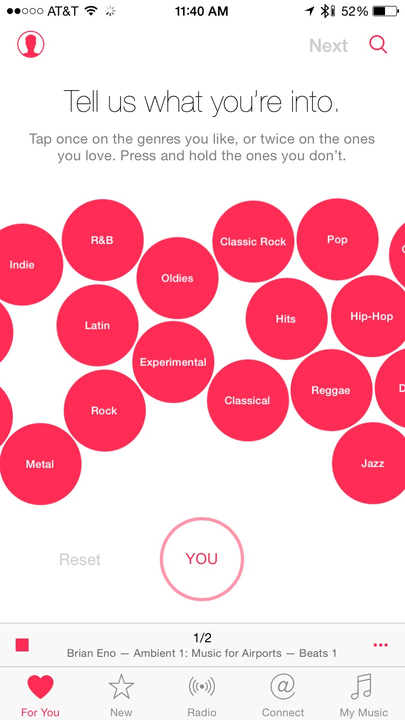 Apple Music — and Beats before it — has long been talking up the need for human curation in online streaming. Apple hopes that Apple Music isn't just a place to stream music, but also to discover new music and connect with artists.
"I think having access to all the music in the world is great, but it then starts to place a burden on what the experience is like navigating through, now that you have access to everything," Trent Reznor told Rolling Stone in an exclusive interview about developing Apple Music. He went on to say that he hopes that Apple Music will give listeners the feeling of "walking into an independent record shop."
Whether that's even possible — Apple is streaming tens of millions of tracks and needs to appeal to a wide spectrum of tastes — remains to be seen.
And here's what Beats 1, the Apple Music radio station, looks like.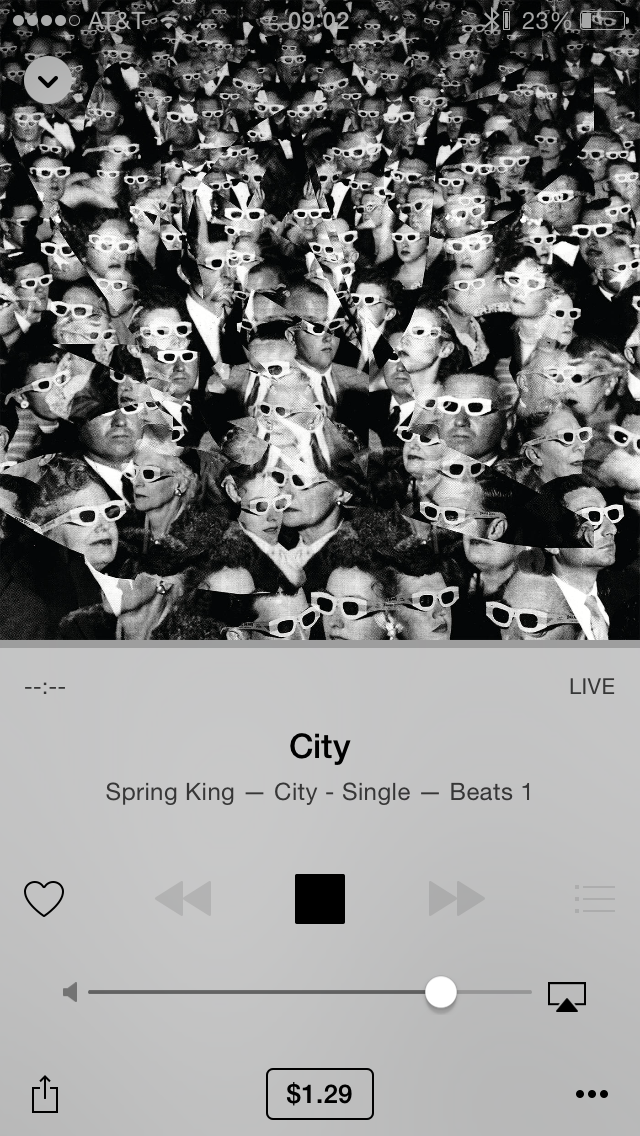 Headed by Zane Lowe, a radio DJ most recently of BBC Radio 1, Beats 1 is a radio station broadcast globally, 24/7. Thus far, it appears to take the "human curation" mission seriously, demonstrated by the fact that little-known Manchester band Spring King got first play on the new service.
Beats 1 is the most interesting experiment of the Apple Music rollout, and it's clearly aimed at eclectic tastes: In its first 15 minutes on air, it played grunge rock, alt-rock, a dance track, and a grime anthem.
The station's first interview, with Eminem, will air tomorrow.
Later this week, shows from artists such as Dr. Dre, Pharrell, and Disclosure will debut.
Finally, there's Connect.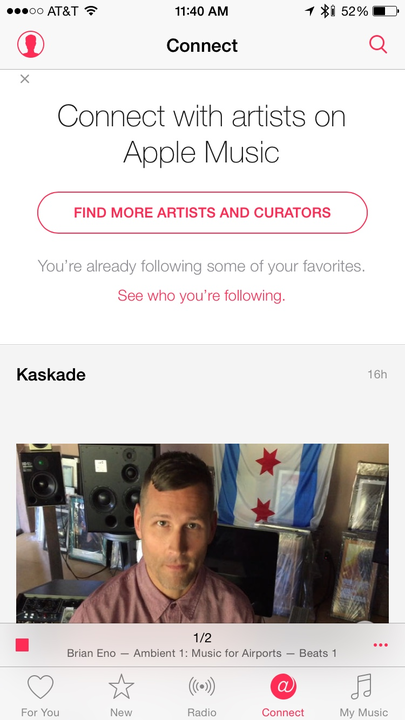 Connect is Apple's social network for music, with pages for artists to communicate directly with their fans. This is the feature that seems least necessary — social media already facilitates a ton of artist and fan interaction — but Apple is trying to pitch Apple Music as an artist-friendly platform, and features like Connect help.
Apple comes with a free, three-month subscription, after which it auto-renews at a cost of $9.99 per person per month, or $14.99 for a monthly family subscription. What if you don't like it?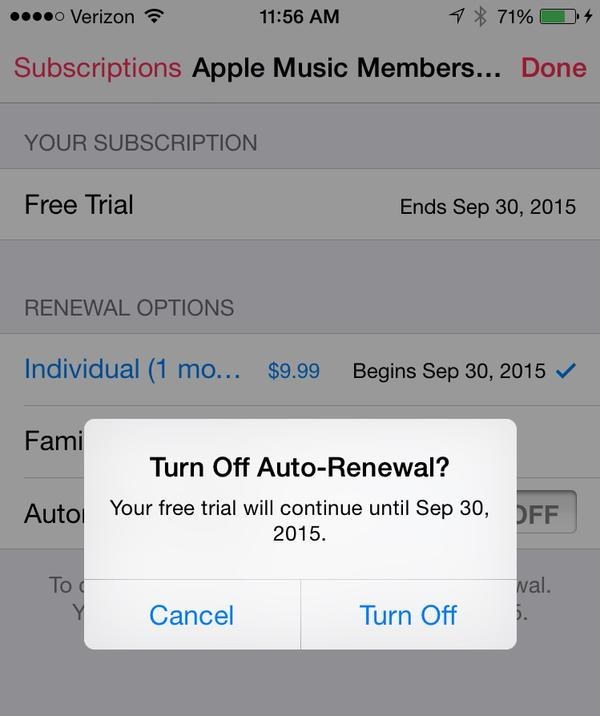 Here's how to turn off the auto-renewal of your subscription: Click the icon in the top-left corner and find the option connecting Apple Music to an Apple ID. After that, select the option to manage subscriptions and turn off auto-renewal. You'll see an option to turn it off.
This post has been updated to note that AC/DC's catalog is also streaming on Spotify.