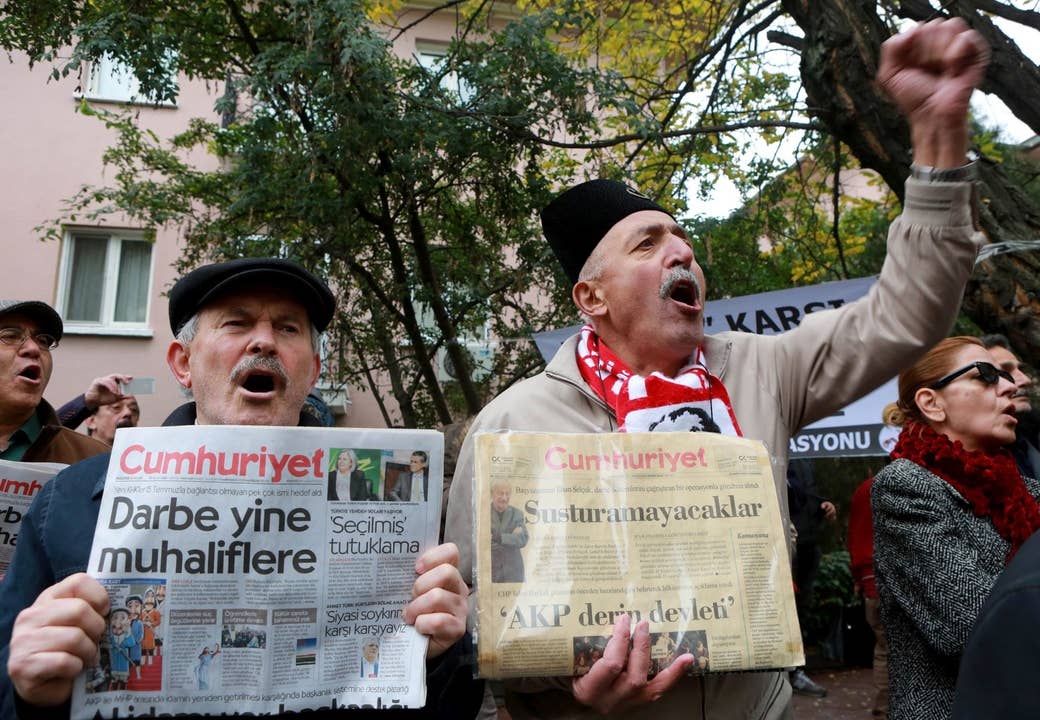 ISTANBUL — Zelal Ekinci woke up the morning of September 2 to a flood of text messages and missed calls. The bad news was confirmed. The professor of pediatric medicine had lost her job of 14 years at Kocaeli University near Istanbul. Neither her years of experience as a teacher nor her highly specialized expertise could save her after she fell afoul of the government for signing a petition calling for peace between the Turkish state and rebellious Kurds.
"In January, when police took us in for investigation, I understood that I might lose my job," said the 57-year-old. "I thought there would be some hearings, we would go to court and that it would take a long time, and at some point in the process, we will win and I will return to work. But this happened in one night. And there's no way to reverse it under today's rules."
More than 100,000 Turks have been dismissed from their jobs and 37,000 have been arrested following Turkey's failed July 15 coup attempt, allegedly perpetrated by supporters of an Islamist movement led by Fethullah Gulen. Turkish authorities say they sought to weed out and punish members of what they call a terrorist organization whose attempt to seize control of the state caused over 200 deaths.
But critics have accused the government of expanding the purge beyond Gulen's network of supporters to settle other scores against scholars, journalists, politicians, and activists at odds with the agenda of President Recep Tayyip Erdogan and his dominant Justice and Development Party (known by its Turkish acronym, AKP).
More broadly, some say the government is using the nationwide trauma over the coup attempt to pursue a longstanding social and political agenda of reshaping the educational system, the media landscape, and the political scene. One scholar likened it to the battle between liberal blue states and conservative red states in the US.
"It's a cultural transformation," said Ohannes Kilicdagi, a professor of Turkish and Ottoman-era social history at Bilgi University. "They're trying to elevate a certain cultural circle and try to make a certain culture dominate politics."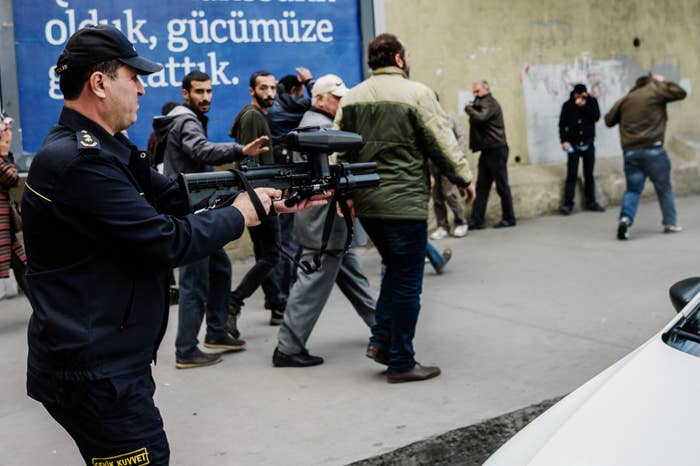 In quick succession over the last 10 days, Turkish authorities have tightened a crackdown on political opponents who had no involvement with the coup, and even vocally opposed it. Last week the government arrested the elected Kurdish co-mayors of the city of Diyarbakir, shutting down internet connections to the city of 1 million as street protests coalesced, and appointing a new unelected Ankara official as a replacement. Days later, authorities announced a new decree that gave Erdogan the power to choose university rectors previously elected by faculty members. Many saw the change as an attempt to subdue institutions of higher learning that have become bastions of dissent.
Then, on Monday, Turkish authorities arrested the editor and senior staff of Cumhuriyet, the country's most prominent opposition newspaper, on charges of supporting terrorist organizations, a move that prompted criticism by Western officials. "The ongoing massive purge seems motivated by political considerations, rather than legal and security rationale," European Union President Martin Schulz wrote on Twitter.
Turkey has defended the decisions to arrest journalists and purge scholars as part of a drive to crack down on security threats that include the Gulen movement, the militants of the Kurdistan Workers' Party (PKK), and ISIS within Turkish institutions.
"Should we let them recruit more terrorists for PKK and [Gulen] or other terrorist organizations?" Justice Minister Bekir Bozdag said in a parliament speech on Tuesday.
"Should we turn a blind eye to those brainwashing students in schools? No one can say that AKP government is kicking critics out of the public service. What we are doing is very clear. It is about terrorist organizations or those who support these organizations," he said.
Other supporters of the government say some of the recent changes implemented were pragmatic and long overdue. In a column for the pro-government Yeni Safak newspaper, Osman Akkusak argued that allowing faculty to vote for their leader produced gratuitous political tensions on campuses and weakened educators' professional accountability. "Because of the elections, teachers were fighting like cats and dogs just as the political parties did," he wrote. "Elected rectors behaved nicely to those who voted for them and made life difficult for all the others."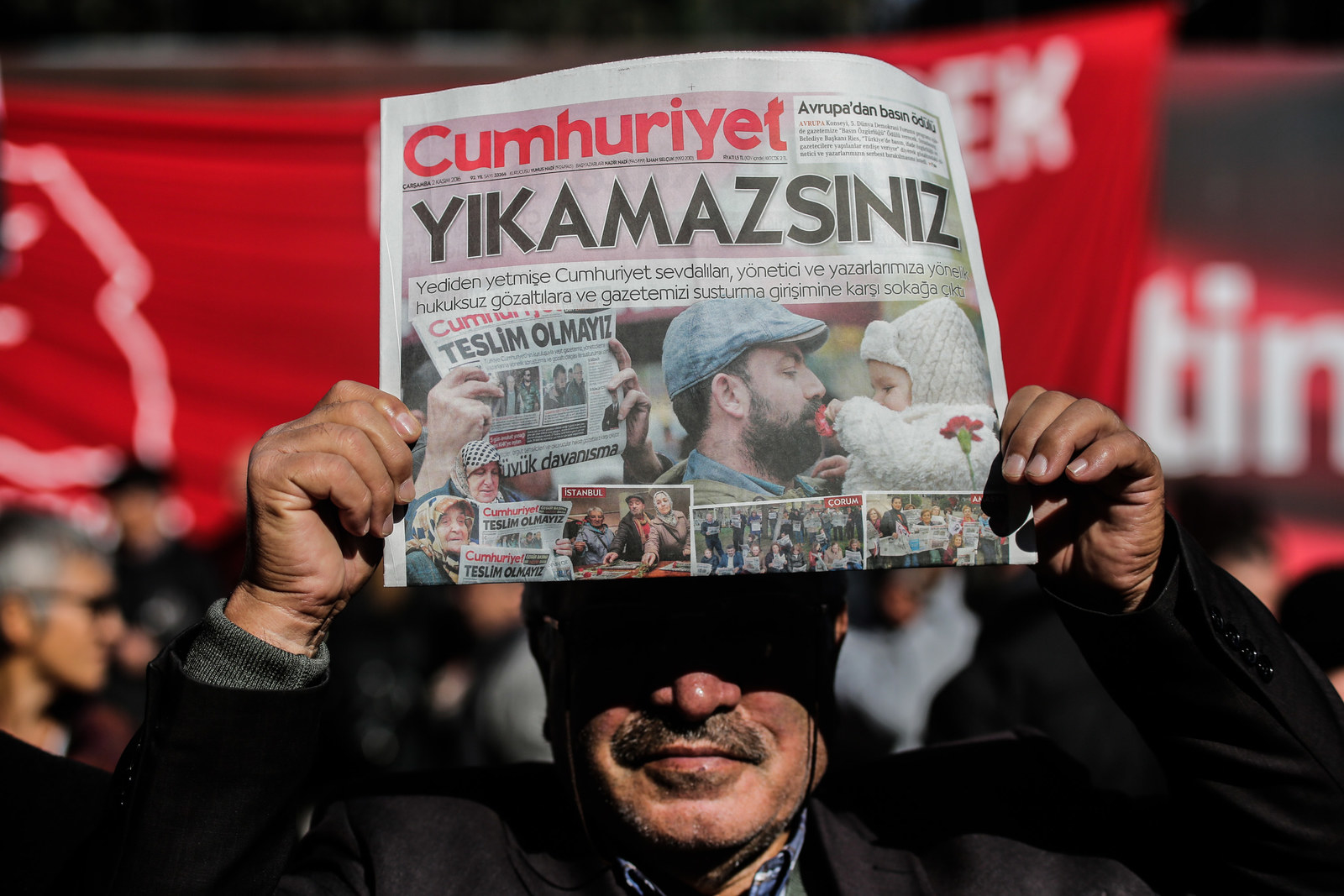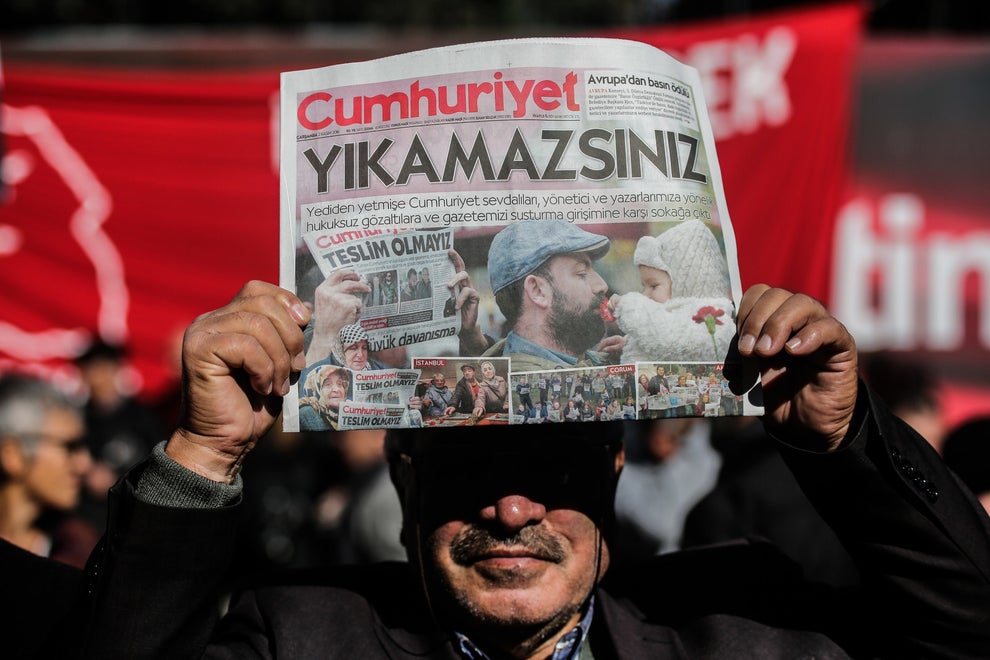 But other observers see political considerations in both the timing and targets of new decrees, arrests, and firings. In the next few months, Erdogan will seek to transform Turkey from a parliamentary system into a government with a strong presidency, over the objections of key segments of the country.
"They want to control the whole media and don't want to hear opposition media," said Kerem Altiparmak, a professor of law at Ankara University. "They don't want to take any chances on losing the effort to implement the presidential system. Erdogan doesn't want to lose."
A day after the arrests of its editors, Cumhuriyet published a banner headline saying, "We will not surrender," noting in an article that it was among the first papers to report aggressively on the cult-like Gulen movement. Hundreds gathered in front of the newspaper's Istanbul headquarters to show solidarity, as they did after editor-in-chief Can Dundar was jailed last year. Recently fired scholars and their colleagues announced they would gather for a protest in Istanbul on Thursday. But by and large, the ongoing wave of arrests and firings has cowed the opposition. Despite a protest at the rebellious Bosphorous University in Istanbul, few if any of the 140 university rectors across Turkey have said a word criticizing Erdogan for the decree.
"No one can say anything," said Altiparmak, the Ankara law professor. "All of them are privately against it. But when you look at the media, you don't see them saying anything about it. Only on Saturday 1,200 people were sacked from universities. If you don't have job guarantee or tenure, you could be sacked."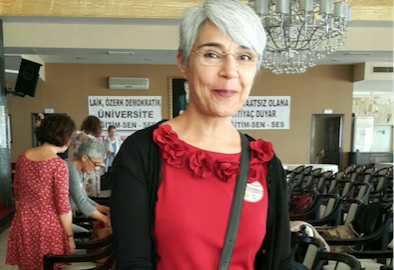 Ekinci cleaned out her office shortly after she was fired. She noted the irony that not only had she opposed the coup that prompted the crackdown, she had once voted in favor of 2011 constitutional reforms proposed by Erdogan, believing along with other liberals and leftists that he was an improvement over the military strongmen who dominated Turkey throughout the 20th century.
Erdogan was outraged by the petition she and others had signed once it became public. It provocatively described Turkish military operations against rebellious Kurds as "a massacre." Ekinci was detained for a day and interrogated. Some of those 1,128 scholars who signed the petition were barred from leaving the country to attend conferences while others were held in detention for weeks.
Not only did she lose her job, Ekinci also says that despite her rare specialities in pediatric nephrology and rheumatology, other universities and teaching hospitals won't hire her, for fear of drawing the ire of authorities. Under the rules of the current emergency law, in place since the coup and extended for another 90 days in early October, Ekinci won't be able to challenge her dismissal or even apply for retirement benefits.
She has sought to appeal the decision in the courts and filed a case with the European court of human rights, but believes there is little she can do get her job back. "There are no rules and no laws in this country," she said. "I don't know how this will all end, but I don't have a lot of hope about it."