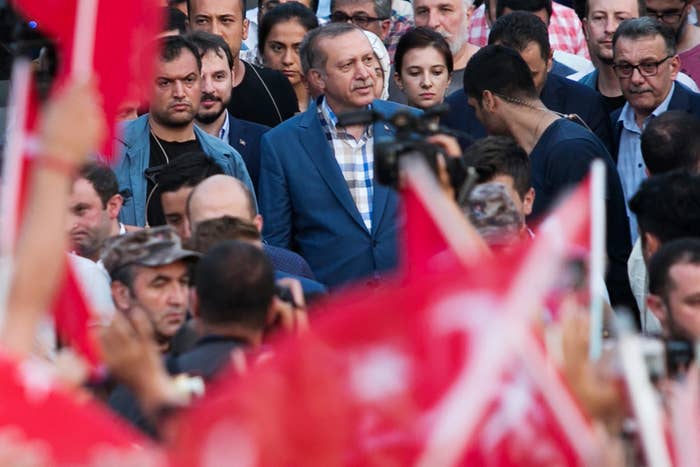 DIYARBAKIR, Turkey — Selahattin Demirtas feared something ominous was happening. More than 20 years ago, he had fulfilled his obligatory military service in Istanbul. So, when he saw photographs late Friday night that showed armed soldiers blocking traffic on the two suspension bridges connecting the European and Asian sides of the city, he quickly suspected something out of the ordinary.

"I knew this was illegal," Demirtas, the 43-year old co-leader of Turkey's leftist, Kurdish-rooted opposition People's Democratic Party (HDP), told BuzzFeed News in an exclusive interview on Saturday at a residence in Diyarbakir.
He was right. Factions of Turkey's long opaque military were staging a coup against the government led by Demirtas's arch-nemesis, President Recep Tayyip Erdogan. For more than a year, Erdogan and his allies in the government and the press have been aggressively seeking to punish Demirtas, his party, and its supporters for alleged ties to Kurdish separatists, who are now fighting Turkey's armed forces in the southeast.
Yet as the ugly, noisy cacophony of the failed coup resounded across the world, Demirtas's voice stood out as a note of reason and principle. To the surprise of some observers, his party quickly voiced support for the government — one that has arrested its members, sought to strip its lawmakers of immunity, and repeatedly ignored, tarnished, and insulted it.
"HDP, as a matter of principle and under all circumstances, is against all kinds of coups," the party announced on its English-language Twitter feed just after 2 a.m. early Saturday morning.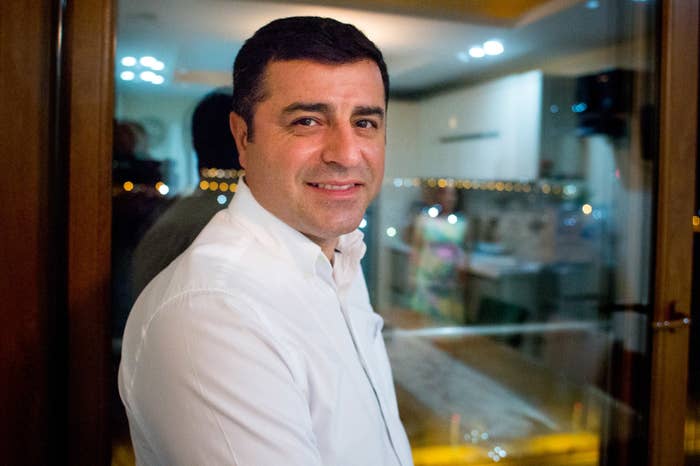 Demirtas, with Figen Yüksekdag, leads a party that embodies the aspirations of most of Turkey's Kurdish minority, which has had a deeply troubled relationship with majority Turks since the nation's founding. Erdogan sought for years to make peace with the Kurds and end a decadeslong war that has left tens of thousands dead.
But talks collapsed last year and a vicious new round of war ensued. Since then, rhetoric and hatred has escalated on both sides. Erdogan himself has at times appeared to harbor a personal grudge against Demirtas. While Kurds and leftists hailed Demirtas as a rising political star, Erdogan described him as a terrorist and a traitor, and urged prosecutors to drag him into court.
As armed forces surrounded the Istanbul headquarters of Erdogan's Justice and Development Party (AKP) and jets bombed the parliament in Ankara, Demirtas said he watched the night unfold from his hometown in Diyarbakir. He said he and other party leaders, communicating via WhatsApp and Telegram, briefly debated and ultimately decided against urging their loyalists to take to the streets, fearing it could contribute to violence. But he said there was no discussion over whether or not to support the still-murky putsch by members of the security forces. "There was never any doubt over being against the coup," he said. "If I had to chose between two evils, I would choose the one that comes by election."
Egypt's liberals and leftists mostly sided with the military when it toppled the elected Islamist government they despised in 2013. Turkey's military, often fanatically hostile to the Kurds' aspirations, would likely have tossed Demirtas into jail before anyone else in any successful coup. Still, the HDP's stance earned it widespread praise on social media, if little gratitude from Ankara.
In those first hours, government officials never reached out to Demirtas or the HDP — it holds the third largest bloc in Turkey's parliament — to request its support. On Saturday, after it was certain that the coup had failed, Erdogan called leaders of the two opposition parties to thank them for their support — but he didn't call Demirtas. And despite the HDP's vocal support for the government, the semi-official Anatolia news agency reported that only three parties had spoken out against the coup. "It's really awful that they didn't mention us and treated us like we didn't exist," he said.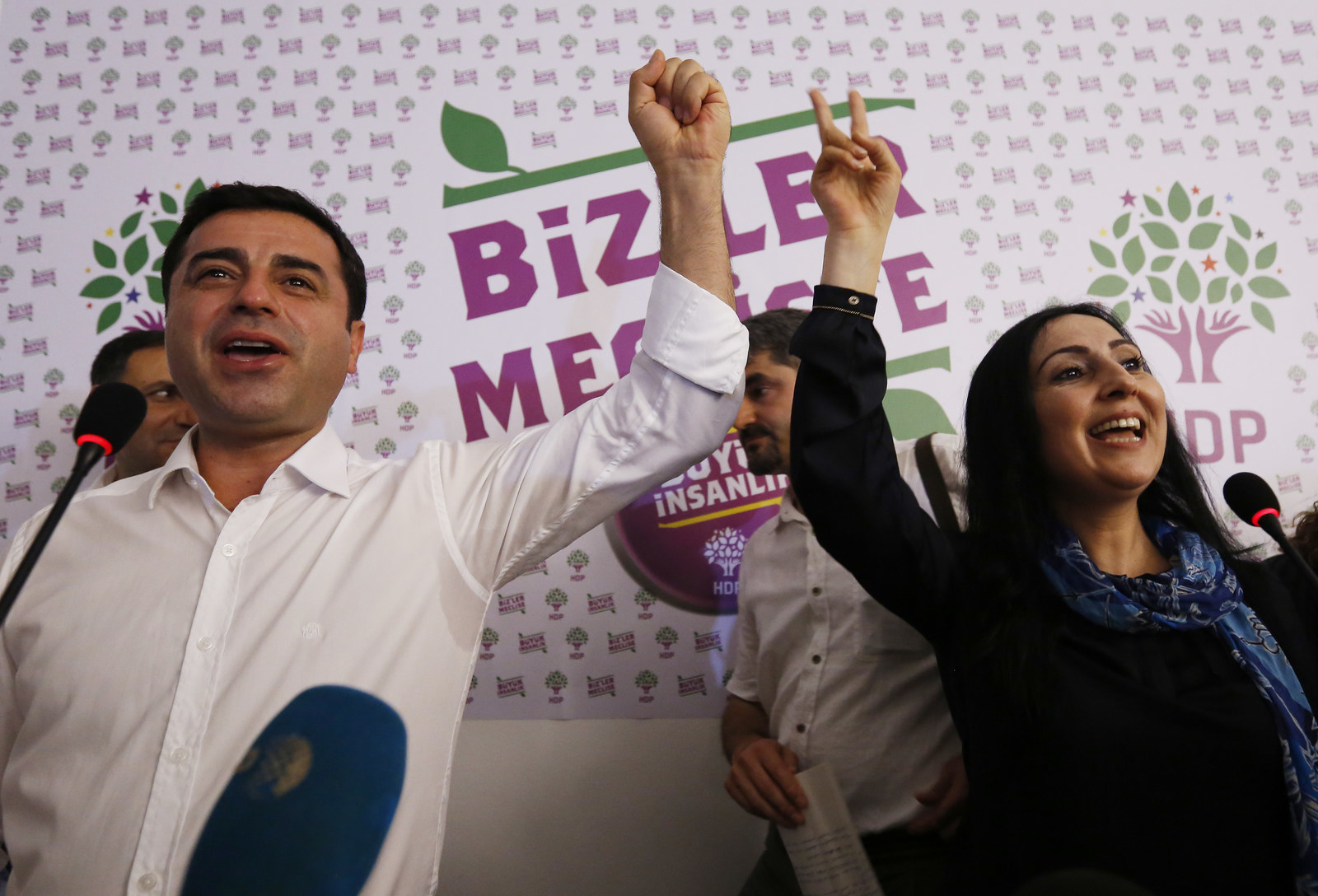 But the coup attempt, even though it failed, has shaken up the political scene in Turkey, perhaps permanently. As the morning wore on, some in Ankara softened their stance on the HDP. Demirtas, stuck in his hometown of Diyarbakir because of flights canceled in the wake of the coup, eventually spoke by phone to Ismail Kahraman, the speaker of parliament and a leading member of Erdogan's AKP. During a speech broadcast on television from the parliament Saturday, Kahraman mentioned Demirtas and acknowledged the HDP's support. The simple gesture cheered some who see the HDP as a way for Turkey to draw Kurds into the political process instead of the ongoing war.
"He said, 'Thank you,'" Demirtas acknowledged.
Some hope the coup attempt will encourage Erdogan to soften his attitude toward his critics. After all, it was the same sort of social media and street protests, which his government firmly opposed, that helped roll back the coup and restore Turkey's democratic institutions. But Demirtas said he feared Erdogan would draw the opposite lesson.

"He now saw how powerful these things are," he said. "That's why he will block them more firmly. He knows they helped bring him back to the power. He knows they could bring him down."
Although Demirtas said he doubted that the strong-willed Erdogan's brief brush with potential political death will fundamentally change him, he said it might force him to adjust some of his ways.
"He's not going to come out of this stronger," he said. "From now on, he's always going to be scared. That might make him a little easier with his opponents. He also saw that his opponents were not unimportant. We've known Erdogan for 14 years. I don't think he's going to change right away. But the experience might cause him to question himself a bit."
CORRECTION
The HDP is the third-biggest party in Turkey's parliament. An earlier version of this article misstated its rank in the parliament.