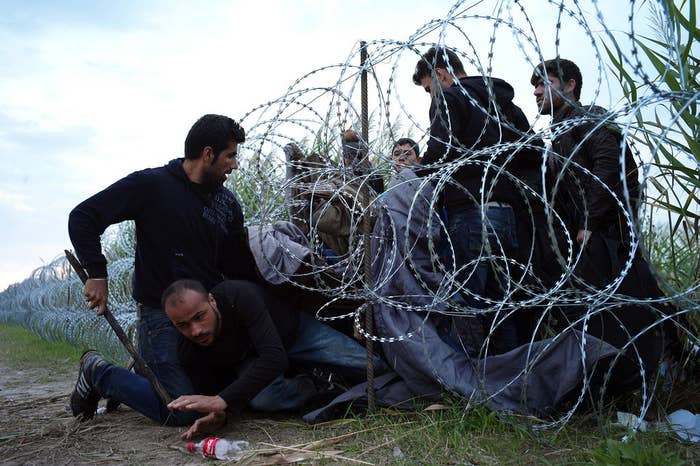 ISTANBUL — Just a few weeks ago, the Aleppo province town of Marea was a relative haven for Syrians seeking refuge from both the barrel bombs of Bashar al-Assad's regime and the brutality of ISIS warriors to the east.
But in recent days, Islamist militants pushing in from their eastern stronghold began pummeling the town with missiles, including shells allegedly loaded with chlorine and mustard gas.
The attacks prompted a fresh wave of Syrians to head to the Turkish border. But even those already in Turkey waiting to return to their town began planning the risky escape across the sea for Europe, activists say.
"They lose hope in Syria, and they lose hope that the international community will create a solution for Syria," said Yasser al-Hajj, a Syrian activist from Marea.
Images of dead children washing up on the beaches of the Mediterranean Sea and haggard refugees flooding train stations in Europe have focused international attention on a wave of people making the perilous journey by sea to Europe. The United Nations estimates that more than 300,000 have attempted the boat passage this year, compared with 240,000 in 2014.
Four years into Syria's evolving conflict, hopelessness over the future of the region is driving most of those taking the risky journey, including those who have lived for years in camps and towns along Syria's borders.
"They may have been in Jordan or Lebanon or Turkey or have have been in transit somewhere for a couple years and are now moving onward," said the head of a European aid organization who asked that his name not be published because his organization continues to operate inside Syria. "It's a sign of immense desperation in the areas where they sought refuge. They have these nice camps, but there is no hope."
Many factors lie behind the latest surge. Experts, aid workers, and refugees themselves describe a recent turn for the worse in Syria that has dashed the last bits of hope among Syrians displaced inside the country or sheltering in neighboring countries from ever coming back. The multilayered conflict has already cost at least 240,000 mostly civilian lives and displaced 11.7 million of the country's 24 million people.
Mohammad Erwani, a 29-year-old former resident of Damascus now in Istanbul, says each passing month of the conflict pushes Syrians toward contemplating drastic measures to escape it. "Maybe they had five children and one of them died, but maybe they had hope something would get better," he said. "But when three of them die, they lose all hope."
In addition to ISIS's recent battlefield advances, which have come despite a U.S.-led air campaign, the broader war between Assad's regime and rebel groups fighting him has gotten fiercer. Both camps and their international patrons have grown more determined to win militarily. International peace talks collapsed more than a year and a half ago.
"We are seeing the kind of hardline positions of Saudi Arabia and Iran reflected in the armed groups on both sides, making a political settlement less likely," said Randa Slim, an analyst at the Middle East Institute in Washington.
Relief groups say they have detected increasing numbers of people from regime-controlled areas escaping Syria to avoid both the encroaching war and the pressure on young men to join the armed forces or its allied militias. Assad warned in a recent speech that he faced manpower shortages, an alarming message to families seeking to shelter their youth from the conflict. "There's a common fear of being conscripted into fighting, regardless of which side that's driving people, to flee," said Sanjayan Srikanthan, director of humanitarian policy at the International Rescue Committee.
Four years into the conflict, most Syrians have become familiar with or even lived under all the country's emerging powers, from Assad's sectarian militias, to jihadi extremists linked to al-Qaeda, to ISIS. To many Syrians, victory by any of them would be unacceptable. "People see the different groups, they see the options available for Syrians," said Erwani, who once worked as a broadcaster on Syrian radio. "I don't think any one of them is appropriate. Now after these years, all the options all look bad."
Aid workers say many of those now arriving on European shores have been living as refugees for years. Syrians' inability to obtain or renew passports or any kind of documentation once outside of regime-controlled areas may be spurring a scramble to obtain refugee status in Europe. "Once they are in Europe they have a more clear legal status and the chance five or ten years down the line to get another nationality," said the head of the aid organization.
A lack of job prospects or aid resources in the countries hosting the bulk of Syrians escaping the war may also be driving the current uptick in attempted passages. Laws restrict jobs for refugees in Jordan and Lebanon. In Turkey, which allows Syrian refugees to obtain work permits and find jobs, the economy has faltered in recent months because of political instability triggered in part by the Syria conflict.
Alan, a 20-year-old Syrian Kurd who arrived in Turkey three months ago, said he began planning to take a boat to Europe when he found the only job available for him was working 60 hours a week at a factory for a monthly wage of $250. "I want to study business, and I think there will be more chance to study in Europe," he said.
Seasonal factors always play a role in dips and surges in migrant numbers; smugglers and refugees know Mediterranean waters will become rougher as autumn approaches, and rush to make the crossing before the calm summer seas end.
Intense international media coverage of tragedies at sea may ironically encourage those escaping a region disintegrating into chaos. Refugees watch others gamble their lives on a flimsy dinghy, and figure they've been through worse. Rumors of impending restrictions on refugee numbers or temporarily lax enforcement along Turkish sea frontier hasten the decisions of desperate Syrians.
"There is a media impact. The people know about this passage now," said Sakher Idris, a Paris-based journalist who covers the Syria conflict and its repercussions. "It's like a journey from death to hope. They say, 'We are dead already, so let's try this.'"
Erwani, the radio broadcaster, wound up in Turkey after living nearly three years in the besieged rebel-controlled eastern Damascus suburb of Ghouta. Pressured into carrying a weapon and joining the rebels, he eventually decided to flee for Turkey, traveling north through mountains and the desert using forged papers and bribes to get past various armed groups in a weeks-long odyssey far more perilous than a short boat ride across the Aegean. "I waited 15 days in the desert where the regime, the rebels, and ISIS were all fighting each other," he said. "I crossed regime checkpoints. I got past ISIS. There is nothing more that could scare me."