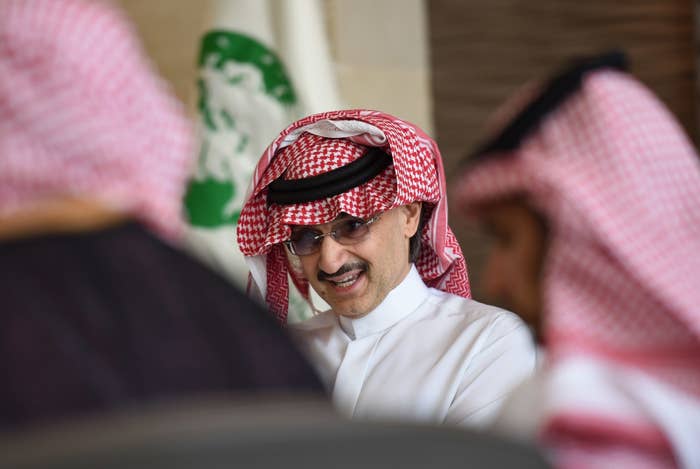 BEIRUT — A leading Saudi royal was killed in a plane crash on Sunday, a day after the resignation of Lebanon's prime minister and an unprecedented purge of the Saudi Arabia business, military and government leaders. The developments shook the Middle East, with diplomats, politicians and analysts scrambling to divine their significance.
Tensions mounted between Iran and Saudi Arabia with the resignation Saturday of Saad Hariri, the Lebanese prime minister, a key client and ally of Riyadh, plunging the painstakingly crafted government in Beirut into chaos. Hours later more than a dozen potential rivals to the young Saudi crown prince, Mohammed bin Salman, were being arrested or fired on corruption charges, some reportedly locked up in a five-star hotel, in what analysts saw as a move by King Salman to consolidate power in his son's hands and eliminate challengers and critics.
A helicopter crash near the Yemen border killing Prince Mansour bin Muqrin bin Abdulaziz, the son of Bin Salman's former rival, capped off a tumultuous and tense 48 hours in Saudi affairs. At least half a dozen other officials died in the crash, which was reported by official Saudi news outlets.
Adding to the regional tensions, Tehran's allies in Yemen fired a missile on Saturday at the main international airport in Riyadh. The missile was intercepted, Saudi Arabia said. On Sunday, Saudi-led coalition said it had closed Yemen's land, sea and air ports. The move came hours after Riyadh issued a list of 40 names of alleged Houthi leaders and posted multi-million dollar rewards for information leading to their capture.
The moves by the Saudi leadership illustrated the dramatic shift the kingdom has undergone from a somnolent and conservative force under King Abdullah, who died two years ago, to a more unpredictable and potentially destabilizing regional power under Salman and his 32-year-old son and heir apparent, Mohammed, popularly referred to by his initials, MbS, who was named Crown Prince in June.
"MbS will be king for 50 — repeat 50 — years," Aaron David Miller, a former Middle East negotiator under both Democrats and Republicans, wrote on Twitter. "Let's hope his recklessness abroad and arbitrary manner at home will be tempered by wisdom."
The crown prince has laid out an ambitious agenda that includes modernizing Saudi Arabia's strict version of Islam, moving its oil-dependent economy away from petrochemical revenues, and more boldly confronting Iranian influence in the Middle East.

Among those ordered arrested was Alwaleed Bin Talal, the billionaire owner of the Kingdom Holding Group, a high-profile investor who has also supported opening up Saudi economy and society and has strong ties to Washington. Several top-ranking media executives and former and current government officials were also ordered arrested or fired, including the chief of the Saudi navy, the head of the national guard, and the minister of economy and planning. Many of the arrested royals were reportedly being housed at the glitzy Ritz-Carlton Hotel, where guests were quickly ordered to leave. Suites at the hotel cost between $1,000 and $4,000 per night.
The kingdom described the arrests and firings as part of an anti-corruption drive led by the crown prince and aimed at weeding out "exploitation by some of the weak souls who have put their own interests above the public interest." But Saudi watchers were skeptical.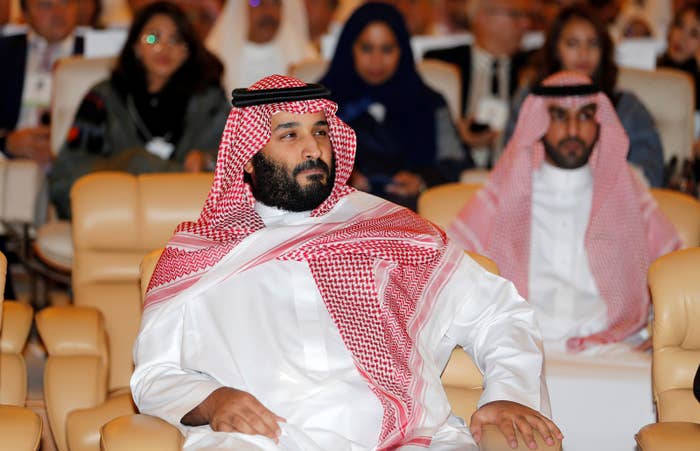 "In the sweeping arrests, the Saudi authorities are continuing a trend that we've seen over the past few months — consolidation, consolidation, consolidation," said H.A. Hellyer, a scholar the Atlantic Council as well as the Royal United Services Institute. "What makes this unusual is the speed at which it took place. But the message is clear. The authorities want everyone to know that they have a particular direction they want to pursue. Precisely what that direction is, though, remains somewhat hazy."
The detentions and firings follow a "wave of earlier arrests of scores of Islamic scholars, judges and intellectuals, whose views run the gamut from ultra-conservative to liberal," wrote James Dorsey, senior fellow at the Rajaratnam School of International Studies in Singapore. They come amid Saudi's ongoing war against the Houthis in Yemen and a confrontation with fellow Gulf monarchy Qatar, which Riyadh and its allies have blockaded since June over its independent-minded foreign policy.
Some analysts speculated that the crackdown may be a prelude to a wider attempt to contain any possible protests ahead of an attempt to forcefully implement the crown prince's domestic agenda.
"This is the latest act of concentration of power in Saudi," Hasnain Malik, equity researcher at Exotix Capital, said in a note emailed to clients and journalists. "As unprecedented and controversial as it may be, this centralization might also be a necessary condition for pushing the austerity and transformation agenda."
Hariri, Lebanon's Sunni prime minister and a longtime Saudi client, announced his resignation in a televised broadcast on Saturday while on a visit to Riyadh, effectively throwing Lebanon into crisis by detonating a power-sharing arrangement that included the Shia militia and political party Hezbollah, Iran's strong ally. His announcement from Riyadh and his choice of Saudi-owned Al-Arabiya television, rather than his own Future TV, led both ordinary Lebanese and those in the political elite to suggest he was speaking under pressure.
Hariri's resignation announcement reflected Saudi talking points. He claimed that he had been the target of an assassination plot, and blamed Iran's influence on Lebanese politics for his decision to leave the post, his second term as Lebanon's prime minister since the 2005 assassination of his father, Rafik Hariri, reportedly at the hands of pro-Hezbollah operatives.
"There is nowhere that Iran goes where it doesn't plant fear and destruction," Hariri said, referring to ongoing military and political battles between Tehran and Saudi clients in Lebanon, Bahrain, Syria and Yemen. "Hezbollah claims that they are resistance fighters but point their weapons at Syrians and Yemenis."
Iran's foreign ministry spokesman Bahram Qassemi described Hariri's resignation as part of a plot "to create fresh tensions in Lebanon and [the] region," according to a statement cited by Iranian news agencies.
"Not only the unprecedented resignation of Mr Hariri, and making the announcement in a foreign country, is unfortunate and surprising, it also shows that he is playing the game designed by the ill-wishers of the region," he was quoted as saying.
Israeli Prime Minister Benjamin Netanyahu called Hariri's resignation a "wake-up call to the international community" on Iran's expanding influence.
"This aggression endangers not only Israel but the entire Middle East," Netanyahu said. "The international community needs to unite and confront this aggression."

On the streets of Beirut, many worried about a possible deterioration of a security situation already made fragile by the ongoing war in neighboring Syria and a flood of Syrian refugees sheltering from the conflict inside Lebanon. Rumors swirled that Hariri himself was under Saudi detention. According to insiders, officials of his Future Movement, the political party he inherited from his father, were unaware that he was about to resign and stunned at his uncharacteristically harsh rhetoric. Michel Aoun, Lebanon's pro-Hezbollah president, said he would wait for Hariri to return to Beirut before acknowledging the resignation and beginning the process of forming a new government.
"Hariri's resignation is very surprising and I fear that Lebanon has entered the regional conflict," lawmaker Ghassan Mokheiber was quoted as saying.
Theodore Karasik, senior adviser at Gulf State Analytics, a consulting firm, said Hariri's resignation and the purging of Saudi officials and businessmen were likely connected, all having to do with ferreting out a culture of "bakhshish" or bribery paid for public-sector contracts that has drawn in Lebanon. Hariri holds dual Lebanese and Saudi citizenship.
"The charges go to the heart of bakhshish culture especially between Lebanon and Saudi especially in the cases of Talal and the television network heads," he said. "For others, the corruption is in regards to construction contracts. Some of these contracts are with the Saudi armed forces."
Hours after the resignation of Hariri, Yemen's Houthis, the pro-Iranian militia which has toppled the UN-recognized government in Sanaa and is locked in a war with Saudi Arabia, fired a medium range rocket that reached Riyadh.

The Houthis announced on their al-Masirah TV channel that they had launched "a long-range ballistic missile" targeting King Khalid International Airport, Saudi Arabia's second busiest. Al-Arabiya later reported that the missile had been intercepted.
It wasn't immediately clear if the Hariri announcement and the missile launch were connected. A day before Hariri resigned he met in Beirut with Ali Akbar Velayati, a top adviser to Iran's supreme leader, Ali Khamenei. Few details of the meeting were disclosed, but a source cited by Iran's Fars News Agency said the two men clashed over Yemen, with Velayati rejecting a Saudi proposal to end a crisis that has been a drag on Riyadh's coffers.

The missile launch came three days after the Saudi-led coalition fighting the Houthis in Yemen launched an airstrike that struck a marketplace in the Houthi stronghold of Saad'a, killing 26 people, including civilians. A spokesman for the Saudi coalition on Saturday described the airstrike aimed at eliminating a "high-value, legitimate military target."