ISTANBUL — Çamlıca Hill rises over Istanbul, reaching nearly 1,000 feet above the sea. Pronounced chamli-ja, it is the city's highest point, overlooking the Bosphorus strait that divides the city's Asian and European halves. Its peak offers spectacular views of the ships and ferries traversing the waterway and some of the ancient city's architectural treasures and the rolling landscapes surrounding them. In the summer it offers a breezy retreat from the heat of the city. Sultan Mahmoud II, widely considered the last of the great Ottoman leaders before the empire sank into its deadly malaise, loved Çamlıca, really loved it, so much so that he referred to it in his poetry: "My heart is full of desire, my great lover. Let's go to Çamlıca tomorrow, my dear Lord."

Grunting bulldozers now pummel Çamlıca's face. Construction cranes rise from its surface, alongside six minarets, as they build an immense and controversial new mosque that will be Turkey's biggest ever. Many of the city's architects oppose it as an aesthetic travesty, and it almost certainly violates regulations; a lawsuit opposing it is wending its way through the courts.
But the mosque construction moves forward, with contractors even working on Saturdays. It is a signature project — perhaps the signature project — of Recep Tayyip Erdoğan, president of Turkey and founder of the country's ruling Justice and Development Party (AKP). He has shaped Istanbul and Turkey for decades, rising from mayor of this landmark city to prime minister and president over the last two decades. Teaming up with powerful and well-connected contractors and construction magnates, the Housing Development Administration of Turkey — a $23 billion government authority known by its acronym TOKI — is on a frenetic building spree. Across Turkey, new housing complexes, shopping centers, vast public works projects (including bridges, tunnels, and stadiums), and more and more mosques are rising.
"Every political power wants to leave a legacy."
But in the mosque at Çamlıca and other public works projects, critics see a disregard for local needs in favor of the flashy and triumphant, with little consideration for the size of projects or the historical and recreational value of what they replace, which often includes green space or older mosques that could be renovated.
"Every political power wants to leave a legacy on the urban landscape," said Ozlem Unsal, a researcher at Istanbul's Kadir Has University. "Their works reflect the ideological power at work at its time. What's happening in Turkey and Istanbul is no different."
Turkey has risen globally in prominence in recent years as an export powerhouse, a diplomatic force and a key player in the war against ISIS. It has become a transit point for thousands of jihadis heading to Iraq and Syria, as well as hundreds of thousands of refugees heading to Europe to escape the conflict zone. Once cautious, it has flexed its muscles by arming and training Syrian rebels fighting Bashar al-Assad, downing a Russian plane and establishing military bases in Iraq and Qatar.
More than anything, Çamlıca and other mega-mosques illustrate the ambitions, ideological attachments, and commercial inner workings that drive Erdoğan's Turkey.
The days of the sleepy, inward-looking Turkey are over. During a meeting with foreign journalists earlier this month inside an ornate chamber of the Dolmabahçe Palace compound in Istanbul, Turkey's prime minister, Ahmet Davutoğlu, spent nearly 45 minutes describing his country's accomplishments in disparate fields since the AKP began winning elections in late 2002.

Per capita income, he said, has tripled. The number of teachers has doubled, with classroom size shrinking from 78 to 40 students, he said. The number of embassies in Africa has gone from 12 to 39. The United Nations has even opened an office in Istanbul. Davutoğlu, a bookish former scholar who spent years in academia before he entered politics, has long argued that Turkey needed to become a more ambitious world player and not just a regional power.
"Turkey should have a proactive policy in [the] Balkans, Caucasia, Middle East as the inner circle of Turkey," he said, speaking in English, "and also an active engagement policy in the Black Sea, Mediterranean, Aden, the Gulf, Caspian Sea, and a multidimensional continental policy for Europe, Africa, and Asia … and also to open new areas like Latin America."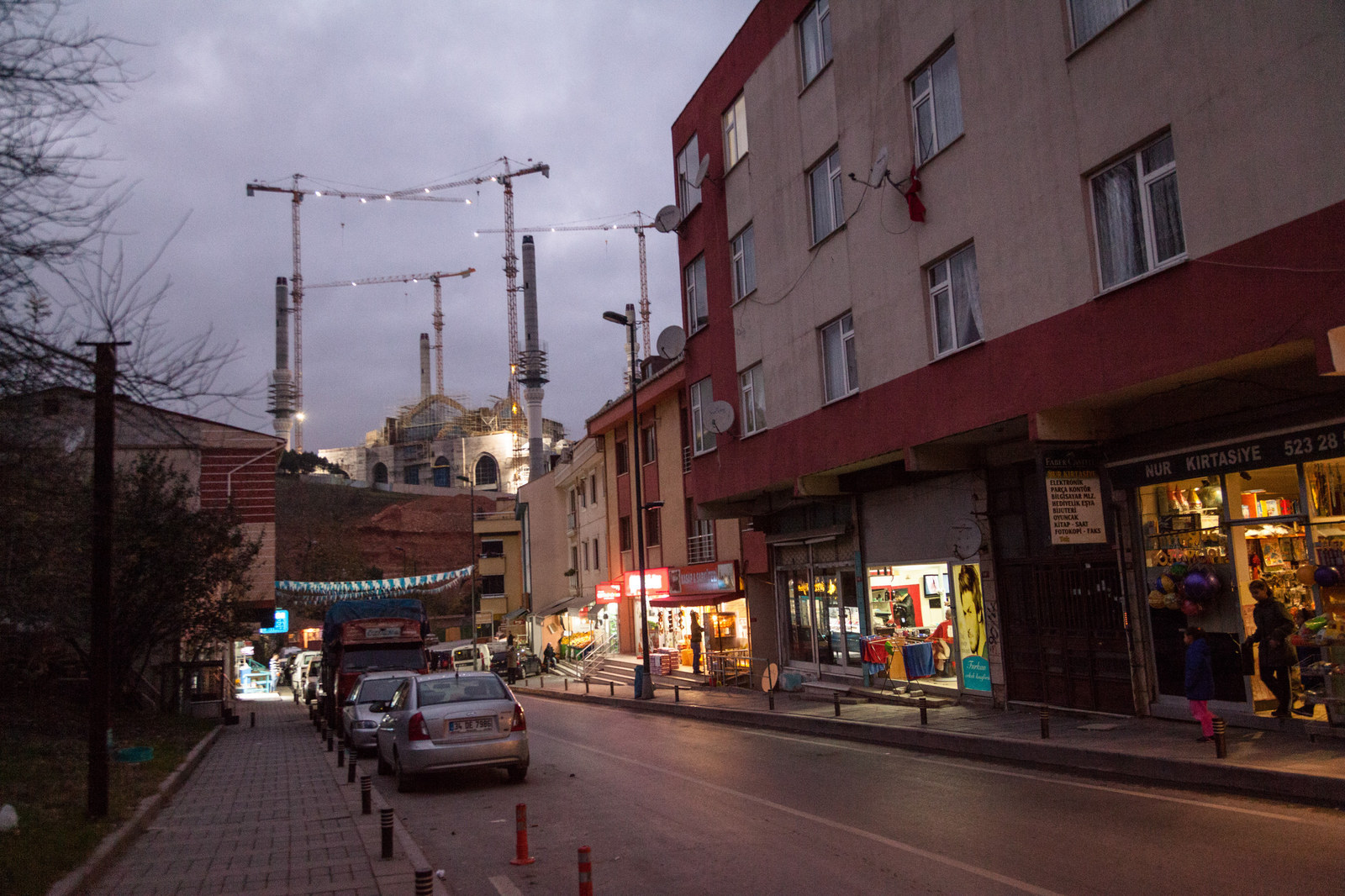 The new global Turkey also finances Ottoman-style mosques, with their distinctive domes and minarets, around the world, including in Gaza, and a controversial one in Bucharest. It is in part an architectural and ideological competition with Saudi Arabia, whose austere Wahhabi mosques have been popping up across the globe in the thousands, promoting a version of Islam that Turkey's leadership considers extreme and intolerant. In Cuba, Turkey and Saudi Arabia are competing to build a mosque in Havana. Iran, too, seeks to spread its ornate, Safavid-style mosques to other countries, including Lebanon and Iraq but also western countries like Denmark. All three regional powers are seeking to promote their versions of Islam, with Turkey emerging as a player in the decades-long rivalry between Tehran and Riyadh.
"Until this period, the Turks didn't have the confidence to build these big mosques," said Omer Sahan, a leader of the AKP in Istanbul's Kadıköy District, where at least two proposed controversial new mosques are also being planned. "In every aspect, especially in terms of the economy, now we have the confidence."
"It's a beautiful place, so it's normal to build a mosque."
At 15,000 square meters, Çamlıca will be the largest mosque in Turkey, able to accommodate 37,500 people, and will include a museum, art gallery, library, conference hall, and underground parking lot. Set to open next July, it will be visible from most of the sprawling city, an immense project that rivals the great houses of worship of the Ottoman era, including the 17th-century Blue Mosque and the Haghia Sophia, a Greek Orthodox church converted into a mosque in the 15th century and a museum in the 20th century. Many Turks are thrilled at the idea of a new icon for their premier city.
"It's a beautiful place, so it's normal to build a mosque," said Ali Kalbas, a 70-year-old retired pharmacist taking selfies at the construction site with his son-in-law.
"It's not about what effect it will have on the neighborhood," said Kalbas, looking out at the view. "It's about Istanbul. So many people will come here to visit. It will attract tourists. It's good to build."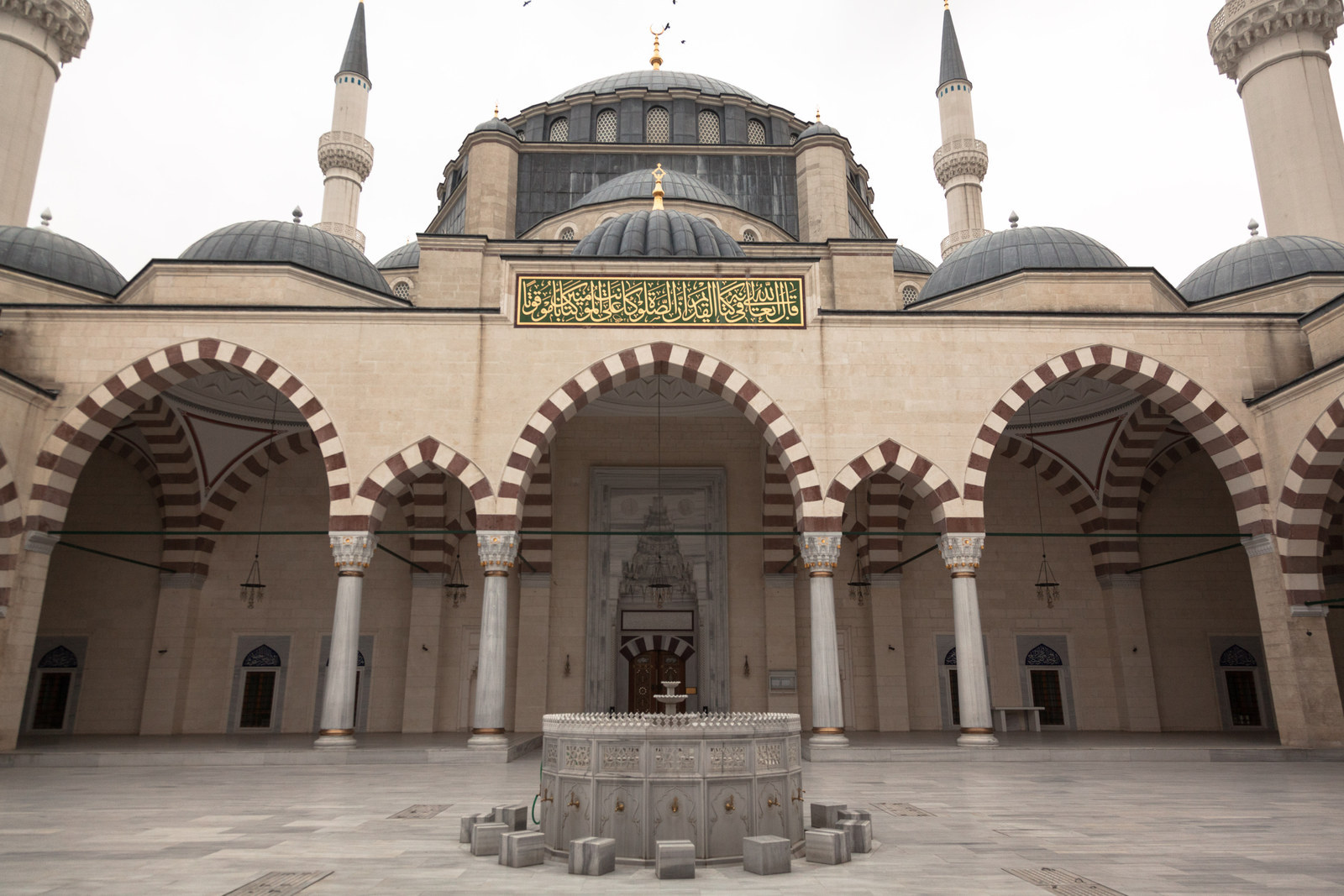 Up until the late 1990s, the Istanbul district now called Ataşehir was a quiet, former farming area on the Asian side of the Bosphorus. But it soon became the site of one of the most ambitious development projects in Turkish history. In less than 15 years, it has become a crowded warren of glass, steel, and concrete towers, its population expanding to 400,000, many of whom are newly wealthy people riding the country's boom economy. New, shiny, and big — the towers became monuments to the Erdogan era.

To cap off the building spree, TOKI teaming with Guryapi, whose CEO Hasan Gursoy attended high school with Erdogan, and an architectural firm known for its religiously motivated designs built the 7,000-square-meter, $21 million Mimar Sinan mosque, named after the the 16th-century architect who designed the great Ottoman houses of worship. Erdoğan himself attended the opening.
Increasing the number of mosques has long been a campaign promise of Turkey's Islamist political parties, starting with the Welfare Party of the 1990s, an antecedent to Erdoğan's AKP. Researchers say the number of mosques has grown from 60,000 in 1987 to more than 85,000 this year, with more than 3,000 of them in Istanbul. Advocates argue that the country needs the mosques to tend to a population that has grown from 52 million to 77 million since 1987.
"There are 85,000 mosques. This is true but around 60,000 of them are village mosques," Mehmet Gormez, head of Diyanet, the religious affairs office, said in 2013. "Seventy-five percent of the population live in cities but only 25 percent of the mosques are in cities. We should take this into consideration."
But mosques are also a way for a new ostentatiously rich class of AKP supporters to give back, to show their piety even as they grow ever more wealthy and powerful and take on the accoutrements of the global elite.
"In Ataşehir, they wanted to give the message that despite all this wealth they are still Muslims," said Mucella Yapici, a leader of the Istanbul Chamber of Architects. "In order to consolidate their power, AKP uses mosques as a physical symbol."
The mosques and other vast public projects are also part of a political machine that uses public and private resources to reshape Turkey. Once devoted solely to financing low- and medium-income housing projects, TOKI has grown into an all-encompassing entity that oversees many of the highest-profile infrastructure projects in the country. It rewards contractors with public land to build real estate developments and earns a percentage of profits. It spends its revenues, totaling $1.73 billion in 2014, on public infrastructure projects such as hospitals, mosques, and stadiums, which are granted to well-connected construction companies. (TOKI did not respond to requests for comment.)

"They have created this sort of model of accumulation based on construction, especially in Istanbul," said Mustafa Sonmez, a Turkish author and investigative journalist. "They have preferred this model to create their own bourgeoisie and sign their own contracts especially to firms that have ties to power."
The Çamlıca contract was originally handed to two big construction firms: Guryapi, headed by Erdogan's childhood friend, and Ozkar, owned by AKP lawmaker Niyazi Ozcan.
"Building a mosque in Turkey is not only about meeting a promise to your voters and it's not only about religion," said Unsal. "Another aspect is: Who are the winners in financial terms?"
They meet weekly or even twice weekly in union offices, or parks when the weather is nice, sipping coffee and tea as they discuss plans to stop two mega-mosques going up in their neighborhood. Kadıköy Solidarity, a ragtag group of dozens of activists, with about 15 core members, is seeking to stop the transformation of their densely populated district of 660,000. Its bars and cafés teem with young professionals and artists, and Kadıköy is among the most secular districts of the city. The activists believe persistent public pressure is the only way to stop the new mosques. "The key is to struggle," said Eymen Demircan, 25, one of the leaders of the group. "We organize people on the streets. If you touch upon the real problems of the society, then the struggle becomes bigger than itself. After the renovations the rents go up. You bring up the issue of gentrification."

The mega-mosques are tough to fight. They are often commissioned by Diyanet, the prime minister's office, or parliament, with minimal local input and often in violation of local regulations.
"These mosques are not about religion. They're about authority and power."
Taking cases to the courts has proven futile. The Chamber of Architects sought to challenge Çamlıca, which they said clearly violated the law by building on protected green space. So lawmakers changed the rules and new pro-government officials were appointed to conservation councils. Anyway, court decisions can be delayed when your adversary is the most powerful man in the country.
"Courts don't halt the project," complained Yapici. "We might win in court after construction is done."
Using public pressure, and their alliance with sympathetic local political leaders, the Kadıköy Solidarity has managed to slow down both the mosques proposed for their district. Though neither has been canceled, both are under review, to the frustration of their advocates. "There is a process going on," said Sahan, the AKP local leader, who is also a member of the Kadıköy municipal council. "If they did a referendum the people would be in favor of the mosque."
Like other parts of Istanbul, dozens of beloved tiny mosques, many of them historically or architecturally significant, are nestled comfortably within neighborhoods. On some Fridays they're so busy that attendees spill onto the sidewalks, but many are often almost empty.
When Kadıköy Solidarity first started campaigning against the mosques they were approached by advocates. "They were like, 'We are all Muslims. Why do you oppose this plan?'" recalled Demircan, "But these mosques are not about religion. They're about authority and power."