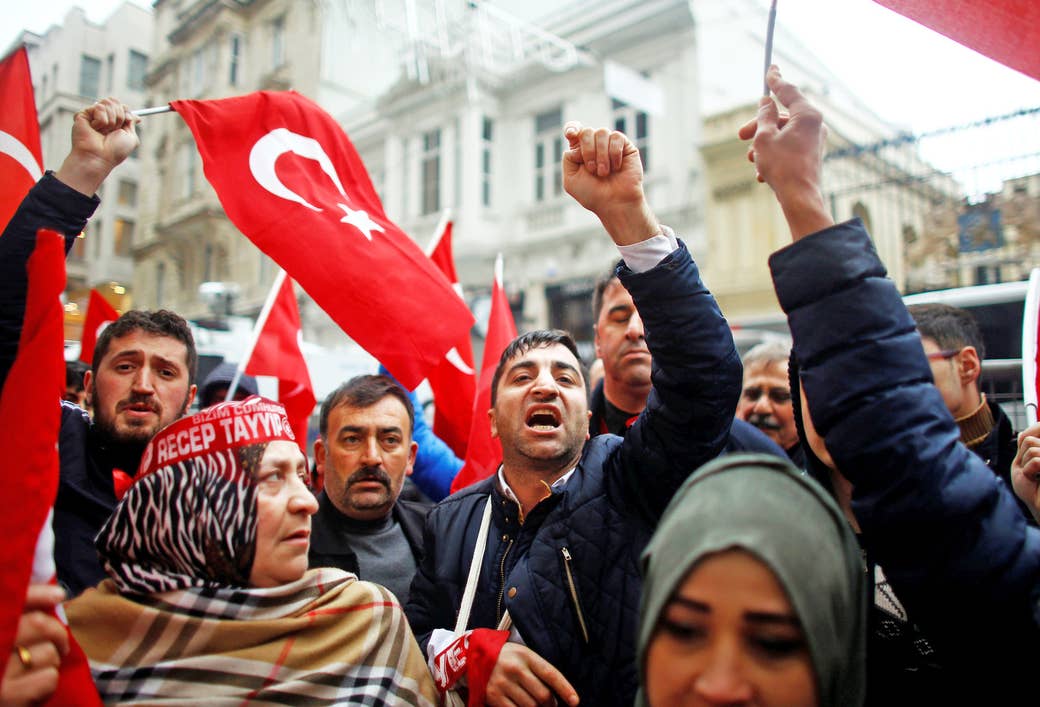 ROTTERDAM, The Netherlands — The Nieuwe Maas River cuts through the city, splitting this major Dutch port's north, where City Hall and the main train station are located, from the southern neighborhoods home to tens of thousands of Turks and other recent immigrants.

"Cross the bridge to the south and you leave Holland," says anthropologist Sefa Yurukel, chairman of the Dutch Turkish Council. "You are in Turkey."
The Turks of south Rotterdam shop in Turkish for Turkish pastries and dairy products at Turkish shops. They watch Turkish television. They pray at mosques funded by Turkey's Ministry of Religious Affairs. Standing outside with a group of friends next to the Yeni Aksaray café on south Rotterdam's Oranjeboom Street, businessman Mehmet Demirel said he was politically first and foremost a strong supporter of Turkey's President Recep Tayyip Erdogan, and his Justice and Development Party, known as AKP.
"I have Dutch friends and we drink beer and watch Dutch soccer on television," he said. "But I am 100% Turkish, a Dutch citizen but with a Turkish identity."
An ongoing diplomatic crisis between the Netherlands and Turkey on the eve of closely watched Dutch elections has placed millions of Turks and other Muslim immigrants at the center of a political firestorm, with right-wing populists charging that they are not loyal to the Netherlands. In interviews a day before the elections, Turkish immigrants acknowledged strong ties to Turkey but many said they're offended by the attacks and are responding by politically organizing.
The diplomatic furor began when Erdogan's government attempted to stage political rallies in Europe ahead of an April 16 constitutional referendum among Turkish immigrants. European governments refused to allow them. Turkey tried to force the issue over the weekend, dispatching a minister from Germany to the consulate in Rotterdam. Confrontations erupted on Netherlands streets between cops and Turkish protesters. Anti-immigrant sentiment flared.
"A thousand Dutch Turks went into the streets and politicians are saying the whole integration project is a failure," Rena Netjes, a journalist and former Amsterdam politician. "It's not fair what the populists are doing for their own gain."
Dutch elections come at a particularly sensitive time, with both widespread accusations of foreign meddling in Western elections by Russia and other countries and the rise of the populist, anti-immigrant right heightening tensions over a vote that would normally be focused on issues such as health care for the elderly, education, and quality jobs. "The migrant communities' loyalty was already a political issue," said Catherine de Vries, a professor of politics at the University of Essex in the UK. "This issue with Erdogan and his referendum put an extra flavor to it."
Regardless of the results of the Netherlands vote, the imbroglio has reopened a debate about the status of nearly 5 million European residents and citizens of Turkish descent. On the eve of the vote, Dutch TV stations and newspapers were filled once again with stories about Islam, immigration, assimilation, and minorities. This dominated the Monday night debate between far-right leader Geert Wilders and center-right Prime Minister Mark Rutte.
Turks in the Netherlands and Europe are relatively successful financially. Many arrive in Europe with skills or at least entrepreneurial hustle that gives them an edge over other minorities. A strong sense of community has kept all but a few from joining ISIS or other violent extremist groups. But perhaps more than other minorities, they live in bubbles of Turkishness, enclaves like south Rotterdam, partially isolated from the rest of Dutch society.
"The Turkish diaspora in Europe is, on the one hand, by and large moderate," said Mustafa Akyol, a Turkish journalist and scholar now teaching at Wellesley College in Massachusetts. "On the other hand, this is not a very assimilated community. They have a very strong national identity. They are Turks first before anything else."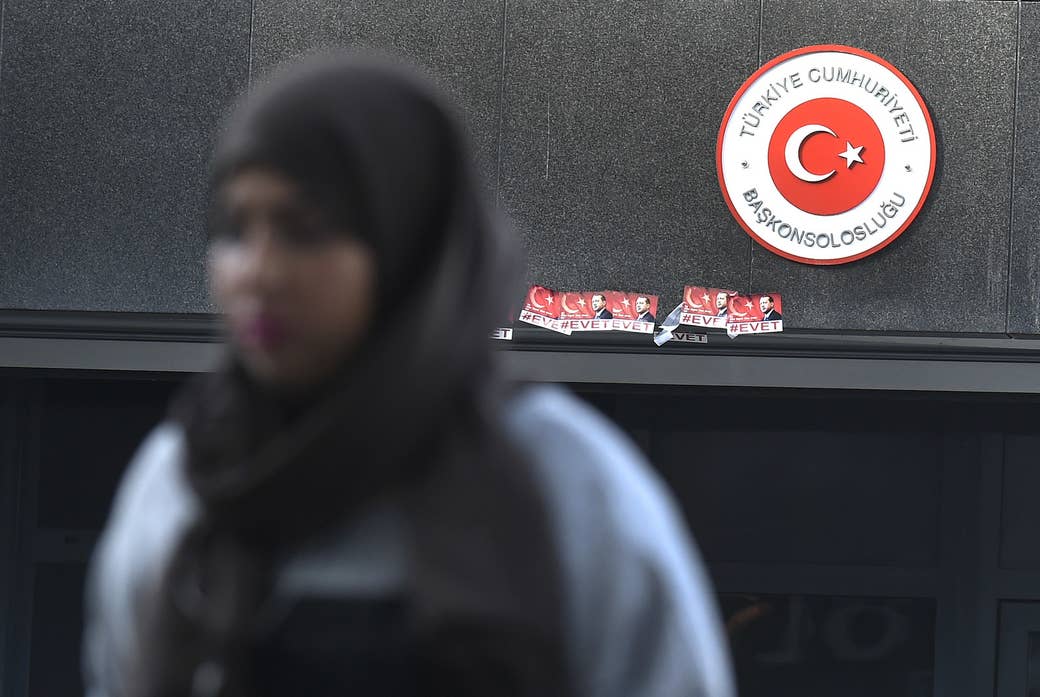 The Dutch have it pretty good. The economy is doing better than most European countries. There have been no recent terrorist attacks on Dutch soil. Despite complaints about integration, the mayor of the country's second-largest city, Rotterdam, and the speaker and several other members of parliament hail from migrant backgrounds.
Even the populist surge that many worry about is more like a blip. The latest polls gave Wilders — who has said "Islam is not a religion" and that the Qur'an is a "Fascist book which incites violence" — some of his lowest numbers in months, likely a product of deft door-to-door campaigning by Dutch political parties as well as the cautionary tales of the chaotic aftermaths of the Brexit vote in the UK and the election of Donald Trump in the US. Wilders wants to break up the EU. But unlike Brits, the Dutch strongly support the EU. Even if he exceeds expectations, all parties say they'll refuse to join with Wilders in a coalition government, giving him virtually no chance of being in the next cabinet, much less leading it.
But whatever his showing, the reality is that both conservative and leftist parties have co-opted chunks of his rhetoric. He's managed to push the needle on the immigration debate further to the right. Rutte took out an ad in a newspaper calling on Dutch "newcomers" to adapt to the values of Netherlands, in what was seen as an attempt to pander to Wilders supporters. After the confrontations over the Turkish minister, one conservative party leader demanded that all Dutch should be forced to give up their second passports. Even the Netherlands' Queen Maxima would have to give up her Argentinian passport.
"What you see is a clear shift to the right on issues regarding immigration," said Oguz Arikboga, a Rotterdam social scientist. "What you find is that liberal progressive parties really supported the cabinet decision to bar any rallies."
That decision alienated many Dutch Turks, and forced them to choose sides. Many felt under attack. Halis Yilmaz, a 39-year-old Rotterdam resident, said children at her 8-year-old daughter's school called her a "dirty Turk" after the weekend of unrest. Even as Erdogan raised the stakes by calling for sanctions against the Netherlands and the Dutch government remained steadfast, many Dutch Turks wished both sides would cool down.
"Was it really necessary for Turkey to stage a rally here? Why are other countries doing political rallies here?" said Hakan Metin, a 37-year-old security guard. "On the other hand, they wanted to just give a speech. What's the problem with that?"
Turks in Europe are not politically uniform. They came to Europe in several successive waves and for different reasons. Some came to Europe to find work. Others fled political repression after Turkey's coups. Those in the UK tend to be secular. Those in Scandinavia tend to be leftists or ethnic Kurds. Many in Germany, France, the Netherlands, and Belgium tend to be pious and nationalist, with values rooted in the conservative Anatolian countryside, and susceptible to the discourse of Erdogan's AKP.
Across the board, they are all generally far more engaged in the politics of Turkey than their adopted countries. And that may be the root of the problem frustrating policymakers hoping to draw them into the mainstream of European culture and politics.
"They are trapped in Turkish politics and this makes them far away from their local elections," said Samim Akgonul, a historian and political scientist at the University of Strasbourg. "All these people voting for in the Turkish elections and referendum won't vote in the Dutch or French elections."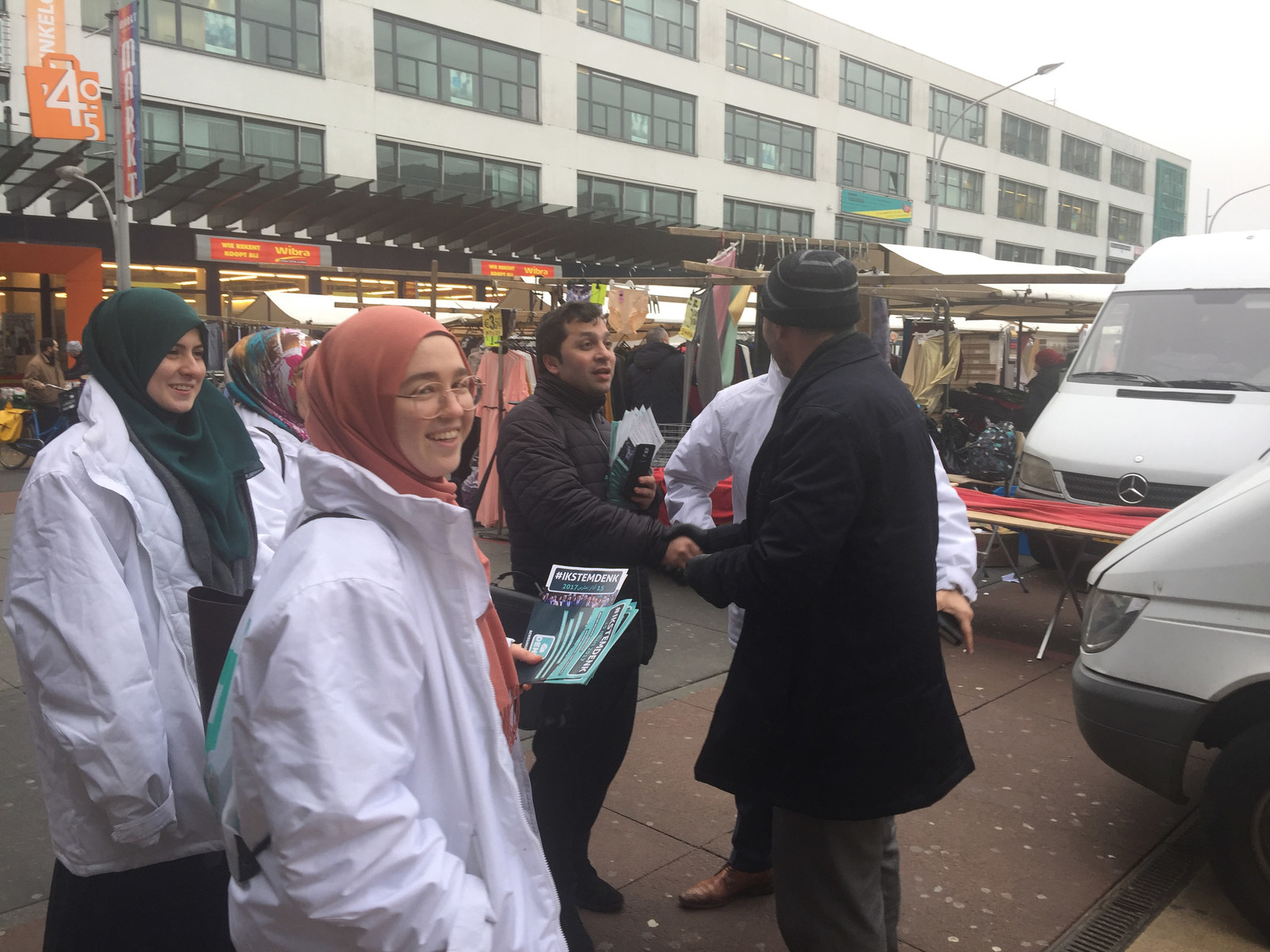 On the sidewalk outside the Jumbo supermarket in a square of west Amsterdam, Farid Azarkan and a crowd of political activists shook hands with and greeted potential voters. "I have arranged four votes for you," one man told the 45-year-old Azarkan, the number two candidate on the list of Denk, a new political party led by Dutch Muslims.
"I'm going to say a prayer for you," said another man. "We are going to get everyone to vote for you."
Azarkan, who was born in Morocco but raised in the Netherlands, said a friend's mother who's in her eighties told him she would not only vote for him, her first vote in Netherlands during her entire life, but had kept her voting card on her dresser for three weeks in anticipation of Election Day.
Denk, founded by former socialists, says it has managed to tap into a wellspring of discontent among migrants as well as other Dutch disillusioned with the increasingly xenophobic drift of the country's rhetoric on immigration. Analysts expected it to win at most two or three places in the 150-seat parliament. But the recent confrontation with Turkey may have helped it mobilize supporters. Despite unfounded accusations that is it a front for the AKP, it has managed to excite Dutch Muslims in a way mainstream parties have not.
"A lot of people are very disappointed with the other parties," Azarkan, a former government development official, said as he walked through a nearby shopping center. "Migrants say they're having a hard time finding their place here. They say they feel like second-class citizens. Politicians talk about them in a very negative way. They keep saying 'you should integrate.' But they also keep saying, 'You're not a real Dutch person.'"
Many say it's unfair that the entire weight of the integration debate is placed on migrants struggling to fit into a culture many feel may never accept them and keeps demanding they adapt to nebulous standards.
"If you work here, have a job, and are successful, that's not enough; they keep moving the goal post," said Sangar Paykhar, a Dutch citizen of Afghan descent who founded the blog Hollandistan, an outlet for Dutch Muslims. "When you accomplish something as a Turk or a Moroccan, you're still regarded as the Other. They say, 'Oh, you don't celebrate Christmas.' Well, I worked as a bartender for 10 years. Lots of Dutch don't celebrate Christmas either."