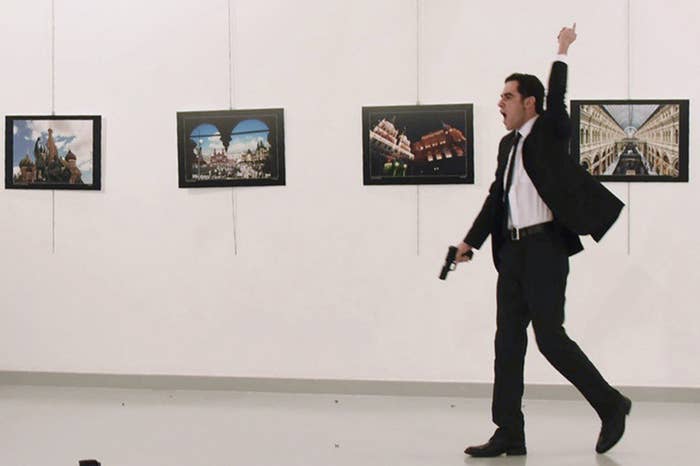 ISTANBUL — The young police officer meant to pull off an assassination that would shake the world. And it did.

"Don't forget Aleppo! Don't forget Syria!" Mevlut Mert Altintas cried out after drawing his gun and firing eleven rounds, nine of which struck Russia's ambassador to Turkey, who bled to death at his feet as he spoke. "Until they are safe, you will not taste safety! All those who have taken part in this cruelty will pay one by one!"
Unlike the high-profile 1914 murder of Archduke Franz Ferdinand, the heir to the Habsburg throne whose assassination set off the first world war, the killing of career diplomat Andrey Karlov in the Turkish capital on Monday will start no new wars. It comes at a juncture when world powers appear to be moving toward, rather than away from, a consensus on Syria — an understanding that would more or less maintain the regime of Bashar al-Assad and allow for the eventual defeat of rebels fighting him.
But what the assassination showed is how little any Assad military victory will contribute to stability in the region. In fact, a military defeat of the Syrian revolution will have far-reaching ramifications for both the Middle East and the world, with Aleppo potentially becoming a rallying cry for a whole new generation of young people across the Muslim world.
"The crisis in Syria is going on and all these events are related to Syria," said Emre Ersen, an associate professor of international relations at Istanbul's Marmara University. "Unless there is a final peace deal agreed to by all parties, we won't see any kind of regional peace."
"Unless there is a final peace deal agreed to by all parties, we won't see any kind of regional peace."
The first assassination of a Russian envoy abroad in nearly 90 years — Pyotr Voykov, Russia's envoy to Poland, was killed in a 1927, damaging already strained relations between Moscow and Warsaw — will likely prompt Moscow to retaliate. But it won't know who or what to target until an ongoing joint investigation with Ankara yields findings about the killing.
Little has been disclosed about the 22-year-old Altintas, who was killed in a hail of police gunfire in the minutes after the assassination. He comes from the town of Aydin, on the western Turkish coast. His parents, siblings, and an uncle have been apprehended for questioning. Local media said he had visited the gallery on Friday during another exhibition and was reportedly staying in a hotel nearby at the time of the killing, suggesting he had carefully plotted the assassination. Off-duty, he used his police ID to get his handgun past the security guards at the gallery.
"This assailant — his background is like a blank page," said Selim Sazak, a researcher specializing in Turkish affairs at Brown University's Watson Institute. "There's no evidence of previous radicalization. He's a generic lower-middle-class guy."
Both Russia and Turkey have an interest in depicting the assassination as the result of a nefarious plot rather than as blowback for their own Syria policies. Turkish officials have reportedly tied the assailant to the movement of Fethullah Gulen, a US-based religious leader who has been accused of plotting the failed July 15 coup attempt that has transformed Turkish politics. Turkey and Russia have been working hard to patch up relations since the downing of a Russian Sukhoi Su-24 war plane near the Turkish border last year. Karlov, the 62-year-old diplomat, played an instrumental role in talks both to restore relations between the two countries and to hammer out the recent deal to evacuate civilians from besieged Aleppo.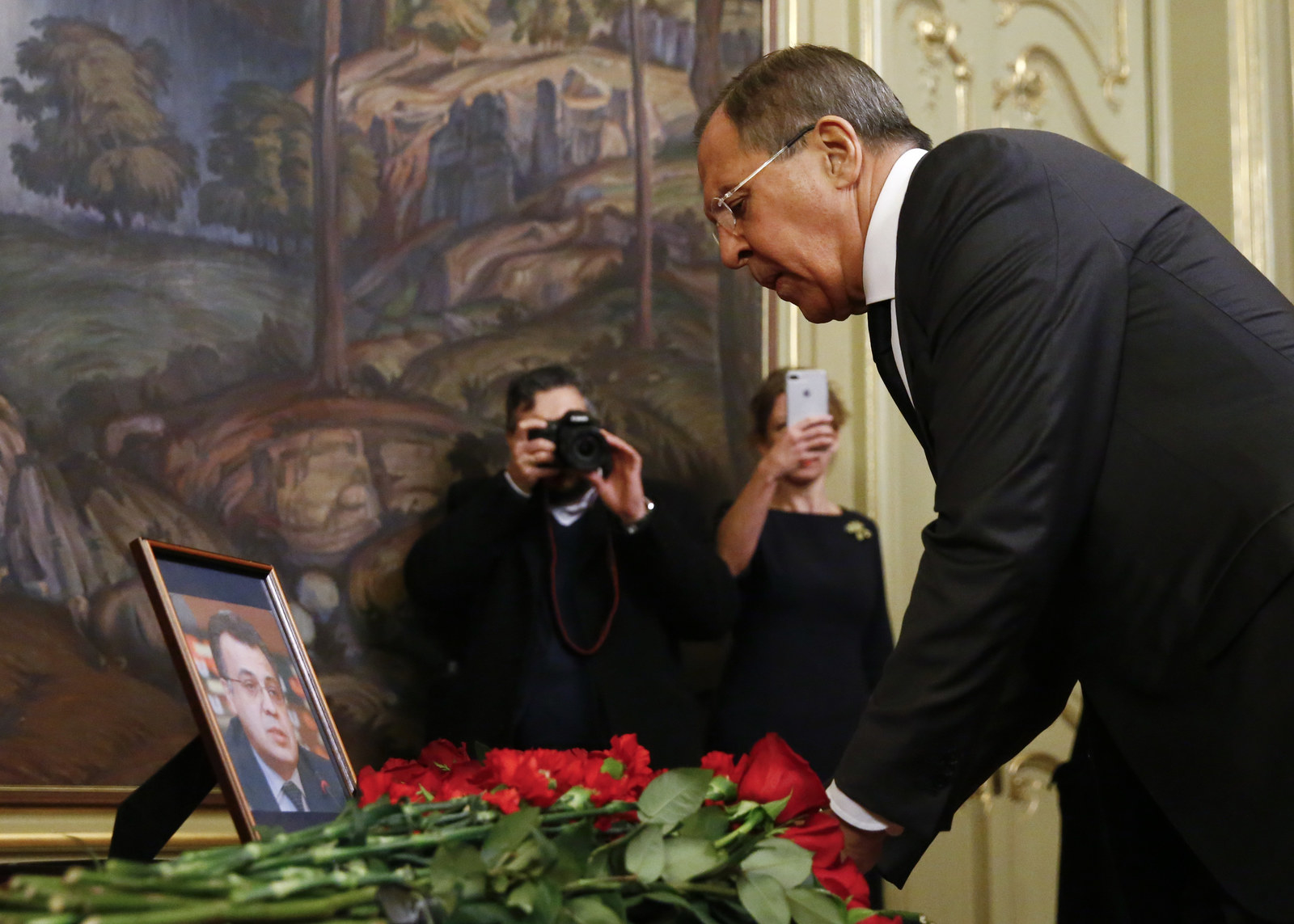 The shooting came a day before the foreign ministers of Iran, Russia, and Turkey were to gather in Moscow to talk about Syria. They met despite the killing, issuing a joint statement, which largely called for a political settlement of the conflict between the Syrian government and opposition and identified some Sunni insurgents as terrorists as Russia and Iran wanted. But the statement failed to identify Iranian-backed Shia militias as terrorists, as Turkey had wanted.

"The attack targeted this new rapprochement between Russia and Turkey," said Ersen. "The goal was to create a new rift in Russian–Turkish relations."
But the gunman's motives and ties remain murky. Despite claims he was linked to the Gulenists, local media also reported that Altintas had provided security eight times for President Recep Tayyip Erdogan, the alleged target of the July putsch attempt, in the months since the failed coup. Some Turkey experts suggest he may have had less convoluted aims, a possible lone wolf inspired by media reports of violence in Syria.
Alleged Russian and Syrian regime war crimes against civilians in Aleppo have galvanized popular opinion in Turkey. Television news channels devote significant coverage to daily atrocities. Demonstrations are held in front of Russian and Iranian diplomatic missions. Many see in the assassination attempt yet another example of the war in Syria spilling over into other countries and undermining their security and political stability.
"This is a man who self-radicalized and assassinated somebody," said Aaron Stein, a fellow at the Atlantic Council. "This was essentially a suicide attack. We cannot divorce this from the reality of what's happening in Turkey."
Fueling the anger welling up in both Turkey and across the Arab world over Aleppo is what many Syrians consider a massive betrayal of the rebel cause. Ankara, along with the US, Saudi Arabia, France, and other countries, provided Syrian rebels for years with weapons and logistical support. Stein described the Aleppo battle as the "centerpiece" of the covert war in Syria.
But over the last few months, both the Turkish government and the CIA-backed operations center in southeast Turkey appear to have cut salaries and ammunition to the rebels. Turkey is believed to have made a tacit deal with Russians to concentrate its efforts on carving out a safe zone for its allies around the border town of Jarablus and fight against ISIS and separatist-minded Kurds instead of the regime.
"Once Turkey realized that it couldn't change the situation, it has lowered its demands and targets on Syria," said Mesut Yegen, a social scientist specializing in Turkey's domestic armed conflicts at Istanbul's Sehir University. "For Turkey, what's important is not Assad any more, it's the YPG and PYD," the Kurdish groups seeking to carve out a statelet in the north of Syria.
"Turkey withdrew some of its support for some of the Islamist groups in east of Aleppo, and in return, it expects that Russia and Iran will take Turkey's interests into consideration when it comes to the Kurds," said Yegen.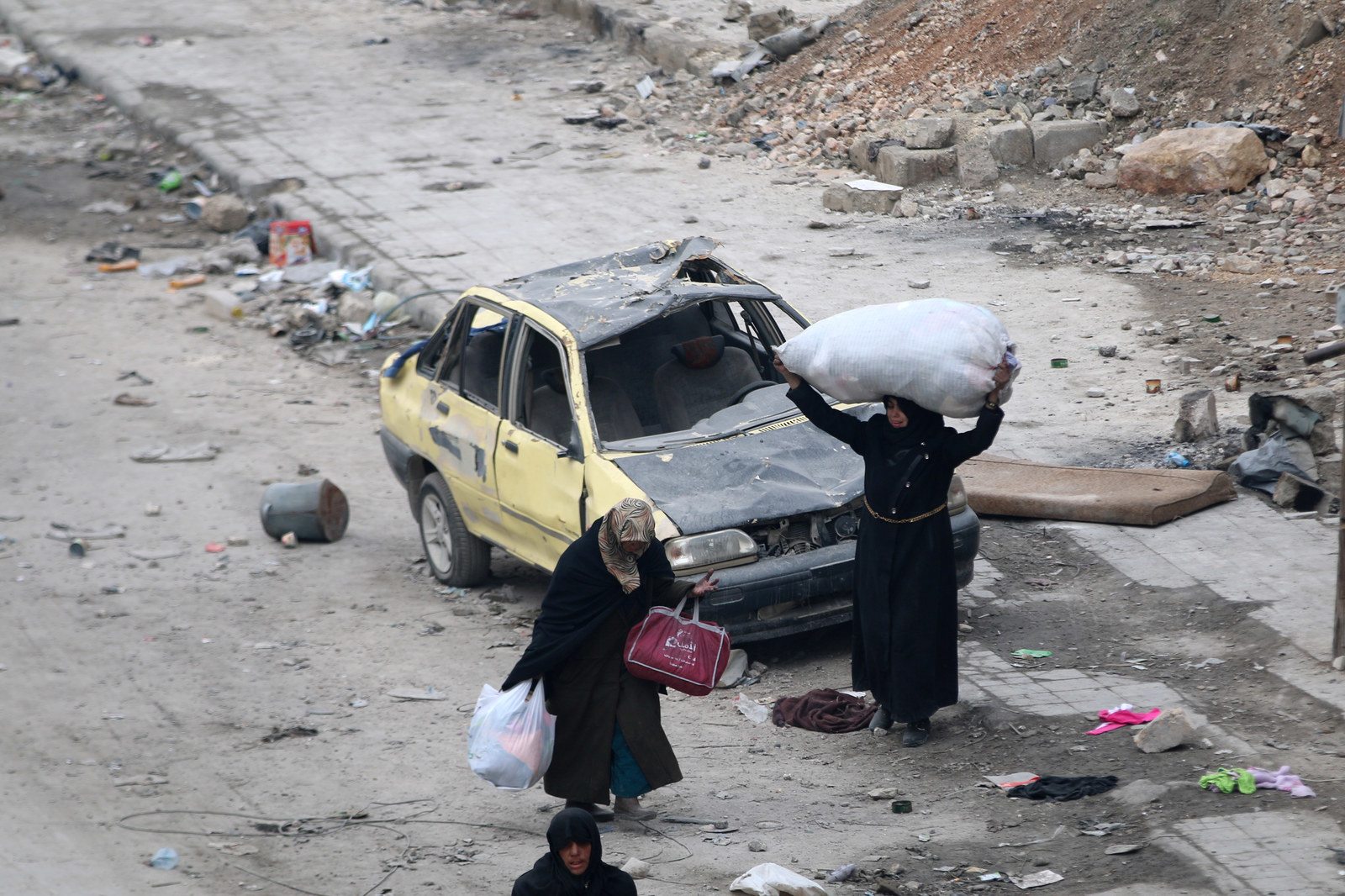 Turkey's shift comes as the rebels' other patrons also turn away. The rebels' Gulf supporters have found themselves bogged down in Yemen. Both the US and France appear set to hand over power to governments more friendly to Moscow and hostile to the Islamist-leaning rebels' aims. Syrian rebel commanders have said they have been disappointed by the turn against them. Meanwhile some 11 million Syrians have been displaced abroad and inside the country.
"You have a massive pool of young men — humiliated, frustrated, completely, let down, having absolutely nothing to do," said Jihad Yazigi, a Syrian economist and editor of Syria Report, a Beirut-based publication. "You have a breakdown of families and the social fabric, and all of this is a potential for radicalization. You have a big pool for radical groups all around the world."
Throughout the history of the Syrian conflict, regime military victories have rarely led to further stability. The regime's crushing of mass protests in 2011 only fueled the armed insurrection against Assad and drew foreign fighters. Its ability to stave off US military action after its use of chemical weapons against civilians in 2013 spurred on the European refugee crisis, as millions of Syrians gave up on their country and headed west. Syrians' collapsing hopes and the severity of the war in turn contributed to the 2014 rise of ISIS, which embodied the nihilism of a failing revolution.
"The fall of Aleppo is more of an escalation in terms of spillover and terrorism threats than it is a stabilizing development," said Charles Lister, a scholar at the Middle East Institute. Lister, who has long been sympathetic to the goals of the Syrian uprising, has also been warning about signs of radicalization within the Syrian revolution since it began.
"The symbolism of Aleppo within the region's Sunni communities simply cannot be underestimated; neither can the scenes of sheer brutality and destruction witnessed there in recent weeks," he said. "Sadly, we're just entering a more complex and more unpredictably dangerous phase of conflict in Syria and in its surrounding environment."
Correction: A previous edition misidentified the Russian plane shot down by Turkey last year. It was a Sukhoi Su-24, not a MiG.