CAIRO — The prison fight had been brewing for months.

Supporters of Egypt's Muslim Brotherhood and ISIS militants locked up together inside the cramped, dingy cells of Cairo's notorious Tora prison had been arguing endlessly over religion and politics. The ISIS prisoners refused to eat next to the Brotherhood inmates, and ordered their followers not to pray with them, spelling out specific rules on when and how to call out cellmates as infidels and when to try to recruit previously peaceful political Islamists to their violent cause.
Elders of the Muslim Brotherhood, the oldest Islamist organization in the world, sought desperately to keep their younger adherents from drifting toward ISIS. Heated discussions went on for hours, with inmates having little else to do but talk.
The debates descended into taunts and on June 21, 2016, ISIS and Muslim Brotherhood supporters picked up pipes and kitchen utensils and raised their fists in what became an all-out brawl involving dozens of prisoners, according to several researchers and activists who have spoken to current and former inmates at Tora.
"They picked up everything they could get their hands on," said Mohamed Lotfy, an Egyptian human rights activist who is in touch with former prisoners.
The father of an inmate described the scene. "It started with conversations, then they started insulting each other, and then they started hitting each other," said Khalaf Bayoumi, an Istanbul-based lawyer and Egyptian Muslim Brotherhood member who was told about it by his imprisoned son, Ahmed, who witnessed the fight. "They were fighting mostly with their bare hands. It involved tens of prisoners."
"The competition is so intense between the Muslim Brotherhood and ISIS."
Inside the prisons of Egypt and other Arab and Muslim countries, a ferocious competition has erupted between radical militants and more established political Islamists over fresh recruits. ISIS is often muscling out more peaceful groups for influence and loyalists among the mostly young men tossed into cramped cells for months or years.
"The competition is so intense between the Muslim Brotherhood and ISIS," said Ahmed Gamal Ziada, a 29-year-old journalist who spent nearly a year and a half in a prison north of Cairo after being arrested filming a protest on Dec. 28, 2013. "ISIS would try to recruit the Muslim Brotherhood. The Brotherhood leaders responded. It would go back and forth."
Some inmates are subjected to torture and deprivation, despite having committed no or minimal crimes, fueling anger that researchers have long feared breeds extremism in Arab jails.
As ISIS loses the last stretches of its territory in Iraq and Syria, most analysts and policymakers focus on the group's attempts to infiltrate the West. But another and perhaps more potent incarnation of the jihadi group is incubating inside prisons of the Arab world, where ISIS adherents are locked up alongside other political activists, alleged criminals, and sometimes random young Egyptians who were caught in the wrong place at the wrong time.
The Brotherhood, founded nearly 90 years ago in Egypt, and affiliated Islamist organizations have seen their fortunes decline as authoritarian governments across the Middle East have cracked down on their adherents. They were poised to reap the political benefits of the 2011 Arab Spring uprisings against the region's strongmen, touting a peaceful populist version of political Islam. But the group came under tremendous pressure after a 2013 coup in Egypt, backed by autocrats across the Middle East and north Africa. The coup, led by Egypt's current president, Abdel Fattah al-Sisi, toppled the elected government of the Islamist Mohamed Morsi and restored military-dominated rule to Egypt. Tens of thousands of Brotherhood supporters and members, including Morsi himself, wound up in jail.
"Telling them them they will go to heaven and get virgins just makes it that much more attractive."
The political dynamics inside Arab detention centers have ramifications far beyond the prison walls. Jails in the Middle East have long forged radical extremists, including the Egyptian intellectual godfather of Islamic extremism, Sayyid Qutb, and the founder of al-Qaeda, Ayman al-Zawahiri, as well as Abu Musab al-Zarqawi, the Jordanian ex-convict whose al-Qaeda in Iraq later morphed into ISIS. Alleged ISIS supporters find prisons to be fertile soil, especially in brutal Arab regimes like Egypt. There are numerous signs ISIS has begun using prisons that are intended to confine them and limit their activities to expand their influence and even plan operations. Egyptian authorities and activists believe former prisoners recruited by ISIS in jail were behind suicide bombings of churches in Cairo in December and on Palm Sunday this year in Alexandria and Tanta.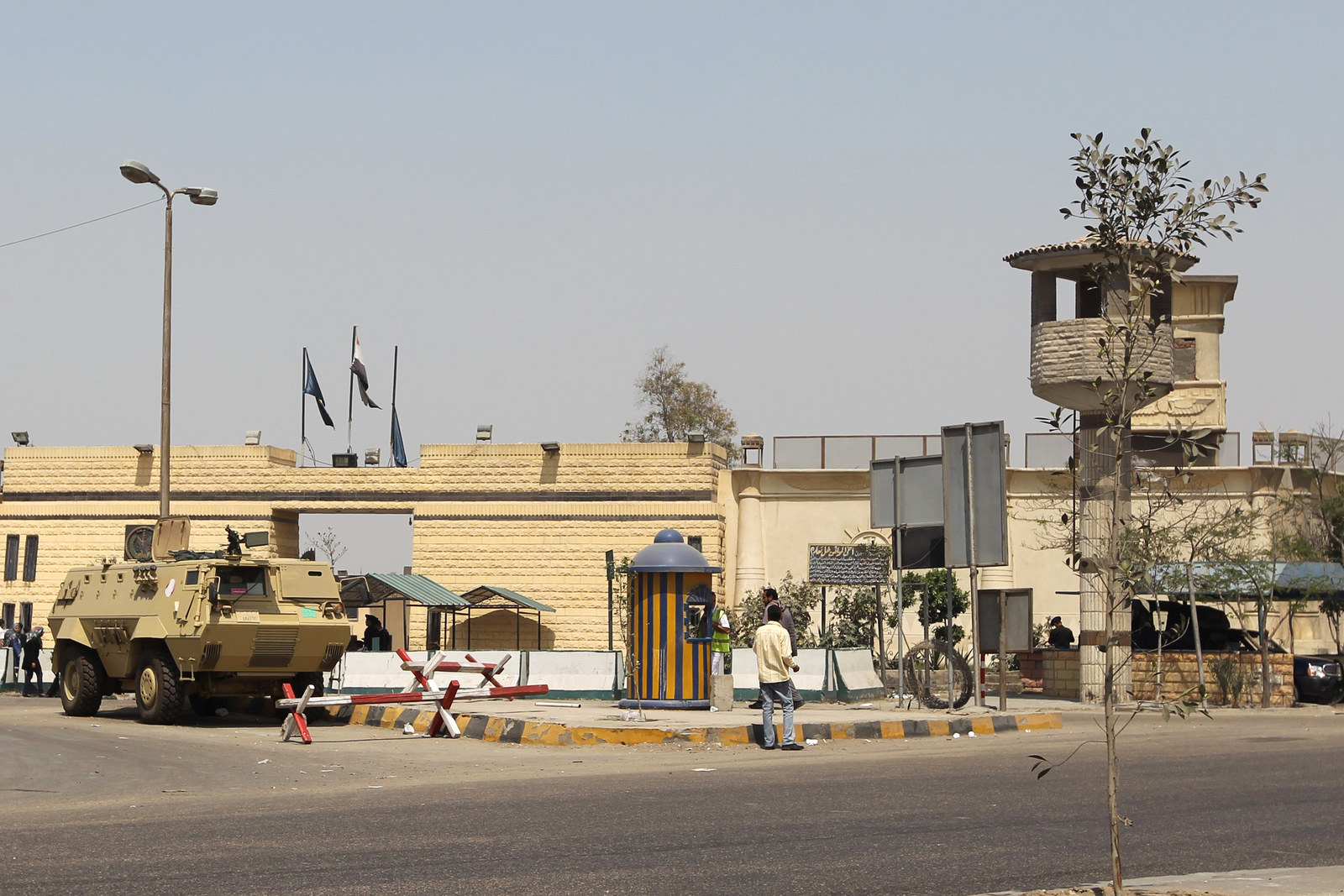 "Many of the prisoners were already very angry after the coup and eager to fight," said Yasser Khalil, an Egyptian journalist who has extensively covered prisons. "Telling them them they will go to heaven and get virgins just makes it that much more attractive. They say, 'Yes, you have a Christian neighbor and he is lovely. But the Coptic Church supports the state, and thus they should be killed.'"

Governments across the region appear to be warehousing alleged ISIS operatives with recruitment skills inside prisons. On Oct. 24, a Jordanian State Security Court sentenced two ISIS supporters charged with trying to recruit followers online to three years in prison. Last year a Bahraini court sentenced two dozen ISIS militants, including recruiters, to lengthy prison terms. Reports have emerged of ISIS recruiters being locked up in prisons all the way from Algeria to Russia's Caucasus region, Tajikistan, and Indonesia.
Muslim Brotherhood supporters make up the bulk of political detainees and dominate social life in Egyptian prisons. Researcher Abdelrahman Ayyash, an Istanbul-based Egyptian scholar who quit the Brotherhood in 2011, said the group maintains its strict, elaborate hierarchy inside prison. The group has deep experience in identifying and winning over jailhouse recruits with tailored pitches. "They hearken back to the early days of Islam, when there was a treasury set aside that would provide young men with money to get married and get a home," said Khalil, the journalist. "You want to have a family, a house, a job, become a leader? They study very well your desires and needs."
The Brotherhood warns other prisoners against the allure of ISIS, arguing that the jihadi path and its promise of vengeance for their suffering and torture will lead to ruin. "They say that the ISIS people are bad people," said Ahmed Abdullah, a liberal activist who was locked up for four and a half months last year on accusations of harming national security. "They say, 'ISIS is hurting our cause, and if you follow their path you will lose everything.'"
But many warn that ISIS's nihilism is overpowering the Brotherhood's appeals. "This is the year of disappointment and disillusion when there's no hope for the Islamist factions to get out of prison any time soon," said Halem Henish, a human rights lawyer in Cairo.
Henish recalled the case of one of his clients, a 20-year-old student imprisoned on spurious terrorism charges in 2015. After representing him for 18 months, Henish was fired by the young man. "He said, 'I don't want to upset you but I can't have you represent me any longer because you abide by the infidel's law,'" Henish said. Refusing legal counsel is one trait that distinguishes ISIS prisoners from other inmates, including alleged al-Qaeda supporters. "He used to love life. He used to be keen on getting out of jail. But not anymore."
Young Brotherhood activists and others who feel betrayed by the promises of their elders and the failures of the Morsi era are becoming easy prey for ISIS. "ISIS says, 'We tried democracy and we ended up in jail,'" Abdullah recalled. "'It was the army that introduced the gun. Why is Sisi in power? He has guns.'"
Bayoumi, the Istanbul-based Brotherhood member, said he's worried about his imprisoned 20-year-old son, Ahmed, who appears to be drifting toward violent groups while inside Tora prison, since his arrest in early 2014. "He's always asking, 'Why are we doing this? Why are we peaceful? We have to find another way,'" he said.

Egyptian prison authorities did not return repeated requests for comment for this story. Prisoners, researchers, and activists said violence between ISIS and the Brotherhood continues, and that authorities have begun separating ISIS prisoners from the rest of the inmate population at various detention facilities. But sometimes that fails to suffice. Many of Egypt's estimated 40,000 prisoners are being held in makeshift jailhouses, interior ministry compounds and military camps that don't have the capacity for separating inmates. One former prisoner described watching as another inmate was recruited by an ISIS supporter while sitting for hours in the van on the way from jail to court. One researcher described a brawl involving Brotherhood and ISIS prisoners during a similar transfer of inmates earlier this year.
"ISIS looks down on the Muslim Brotherhood, they consider them infidels."
Former prisoners describe a concerted effort by ISIS to re-create its unique and divisive social vision inside prison walls. A former inmate at a jail north of Cairo, speaking on condition of anonymity, said he was labeled an infidel by ISIS prisoners because he talked about his love of the Manchester United soccer team. Prison guards later showed him a handwritten set of instructions they'd discovered in another cell detailing how and when ISIS adherents were to call out other prisoners as infidels, and who to target, in an attempt to resurrect a version of their failing caliphate inside the prison.
"ISIS looks down on the Muslim Brotherhood, they consider them infidels, and they point this out to the younger Muslim Brotherhood members," said Mostafa Abdou, a researcher who has concentrated on ISIS recruitment in prisons.
During his time in jail, the journalist Gamal Ziada said, he began to notice how all the ISIS prisoners were organized around an emir, a tall, charismatic former al-Qaeda operative with a carefully coiffed beard who led the jihadis inside jail. "They used to wash his clothes," Gamal Ziada said. "He would go from cell to cell giving speeches and talking about jihad and religious matters."
The Brotherhood would counter ISIS by providing hearty meals of grilled chicken and meats smuggled into the prison with bribes of cigarettes to the guards and dished out to every prisoner. "They would go to each floor and each cell and until every prisoner got a portion," said Gamal Ziada. "The food was very good."
ISIS targets recruits who have special skills. Gamal Ziada recalled intense competition between the Muslim Brotherhood and ISIS over a prisoner who was a student at Cairo's elite Zewail City of Science and Technology, considered Egypt's MIT. "ISIS told him, 'You're not going to carry a weapon,'" Gamal Ziada said. "'You're not going to fight. You will use your brain.'"
ISIS may have a broader regional strategy of recruiting talented potential operatives in prison. In Gaziantep, a Turkish city near the border with Syria, a Syrian people smuggler spoke about being approached by a Moroccan ISIS member while he was in prison. The ISIS inmate, who called himself Abdurahman, was able to roam freely between four rooms housing prisoners in a ward on the second floor of the prison, said the smuggler, speaking on condition of anonymity because he is involved in criminal activities.
"His mission was to get closer to the poor and the simple people and convince them that if they joined the Islamic State they would have power, money, and women."
"He tried to convince me that I was an apostate and that my parents were apostates too, and I have to convince my family to give up the pleasures of the world and return to Allah," the smuggler said of his 2015 imprisonment. "He used to ask me to share lunch and dinner with him. He was ordering the best Turkish food in town. He was very rich. He told me that I could continue my work in smuggling for the Islamic State and make much more profit than I did with working with refugees."
The smuggler described Abdurahman as smooth and flexible about what it took to become a member of ISIS, speaking French and English as well as Arabic, as he sought potential recruits, bribing Turkish guards to allow in Arabic-language religious texts and making friends with prisoners over coffee, tea, and lunch. "His mission was to get closer to the poor and the simple people and convince them that if they joined the Islamic State they would have power, money, and women," he said, "and heaven in the afterlife."

The smuggler now works for ISIS.
Some experts fear ISIS has recruited potential sleeper agents in prison who might later become emboldened to act. Abdou, the researcher, said he interviewed one former inmate who joined ISIS in prison but dropped any Islamist pretenses the moment he walked out of jail, shaving his beard and going back to smoking shisha and lazing about with old friends.
"You would never guess what happened to him," Abdou said. "He feels he was exposed a large amount of oppression. He lost his education. He was tortured. He thinks what happened to him was unjust. He is still trying to explore his options. But if he doesn't get what he wants out of life…"
Inside prisons, ISIS recruiters provide often confused and desperate young prisoners a framework to understand their fate. Abdul Rahman al-Ghadi, 24, an activist and human rights advocate who has been in and out of prison for the last few years, said ISIS recruitment and violence inside prisons jumped in 2015 when Egyptian authorities began clamping down on allowing books inside jails.
"Imagine you are in prison — the great challenge is killing time."
"Imagine you are in prison — the great challenge is killing time," said Ghadi, whose father and brother have been jailed. "Before you could read books. When they closed that door the only way to kill time is sharing your thoughts and experiences. The Islamist groups and factions are the great majority of prisoners. Imagine there's a constant flow of radical ideas into your mind. They talk and listen and talk and listen. You start to give in. You get weak. You lose all rational argument. You are finally ready to absorb radical thoughts and arguments."
After watching the Islamists have the run of his prison in the Fifth Settlement district of western Cairo, Ahmed Abdullah, the liberal activist, had had enough. He approached some wealthy businessmen inside the prison and arranged for them to bribe guards to allow in some books. He launched a reading group using Arabic translations of world literature and philosophy. They read Franz Kafka to understand the nightmarish nature of Egypt's bureaucracy, George Orwell as an illustration of brutal authoritarianism, and Jean-Jacques Rousseau as an introduction to democratic governance and the social contract. To his delight the other prisoners were receptive; even some of the Islamists would attend the talks.
Suddenly, security forces stormed in and seized the books, loudly accusing Abdullah, who is a professor of engineering at a university in Cairo, of poisoning the minds of the inmates. He was transferred to a dank solitary confinement cell, without a towel or blanket. After three days he was released from jail. He said authorities must have calculated he was more trouble inside prison than outside.
"When we have a chance to compete we win," said Abdullah, smoking flavored shisha at a cafe in central Cairo. "The inmates were really excited with what we had to say. But it turns out our government considers secular activists more dangerous than the Muslim Brotherhood, or ISIS." ●
Munzer al-Awad in Istanbul and Ahmed Medhat in Cairo contributed to this report.