Mystery Surrounds Sudden Death Of Aid Worker At Turkey Airport
Jacqueline Sutton's friends and colleagues want to know why a woman who survived decades in Iraq and Afghanistan would take her own life over a missed flight.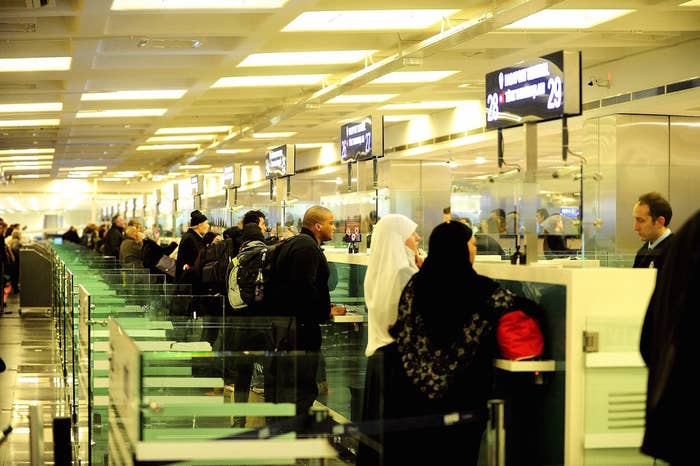 ISTANBUL — A British aid worker and former journalist found was found dead in Istanbul's main airport. Now friends and colleagues are demanding to know what happened.
Jacqueline Sutton, a 50-year-old former war reporter and aid worker, was traveling to northern Iraq via Istanbul Saturday-Sunday to return to her job as Iraq director coordinator for the Institute for War and Peace Reporting (IWPR), an organization that helps train journalists in conflict zones.
According to an account disseminated in multiple Turkish press outlets, she arrived at Ataturk Airport on a Turkish Airlines flight at shortly before 10pm on Saturday, missed her connecting flight to the northern Iraqi city of Erbil, became distraught at not being able to afford a new ticket and hung herself in the bathroom, where her body was reportedly found by several Russian tourists.
But friends say the Turkish reports, attributed to no sources, don't add up. Sutton has been working in Iraq and other conflict zones for decades, surviving through tough circumstances in places like Kabul and Baghdad. Why would she get distraught over missing a flight, a common occurrence for those relying on air transport to get in and out of conflict zones? Why wouldn't she have a credit card to purchase another ticket, or the huge wad of hundred-dollar bills war correspondents and aid workers routinely take with them on assignments to countries with no cash machines? And how could she have hung herself undetected in one of Ataturk's women's bathrooms, typically swarming with customers and attendants?
"The whole story doesn't make any sense," Anthony Borden, executive director of IWPR, told BuzzFeed News. "She travels in every airport around world. When you're flight is bumped, there's no way to think of anything else than, 'Hey I'll check out the DVDs and have a couple drinks.' There needs to be an investigation and it needs to be looked into in great detail."
Adding to the mystery, Borden said IWPR was led to understand that relevant security cameras that could document Sutton's movements at Ataturk airport "would not be forthcoming" because of a technical glitch. The Middle East and North Africa director of IWPR is en route to Istanbul to meet with Turkish and UK officials. Requests for comment from spokespeople at Ataturk airport and Turkish police headquarters went unanswered.
By all accounts, Sutton was a towering, energetic and inspiring figure. She had worked as a journalist for the BBC as well as a UN staffer in Iraq, Afghanistan, Iran and the Balkans. At the time of her death, she was also writing her PhD dissertation on empowering Middle East women, while three or four months into her job at IWPR. Her extraordinary career, which included years working with Canada's indigenous population, was the subject of a 2014 interview with public radio in Australia, where she had taught at a university.
"The Baghdad dust is so fine, it gets in your ears it gets in your nose, everything is dusty," she tells the interviewer, between frequent bursts of laughter. "You drink a glass of water and it's gritty. I just want to be on the other side of the world where the air is clean and the sky is blue."
Sutton had flown to London last week to attend a memorial service for her predecessor as IWPR's Iraq director, Ammar al-Shahbander, who was killed in an ISIS car bomb in Baghdad last year. Boden said she was looking forward to returning to Erbil, carrying toys for the young children of a couple she knew in the city.
"She was filled with concern with the well-being of her pet rabbits," he said.
Friends said they were unaware of any mental health issues that would drive her to suicide.
"In the 10 years that I've known her I never heard anything about mental problems," said Roxanna Shapour, a Kabul-based journalist who befriended Sutton in Afghanistan. "She was open and outward and let everything hang out, if there was anything like that she would say it."
Friends described the rough circumstances under which she operated, and admired how she would remain resilient and enthusiastic while others became cynical and burnt out. "We had to deal with Iraqi politicians day in and day out," said Delvin Arsan, a Swedish based researcher who worked with Sutton as part of the United Nations Assistance Mission to Iraq in Baghdad. "Working with those people would [drive you to despair], but she never gave up. She did it out of her heart."
Arsan began to weep as she described Sutton and their years-long friendship. She explained that she worried the mystery surrounding her death would frighten other women working in the Middle East. "Whatever happened to Jacky could happen to any of us," she said. "I will never travel through Istanbul alone."