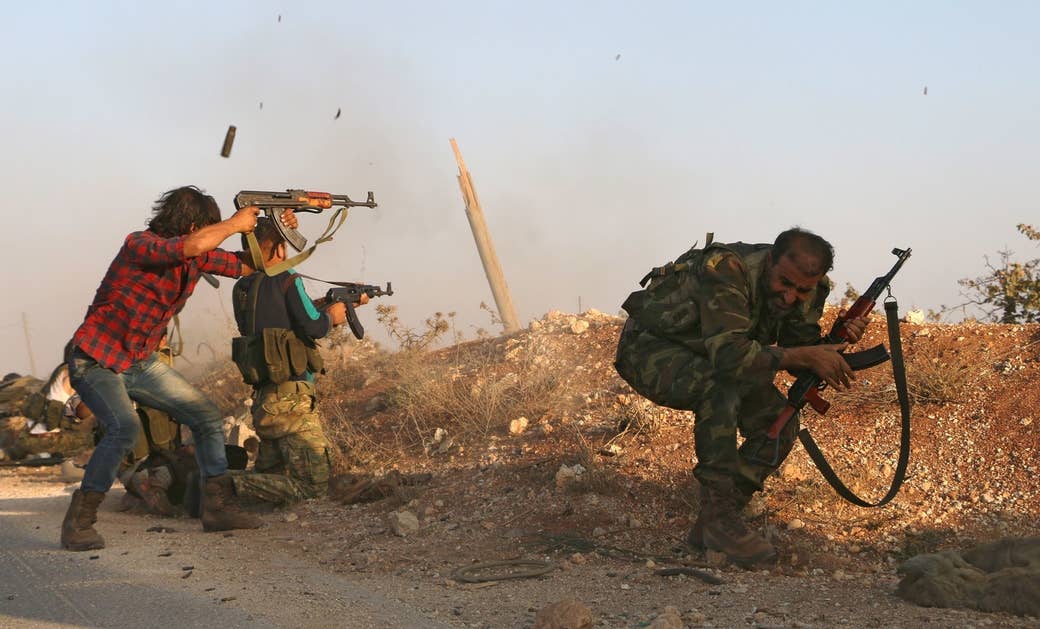 ISTANBUL — When Saif Abu Bakir and the fighters of his Free Syrian Army unit took control of the northern Syrian town of Dabiq and half a dozen surrounding villages from ISIS on Sunday, they were stunned by how easy it was.
"The wounded and injured were less than other fights," said Abu Bakir, commander of the Hamza Battalion, in an interview conducted over WhatsApp from the battlefield. "ISIS is using kids who are less than 14 years old. ISIS gives those kids up and abandons them after they withdraw from any village."
Hamza Battalion is one of the Arab and ethnic Turkmen Syrian rebel units backed by Turkey and the US in a two-month-old expedition to retake ISIS territory that the militant group has mostly given up easily. Backed by Turkish armed forces, Syrian rebels have captured 500 square miles from ISIS, creating a de facto safe haven for Syrians opposed to the regime of Bashar al-Assad.
Dabiq, referred to in the sayings of the Prophet Mohammed and the scene of a decisive 16th-century battle, features centrally in ISIS's apocalyptic vision. One day, ISIS followers believed, an epic clash between Christians and Muslims would unfold in the flats of the northern Syria town, and it would herald the end of times. ISIS also named its slickly produced online magazine Dabiq.
The capture of Dabiq and its surrounding villages will yield even more intelligence about ISIS, its operations, the foreign fighters it has recruited, and its plans for the Middle East and abroad. The relatively swift victory has further pushed back ISIS from the Turkish border it once used to transport personnel and funds. It also closed off a key area of ISIS control adjacent to the town of Marea, which has emerged as a symbolically important stronghold of Syria's moderate opposition to the dictatorship of Assad and his family.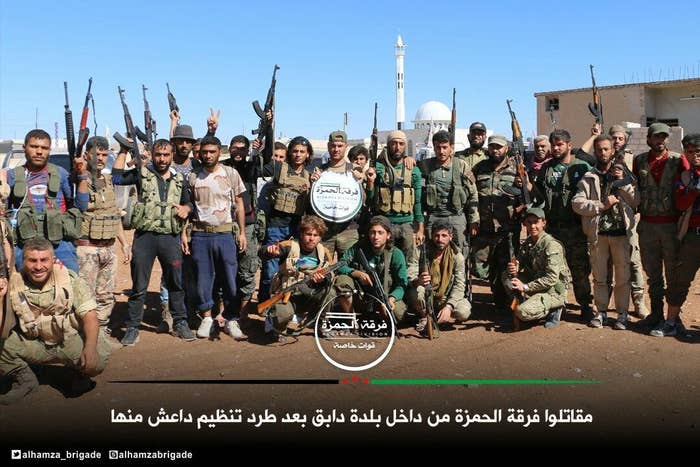 More significantly, the victory positions the Syrian fighters and a small contingent of Turkish troops and armor backing them to begin edging toward the ISIS-controlled town of al-Bab, gateway to the major northern city of Aleppo.
"The target is to continue towards al-Bab and liberate the Manbij area completely from [ISIS] terrorists," Turkish Foreign Minister Mevlut Cavusoglu acknowledged on Sunday.
But that is where things could get very messy, with Syrian rebels themselves divided over the significance of Turkey's attempt to clear its border areas of ISIS and pressure Kurdish forces.
Forces loyal to Assad's regime also hold territory near al-Bab. So do US-backed Syrian Democratic Forces led by Kurdish militants associated with the Kurdistan Workers Party (PKK) and viewed as terrorists by Turkey. That sets up a potential four-way battle for the city, pitting two US-backed forces against each other and the Russian-backed Syrian government forces, and all of them against ISIS.
"Turkey wants to fight the PKK and ISIS, they are both terrorist organizations," said a commander of the Sultan Murad brigade, one of the key Free Syrian Army units fighting alongside Turkish forces. "We want to fight them and fight the Assad regime, because they are for us all terrorist organizations."
The battle for Dabiq and surrounding towns is a preview of what armed forces may encounter as they attempt to push ISIS out of al-Bab and other cities. Inside the town of 5,000 and its outlying villages, ISIS had set up underground tunnels, clogged roadways with booby-trapped bombs, and positioned snipers among civilians.
"Before entering each village we would surround it and take apart the mines," said Bakir.
Syrian rebels swooped into the town beginning 7 a.m. on Sunday after days of Turkish artillery fire and US-led airstrikes — and weeks of intelligence-gathering inside the town with the help of informants trained to communicate secretly with those outside. "The civilians are the nerve of this war," said Abu Mustafa, nom de guerre of an FSA fighter. "Without their help we wouldn't be able to advance."
In the weeks preceding the battle, ISIS commanders sought to raise the morale of fighters by telling them Dabiq would be the scene of a millennial battle. But they themselves quietly slipped away, before the fighting started, leaving for al-Bab or the ISIS capital, Raqqa.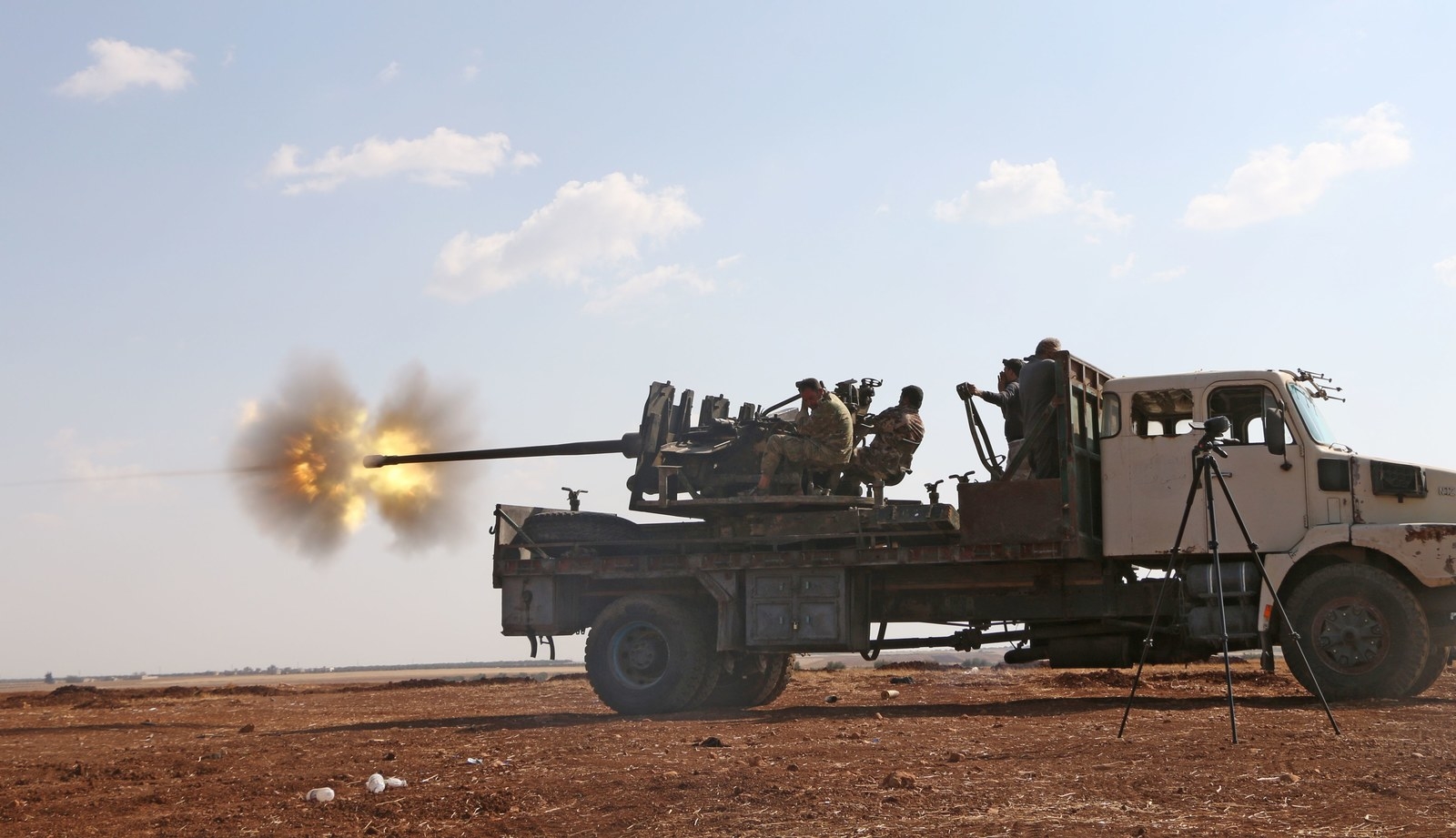 "ISIS security officials shave their beards and leave," said Mustafa.
With Dabiq out of the way, Syrian rebels now hold a straight front facing ISIS territory to the south, including al-Bab, and the regime-controlled outskirts of Aleppo. Turkish officials have kept mum about whether they would support Syrian rebels in any attempt to move on Aleppo. The eastern half of the city, controlled by rebels, is now besieged by Russian-backed Syrian forces and a collection of fighting groups that include Iraqi, Afghan, and Iranian advisers.
But Syrian rebel fighters have made no secret of their wish to break the siege on Aleppo. While some Free Syrian Army units fight alongside Turkish troops to cleanse ISIS north of Aleppo, other rebel groups, including jihadi factions once loyal to al-Qaeda, battle against regime forces to the city's northwest and south.
One Syrian commander of a unit backed by Turkey described with precise detail the distribution and composition of various Syrian, Russian, Iranian, Iraqi, Lebanese, and Afghan forces now surrounding Aleppo. Many rebel groups are pressuring those now fighting alongside Turkey against ISIS in the north to shift their attention toward Aleppo.
"Dabiq was a waste of time, a distraction," said Abu Khalil, nom de guerre of an Istanbul-based spokesman for Ahrar al-Sham, a powerful Islamist Syrian rebel group fighting the regime, sometimes alongside jihadis. "They should focus on Aleppo."
In rare criticism of Ankara's policies, Khalil said many in Ahrar al-Sham were "disappointed" with Turkey for not doing enough to protect Aleppo.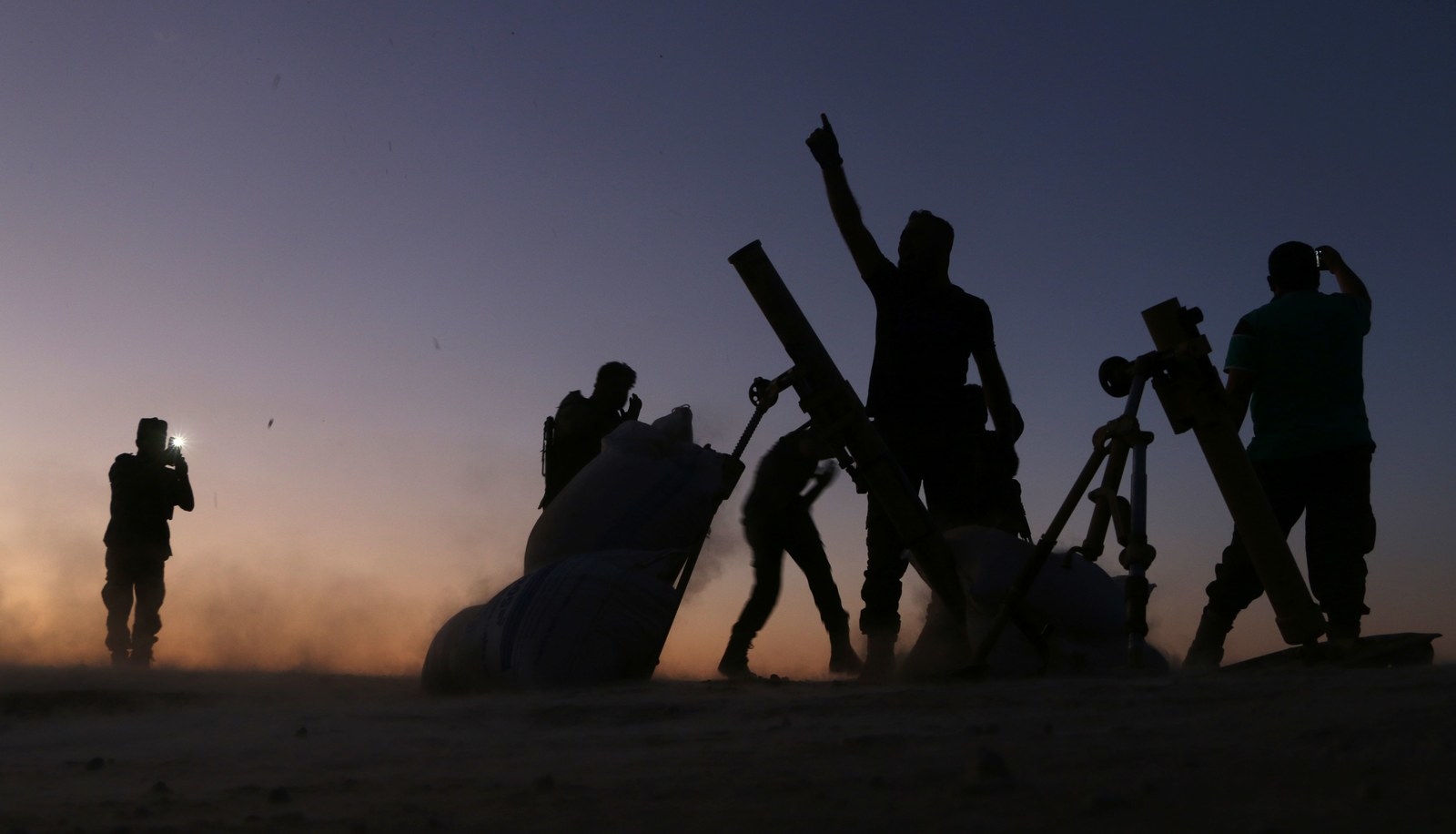 Amid all this, eastern Aleppo remains under a deadly siege. On Sunday, as rebels cheered the fall of Dabiq, Russian or Syrian regime warplanes struck the city's Katerji neighborhood, killing at least 40 civilians. Weeks of bombing have erased entire neighborhoods, including crucial civilian buildings such as hospitals. Patients in need of specialized surgery have no recourse. "We are amputating limbs in growing numbers in Aleppo," said Dr. Abdulsalam Daif, director of a medical program that operates inside the city. "Before we would send them to Turkey or to hospitals on the border to conduct surgery. If they are not operated on within six hours, we are forced to do amputations."
Rebels in Hama province to the south of Aleppo and in Idlib to the northwest have sought to draw away regime's troops and allied militias from Syria with attacks on government-controlled areas. "The rebels now have their own schemes to break the siege in the few coming days and will launch a counterattack to take the pressure from Aleppo," said Mohamed al-Ghabi, leader of the Jeish al-Tahrir, an FSA faction in Hama province. "There are heavy battles as the regime tries to regain territories it lost."
But other Syrian rebels say carving out a northern safe zone for themselves and their families is a worthwhile priority. Some argue the rebels should shore up their defenses against potential counterattacks by either Kurdish armed forces on either side of the safe zone or ISIS before considering any move toward regime territory. "It's not possible for ISIS to remain silent for what happened in Dabiq," said Mustafa. "They will do something."
Additional reporting by Asmaa al-Omar and Munzer al-Awad.