Iraq Joins Russia And Iran To Help Syria's Regime Fight ISIS
The move brings the U.S.-backed country closer into the orbit of Washington's rivals and enemies in the Middle East.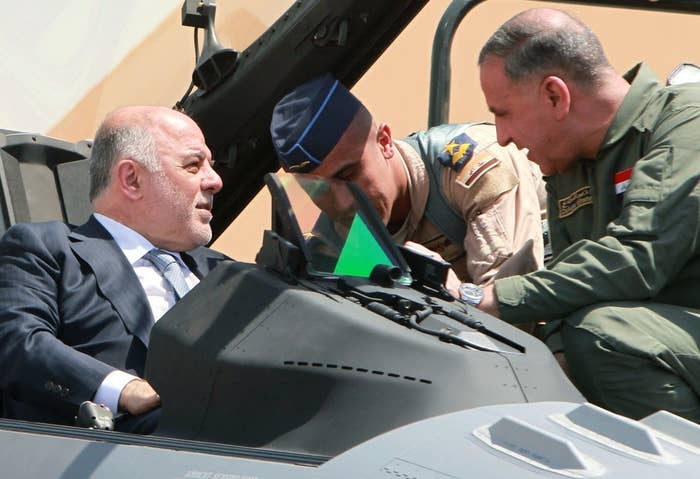 Iraqi prime minister Haidar al-Abadi's government and Russian president Vladimir Putin on Sunday disclosed that Iraq has security and intelligence agreements with Russia, Iran, and Syria in the fight against ISIS, bringing the U.S.-backed country closer into the orbit of Washington's rivals and enemies in the Middle East.
Iraqi state television cited the military saying the Iraqi government formed the cooperation deals with Tehran and Moscow — as well as the beleaguered Damascus regime of Bashar al-Assad.
"During the past months, Iraq has formed bilateral and collective cells for security and intelligence cooperation to combat [ISIS]," state television reported, citing the statement. "Security and intelligence cooperation with Syria, Russia, and Iran in Baghdad was agreed... particularly given growing Russian concern about the presence of thousands of terrorists from Russia, who have been involved in criminal acts."
In an interview with 60 Minutes on CBS, Putin confirmed Russia's plans to back Assad against "terrorist organizations" instead of what he said were the "illegitimate structures" of the Western-backed opposition.
"We are offering cooperation to the countries of the region — we are trying to create a coordinating body of sorts," Putin said, according to an excerpt published by the Kremlin on Sunday. Putin said he had personally informed Turkey's president, Recep Tayyip Erdogan, as well as the kings of Jordan and Saudi Arabia, who are deeply hostile to Assad and the prospect of further Iranian involvement in the war.
Russia's foreign minister, Sergey Lavrov, had a "thorough discussion" on the subject with U.S. Secretary of State John Kerry, Putin said, in addition to ongoing military-level discussions. "We'll be happy if we can find a general platform for joint action against the terrorists," he added.
Iraq has already openly allied with Iran in the fight against ISIS — but the disclosure of agreements with Moscow and Damascus portends a potential diplomatic setback for the U.S. as it seeks to isolate the Assad regime and keep Russian ambitions in check. Syria has been mired in a horrific and increasingly complicated four-year war that grew out of a peaceful uprising against Assad's violent dictatorial rule.
Word of the agreements, long rumored, came as France announced its first air strikes in Syria against ISIS, reportedly destroying a training camp. "The Syrian chaos requires a global response," said a statement issued by French president Francois Hollande. "The civilian population must be protected against all forms of violence, that of ISIS and other terrorist groups, but also against the deadly bombing of Bashar al-Assad."
Maria Zakharova, spokeswoman for Russia's foreign ministry, condemned the air strikes in a post on Facebook. "On what basis are you acting on the territory of a sovereign state, bypassing the lawful government, which isn't supporting that same IS, but selflessly fighting it? This is no international law, this is its destruction before the shocked international community," she wrote.
Iraq's agreement also affirmed its partnership with the 60-nation U.S.-led alliance against ISIS. But Iraq's move toward Moscow's orbit could be an attempt by Baghdad to hedge its bets as the U.S., under President Obama, hopes to scale back its military involvement in the Middle East.
The U.S. on occasion has resisted Iraqi requests for heavy weapons, concerned the Shia-dominated government could direct the machinery against Iraq's restive Sunni minority rather than ISIS.
Iraq's foreign minister, Ibrahim Jaafari, told an audience at the Council on Foreign Relations on Friday that the U.S. could be doing more in its mostly aerial campaign against ISIS. "The frequency of the air force campaign was up and down, fluctuates, and I hope that it will get a higher frequency in the future," he said.
Moscow's cooperation with Baghdad will likely mean more Russian flights over Iraqi airspace to resupply both the Assad regime and Russian troops that have expanded their presence in Syria's northwest. It will also mean the establishment of a military and intelligence coordination centre, said Haydar al-Khoei, an Iraq expert at Chatham House who has extensive contacts within the Baghdad government.
"Iraq sees both the U.S. and Iran as allies, but it also sees Russia as a key partner too, and it has been diversifying its weapons supply too with Russian fighter jets and attack helicopters so they don't just rely on the U.S. for heavy weapons," he told BuzzFeed News.
Russian politicians have been calling on the West to join their campaign against ISIS and have described the creation of a joint operations center in Baghdad.
"The Americans aren't joining in with the center, unfortunately, for the simple reason that they have other plans," Frants Klintsevich, a member of the defense committee in Russia's lower house of parliament, said in comments reported by RIA Novosti news agency. "It doesn't suit them that it is connected with Syria and the incumbent Syrian regime, and they will do everything they can to remove that regime."
It remains unclear whether Iraq, Iran, Syria, and Russia have entered into a single formal alliance or whether the Baghdad government was referring to the existence of a collection of side agreements. Iran's ambassador to Baghdad on Sunday denied the existence of a broad alliance.
As it has bolstered its military presence in Syria, Russia has hinted at an attempt to forge an anti-ISIS coalition it would lead. The development is worrying to backers of those fighting the Assad regime because Moscow's definition of ISIS is broad, and may include Islamist fighters backed by Saudi Arabia, Turkey, and Qatar as well as moderate Free Syrian Army rebels backed by the West. The Assad regime's targeting of rebel-controlled civilian areas remains the deadliest dimension of the conflict, which has led to the deaths of at least 250,000 people and the displacement of millions, including hundreds of thousands fleeing to Europe.
Putin and Obama are set to have their first face-to-face meeting in over two years on Monday at the U.N. General Assembly, where Putin is expected to outline his proposal for a broad coalition against ISIS. The Kremlin is seeking to end Russia's isolation over its role in the Ukraine crisis, which has brought relations with the West to their lowest point since the Cold War.
Russia is seeking to remove diplomatic eyesores in advance of Putin's trip. Hostilities in eastern Ukraine, where Moscow is backing separatist rebels, have dropped dramatically over the past few weeks in a move diplomats believe is part of the groundwork for his Syria plan. On Saturday, Russia exchanged Eston Kohver, an Estonian security official it convicted of espionage last month after abducting him last year, for a convicted Russian spy in a Cold-War-style handover on a bridge at the country's border. Kohver's lawyer said Putin's trip to New York was the sole reason for the swap.
Max Seddon is a correspondent for BuzzFeed World based in Berlin. He has reported from Russia, Ukraine, Azerbaijan and across the ex-Soviet Union and Europe. His secure PGP fingerprint is 6642 80FB 4059 E3F7 BEBE 94A5 242A E424 92E0 7B71

Contact Max Seddon at max.seddon@buzzfeed.com.