Turkey and the Syrian Kurds they consider rivals are pursuing dueling efforts to take back the ISIS capital of Raqqa, potentially complicating an urgent US push to deny safe haven to fighters escaping from Iraq.
What's more, the US appears to be backing both its NATO partner Turkey and the Kurds as they gather potentially clashing forces to dislodge ISIS from the headquarters of its self-declared caliphate.
US Secretary of Defense Ash Carter on Wednesday described an urgent need to take back Raqqa to stave off shelter for retreating fighters and sabotage plans for jihadi operations abroad as the group loses territory to Iraqi forces around Mosul.
The need to take on ISIS in Raqqa once again finds the US struggling to accommodate deep rivalries within the coalition of forces fighting ISIS. Despite the Syrian Kurds' partnership with the US, Turkey is hostile to the group, which is led and dominated by offshoots of the Kurdistan Workers Party, or PKK, the Kurdish militant group listed as a terrorist organization by Ankara, the US and EU.
The Syrian Kurds, operating under an amalgam of Kurdish and Arab militias called the Syrian Democratic Forces (SDF), are eager to move on the city. Backed by US air power, they have repeatedly beaten ISIS on the battlefield, including in the northern Syrian cities of Kobane and Manbij. The SDF currently holds positions just 16 miles from Raqqa.
Over the last few weeks, Syrian Kurds have sent envoys to Western capitals to muster up support for their plans to take control of Raqqa. "In recent months, there have been great mobilization efforts and you've seen much more rallying around the point of taking back Raqqa," said Hetav Rojan, a Denmark-based researcher with close contacts among Syria's Kurds.
The major component of the SDF is the People's Protection Units, or YPG, which is considered a terrorist organization by Turkey. But the US has said the SDF is key to denying the jihadi group any sanctuary in Raqqa.
"The only force that is capable on any near frame — near-term timeline is — are the Syrian Democratic Forces, of which the YPG are a significant portion," Lt. Gen. Stephen Townsend, commander of US-led operations against ISIS in Iraq and Syria, told reporters Wednesday.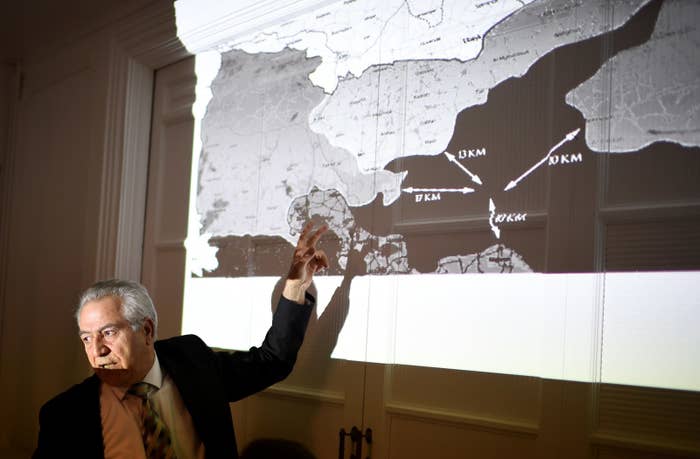 Turkey this month began a discrete US-backed effort to recruit and train Syrian Arabs to take on ISIS in Raqqa. A source close to the Syrian rebels told BuzzFeed News that Turkish armed forces are assembling and training a group of Syrian fighters near the southeastern Turkish city of Sanliurfa.
Two Syrian rebel commanders said they have begun creating special units devoted to the Raqqa operation — one of them is called "Peninsula Shield," meant to fight ISIS in Raqqa as well as the the oil-rich area of Syria's northwest. Syrian rebels have repeatedly fought and defeated ISIS since it broke from the rest of the armed uprising against Bashar al-Assad in early 2014, including most recently in the town of Dabiq.
"We started training Free Syrian Army fighters in Turkey three weeks ago," said Haytham Ofaisi, commander of Brigade 51, a Syrian rebel unit. "We developed action plans with coalition forces and the Turkish army."
Townsend appeared to confirm US participation in those ongoing efforts as well as the partnership with the Kurds. "Most of the recruiting will be done not by us, but it will be done by our local partners," he told reporters Wednesday. "[Local partners] run what we would call basic training. We actually only assist with specialty courses, weapons, leadership courses, those kind of things."
US officials acknowledge serious disagreements with Turkey over any role the Kurds would play in Raqqa. Turkey's President Recep Tayyip Erdogan said Thursday he told President Obama to keep the Kurds out of Raqqa. Turkey's defense minister said any participation of the Syrian Kurds from YPG in Raqqa operations would lead to instability. Turkey and its Syrian rebel allies have been fighting the Syrian Kurds intermittently over the last few months and are now facing off over several northern enclaves, even as both fight against ISIS.
Plans for recapturing Raqqa from ISIS have long been in place. Although Townsend said US intelligence suggests ISIS is planning "significant external operations attacks" from Raqqa, there has been been no effort to speed up those plans since the Mosul offensive began earlier this month. "Did we accelerate our timeline for Raqqa?" he told reporters Wednesday. "No, I'm not sure that we did accelerate it."
The general, who took over as head of Operation Inherent Resolve against ISIS two months ago, said the US would have to operate with a much lighter footprint in northern Syria than in Iraq and depend far more on local partners in an extremely complex battlespace. Pressed repeatedly by Pentagon reporters, Townsend declined to specify a timeline for the launch of any offensive against ISIS in Raqqa, but suggested taking back the city will be a longer slog than the much larger city of Mosul.
"There are a lot of regional security concerns that are in competition there," he said. "The Syrian regime's involved, the Russians are involved, Turkey's involved. Oh, by the way, there's a civil war going on right next door."
In northern Syria itself, various forces on the ground have been fighting over every bit of territory except the headquarters of ISIS's self-declared caliphate.
Syrian regime forces loyal to Bashar al-Assad and allied Iranian-backed foreign militias advanced toward Raqqa in June but were brutally pushed back by ISIS. Both groups are now focused almost entirely on fighting Syrian rebel groups, while Russia exclusively bombs and shells Syrian opposition-held areas far from ISIS-held territory.
Even though SDF fighters hold positions close to Raqqa, they have not advanced in three months, keeping a small outpost of Arab fighters in the forward position to defend against any ISIS encroachments. Instead, the Kurds appear to be concentrating their efforts on seizing territory to connect the disparate cantons of a semi-autonomous territory they control in northern Syria.
Rebel fighters allied with Turkey are advancing toward al-Bab, an agricultural hub northeast of Aleppo, while fighting against the Syrian Kurds. Other rebel groups are rallying for an offensive to break the regime siege on Aleppo.
Only the US has stepped up airstrikes on Raqqa over the last three months, according to Nawar Oliver, an analyst at the Omran Institute, an Istanbul-based think tank that closely monitors and maps military activity in northern Syria. The start of the Mosul offensive nearly two weeks ago has had no discernible impact on activities of the armed groups in Syria, he said.
"There's nothing serious on the ground," said Oliver. "Even the coalition airstrikes are not meant to help an advance, but mostly to repel ISIS."
Additional reporting by Munzer al-Awad and Asma al-Omar.