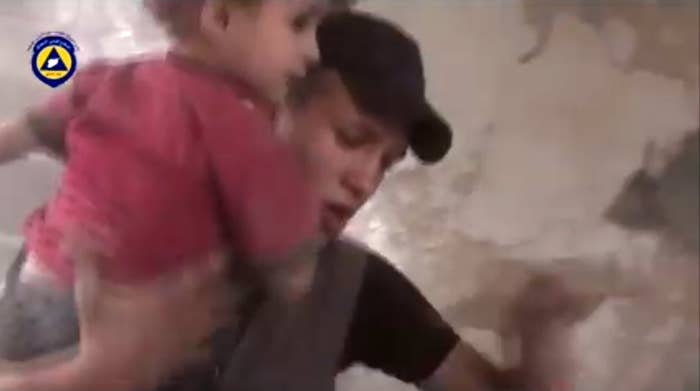 Once he arrived at the scene of the Russian airstrike, Abdul-Latif al-Duheik seemed to fall into a trance. After pulling several victims from the rubble, he scrambled for the a water hose and desperately sought to douse the flames, said witnesses.
Another shell began to fall, and someone yelled out for everyone to take cover. "Everyone got on the ground except for him; he was still standing there with the hose, still trying to put the fire out, so focused that he didn't hear the warning," recalls Khalil al-Duheik, his cousin, who was driving the ambulance that day in the western Syrian town of Talbiseh in Homs province. "All those around him were wounded. He died on the spot."
An experienced firefighter before Syria became engulfed in war four years ago, Duheik, was a member of the Syrian Civil Defence, nicknamed the White Helmets for the distinctive protective headgear they wear while they rescue victims from bombing and airstrike sites. His September 30 killing, followed days later by the death of another White Helmet in a Russian airstrike, suggests the Syrian conflict is moving in a direction even more perilous for civilians as foreign powers move weapons and military personnel into the country in ever greater numbers.
Syrian state media in Damascus reported only that Russian aircraft launched numerous airstrikes "against ISIS dens" in a number of towns, including Talbiseh.
Syrian rebels dispute that ISIS or any other extremist organization has any presence in Talbiseh, which has long been known as a bastion of a relatively moderate Free Syrian Army unit fighting against Syrian President Bashar al-Assad's regime.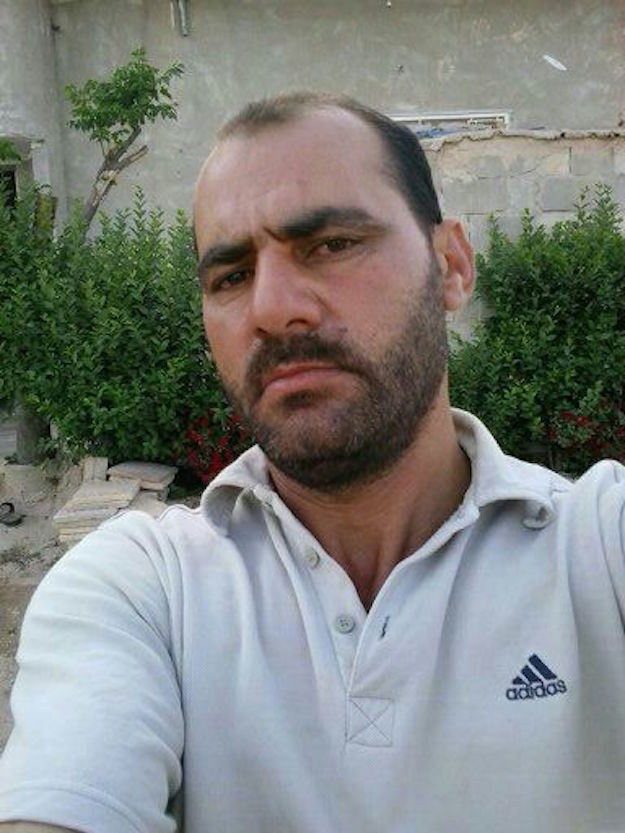 Duheik, a father of four, belonged to an organization that describes itself as "neutral, impartial and humanitarian" with some 2,700 White Helmets spread across Syria. At least some Western governments modestly support its efforts with equipment and cash.
"We do not pledge allegiance to any political party of group," the group declares on its website. "We serve all the people of Syria - we are from the people and for the people."
Though he lived in an area controlled by rebels and was by all accounts sympathetic to the peaceful rebellion against Assad's dictatorship when it erupted in 2011, Duheik rarely if ever wielded a gun.
"He didn't support anyone," said his cousin, Khalil.
Instead he used the rescue skills he acquired as a firefighter to save lives. He drove an ambulance, retrieved the wounded from the rubble and treated their injuries until he got them to a doctor.
"He gave himself entirely to helping others," says Abu Shadi al-Duheik, a member of the victim's extended family.
Hassan, another witness in Talbiseh who declined to give his full name, said he was not at all surprised when he spotted Duheik speedings towards rather than away from the targeted facility, a bread-distribution center in the town that was on fire. "He always rushed to help," he said. "Anything that happened and he was the first one there, rescuing people."
On occasion, hopping on his motorcycle, he would beat all the other White Helmets to bomb sites and radio back with grim news. "He would tell us to go back, to not come to the scene when there would be no one to save," said Diaa Hadid, a 26-year-old member of the White Helmets in Talbiseh. "It was so we wouldn't risk our lives by going to a dangerous place, because very often the airplanes would still be hovering above."
Last October, shortly after the White Helmets set-up operations in Talbiseh, a Syrian regime airstrike hit a residential area, killing perhaps a dozen people from the area. It was evening and the rest of the White Helmets were resting, having given up on finding anyone alive — except for Duheik.
"He was looking around from the side of the house next door to the destroyed house and entered under one of the partially-collapsed roofs and heard the moaning of one of those wounded," recalls Ahmad Dikh, a 21-year-old member of the White Helmets.
He pulled out one buried man, and began yelling for first aid. But another person was also buried beneath the rubble; Duheik began calling for more help. It was the first victim's brother, says Dikh. They eventually managed to drag him out. Both brothers survived.
The first Russian air raids that killed Duheik and dozens of other civilians came without warning; Syrian planes often scour the town for hours on surveillance flights before launching their missiles. In addition to the bread distribution center, Russians hit a school and an administrative building as well as residential neighborhoods of the impoverished rural agricultural town. Russian media said only that its air force's planes had struck a suicide bomb factory north of Homs.
"The strikes were like nothing we had seen before," says Hadid, whose task that day was to film the White Helmets in action. "Entire streets collapsed, entire civilian areas."
One of the brothers he had saved in the 2014 bombing showed up at his funeral. "He was broken-hearted because the man responsible for saving his life had lost his own," says Dikh.
Duheik was the sole provider for his wife, three sons, and daughter, aged 3 to 13. "In front of the kids, the mother holds herself together, but we sit together and talk a lot," his cousin, Khallil, says. "And she gets very emotional when I visit because it reminds her of before. I try to go there every day now, more than once a day to help out."
No Russian official has yet to apologize for the September 30 death of Duheik, as U.S. President Barack Obama has voiced regrets for the killing of Doctors Without Borders personnel and patients in the Afghan city of Kunduz.
"An apology is a really big thing, yet no one apologized for this," said his cousin, Khalil, who continues to work as a member of the White Helmets. "And we don't expect anyone to apologize, and we're not waiting for them to apologize."
Before hanging up the phone, Khalil suddenly wants to say one more thing. "The night he died I was with him," he recalls. "We had spent the whole night together. He would usually go see his family for 48 hours and then would spend 48 hours with me. We always thought we would go to death together. Now he's dead, and who knows when we're together next."