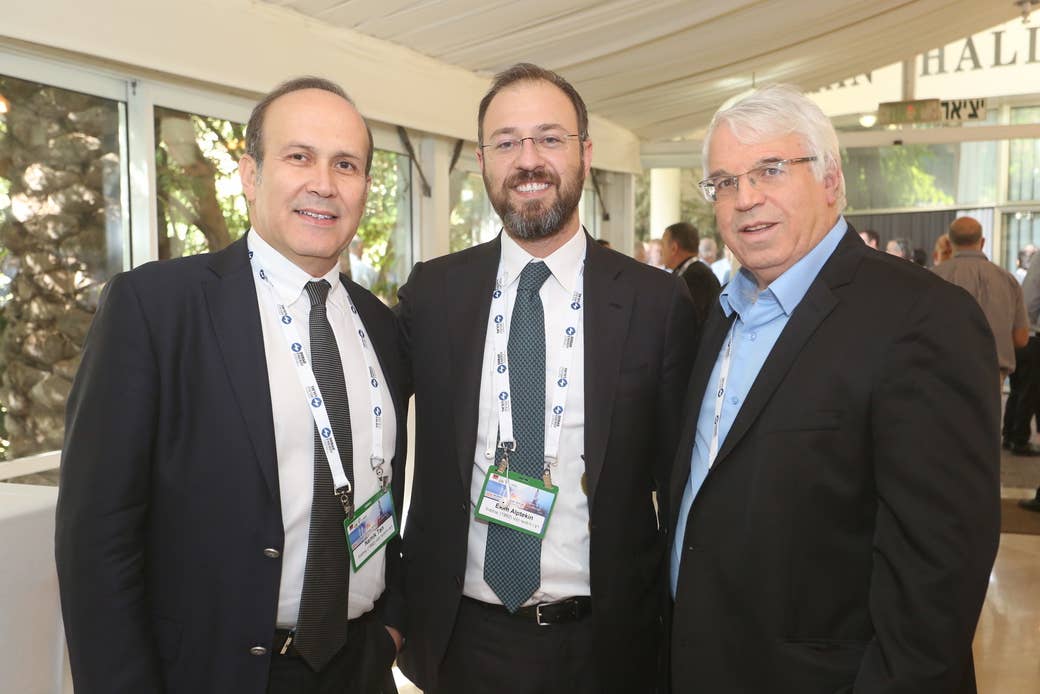 ISTANBUL — A Turkish businessman at the heart of a scandal swirling around the Trump White House had a nearly year-long commercial arrangement with an Israeli energy firm, despite its continued denials of any such deal, according to photographs and documents seen by BuzzFeed News.

BuzzFeed News last week published a letter showing that Turkish businessman Kamil Ekim Alptekin's Netherlands-based firm, Inovo BV, was hired to serve as the Israel-based Ratio Oil Exploration company's Turkey representative last year.
Alptekin told BuzzFeed News that the energy deal prompted him, in part, to hire a Washington firm led by Michael Flynn, the first national security adviser to President Donald Trump, and now the subject of congressional and federal investigations.
A Ratio spokesperson told the Daily Caller and others that the document was a forgery after BuzzFeed's article appeared. Ratio officials, including Yossi Shazar, CEO Yuval Landau, and chairman of the board Ligad Rotlevy, as well as a consultant mentioned frequently in the communications, did not respond to numerous emails, phone calls and text messages from BuzzFeed News requesting comment. Orit Teicher, of the Israeli public relations and crisis-management firm Shalom Tel Aviv, told BuzzFeed News in a short email: "Ratio did not employ the services of Mr. Ekim Alptekin nor Inovo BV." She declined to elaborate on the photographs or documents that suggest otherwise.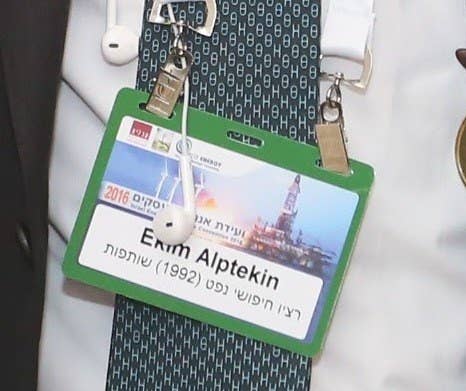 Photos of Alptekin seen by BuzzFeed News show he attended an energy conference in Israel in November 2016 as a guest of Ratio. In one photo, Alptekin can be seen wearing a conference name tag showing his name and, in Hebrew, "Ratio Oil Exploration (1992) Partnership," as his affiliation. Ratio was one of a dozen sponsors of the conference, according to its website.
Emails seen by BuzzFeed News also show that Ratio advisers and officials, including Shazar, helped organize Alptekin's two-day trip to Israel.
"We are pleased to host you in Israel," Shazar wrote to Alptekin and his business partner, the former Turkish ambassador to the US and Israel Namik Tan, in an email ahead of the 14th annual Israel Energy and Business Convention, where the CEO of Ratio spoke and hosted Alptekin and Tan, according to emails.
"Please send me the flight details in order to secure a proper pickup from the airport to the Ratio office," Shazar wrote in an email seen by BuzzFeed News.
"The driver will be waiting for you at the arrival terminal to take you to the Ratio offices," energy consultant Gina Cohen wrote in another email.
Photos of the conference reviewed by BuzzFeed News show Alptekin and Tan listening to speakers, seated at one point near Israel's energy minister, Yuval Steinitz.
Afterward, according to the emails, Alptekin, Tan and Ratio officials attended dinner together.
"I would like to thank you for taking the time to meet with us last week in Israel," Alptekin wrote Shazar and other company officials in a November 29 email.
BuzzFeed News has also confirmed:
The existence of dozens of emails between Alptekin and Ratio officials, dated from early 2016 to 2017.

Evidence of multiple Ratio money wire transfers into Inovo accounts in the Netherlands.

The existence of an April 13, 2016, contract between Inovo and Ratio.

The existence of a February 12, 2017, letter on Ratio letterhead terminating the deal.
There is no evidence or suggestion anywhere in the communications, or in previous reports, that Ratio knew that Alptekin was hiring Flynn.
It is unclear why Ratio has repeatedly denied what appears to be a straightforward business relationship with Alptekin, and instead publicly alleged the forgery of a document. The firm's possible wariness at being tied to the Flynn matter underscores the far-reaching reverberations of the ongoing investigations into the retired four-star general, who stepped down after less than a month in the role of national security adviser after it was revealed that he had failed to reveal conversations with the Russian ambassador to the US. Flynn has also come under scrutiny for initially failing to register as a foreign lobbyist for Alptekin, who hired Flynn's consulting firm in August 2016.
Alptekin declined to publicly comment on the Ratio deal for this story, citing a confidentiality clause in the original contract. Ratio's name was first mentioned in relation to the Flynn matter by Israeli journalist Nadav Eyal.
Alptekin said Ratio payments were one source of the funds he used to pay for the $530,000 Flynn deal in an interview published on April 7, 2017, by the Dutch newspaper NRC Handelsblad. Alptekin later told BuzzFeed News that less than $100,000 of the money paid to Flynn Advisory Group came from his Ratio dealings. According to records examined by BuzzFeed News, the amount appears closer to $50,000.
Ratio is one of three Israeli and American firms seeking to exploit the massive Leviathan subterranean gas reserve, that is worth billions, at the eastern edge of the Mediterranean Sea.