Turkey's Ruling Party Claims Victory After Second Election This Year
Security, stability, and peace are among major issues for voters in a relatively prosperous country with war both outside and inside its borders.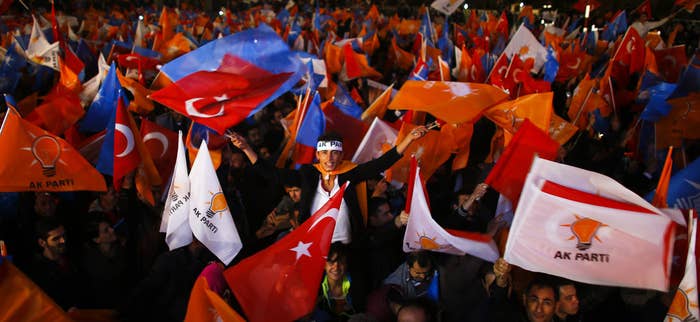 ISTANBUL — Turkish President Recep Tayyip Erdogan's party claimed victory Sunday after his deeply divided country went to the polls for the second time this year amid rising Islamist extremism at home and a growing refugee crisis at its doorstep.
With more than 97% of the votes counted, official results from the country's election center showed Erdogan's Justice and Development Party (AKP) securing around 49% of the vote.
"This victory is not ours; it's the nation's victory," Prime Minister and AKP leader Ahmet Davutoglu told a crowd in the central city of Konya as initial results came in. "May God bless you for embracing us in our worst times."
The opposition Republican People's Party (CHP) looked set to win around 25% of the vote, while the Nationalist Movement Party (MHP) had secured around 12%. Additionally, the pro-Kurdish People's Democratic Party (HDP) looked set to pass the 10% threshold needed for representation in parliament.
Turkey's Islamists and secularists, Sunni Muslims and Alevis, Turks, Kurds and other ethnicities all seek a peaceful and prosperous nation but differ substantially on their country's political future. As they went to the polls Sunday, they were divided like rarely before at a time when the country faces an economic slowdown and multiple security threats, including a renewed insurgency by Kurdish rebels and increasing terror attacks by presumed ISIS militants.
"I am voting because it's a duty for all of us to vote," said Yunus Babacogular, a 52-year-old former state employee in the Sultangazi district on the northwest outskirts of Istanbul who said he had voted for the ruling AKP. "We want peace in the country and we hope for a leader who will bring peace."
Voters and election monitors reported hundreds of irregularities, including violent scuffles between supporters from rival camps, cutting off of electricity to polling stations in opposition strongholds, and the detention of election volunteers. But none so far appeared to suggest any evidence of systematic fraud in the election observed by tens of thousands of local and international monitors.
A majority in June voted against the Islamist-rooted, pro-business AKP's vision to transform Turkey from a parliamentary system into to a U.S.-style of government with President Recep Tayyip Erdogan at the helm. But partly because of Erdogan's reticence, Turkish political leaders failed to form a government and the president called for new elections.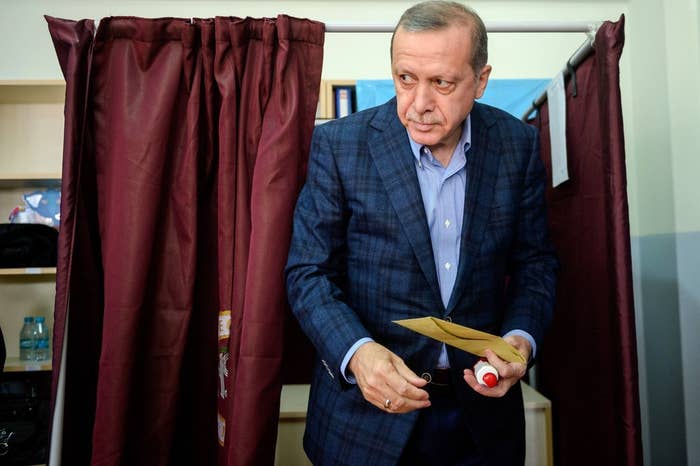 The outcome of Sunday's election hinged largely on the performance of the smallest of four major parties, the HDP led by Selahattin Demirtas, the charismatic 42-year-old lawyer who managed in June to guide his party to 13% of the vote. That result was enough to surpass a 10% hurdle for obtaining a bloc of seats in parliament, as well as deny the AKP an outright majority for the first time since 2002.
The election season has heightened political rhetoric and tensions. The government has cracked down on print and broadcast media critical of Erdogan, placing AKP loyalists in key positions. The resumption of the on-and-off, decades-old conflict between the government and the Kurdistan Workers Party (PKK) guerrilla movement, listed as a terrorist organization by Turkey and the U.S., has increased worries of voting irregularities in the country's heavily Kurdish southeast. Many voters accuse the government of dragging the country into the the vicious civil war in neighboring Syria, a conflict that has drawn more than 2 million refugees into Turkey.
Within Turkey's polarized politics, some voters told BuzzFeed News they were simply voting against a candidate they didn't like, as opposed to casting a ballot for someone they did like. "I have a 13-year-old daughter, so it's important for me to vote," said Senay Askurt, a 40-year-old artist in the upscale Bebek district of Istanbul. Like many other secular Turks, she said she voted for the center-left CHP. "I want to see an improvement in human rights and freedom of thought, and that includes women's rights."
Selda, 35, and her husband Ferit, 37, who declined to give their last names, said they were members of Turkey's Alevi community who were also voting for CHP. They said they had grown fearful of what they described as the AKP's increasingly sectarian rhetoric and policies. "We are voting for the future of our children in this society," said Ferit, a contractor, after casting his ballot in Sultangazi. "Of course, our freedom is in danger. The government is practicing religious discrimination. There used to be polarization between Sunni and Alevi before, but it was hidden. Now it's out in the open."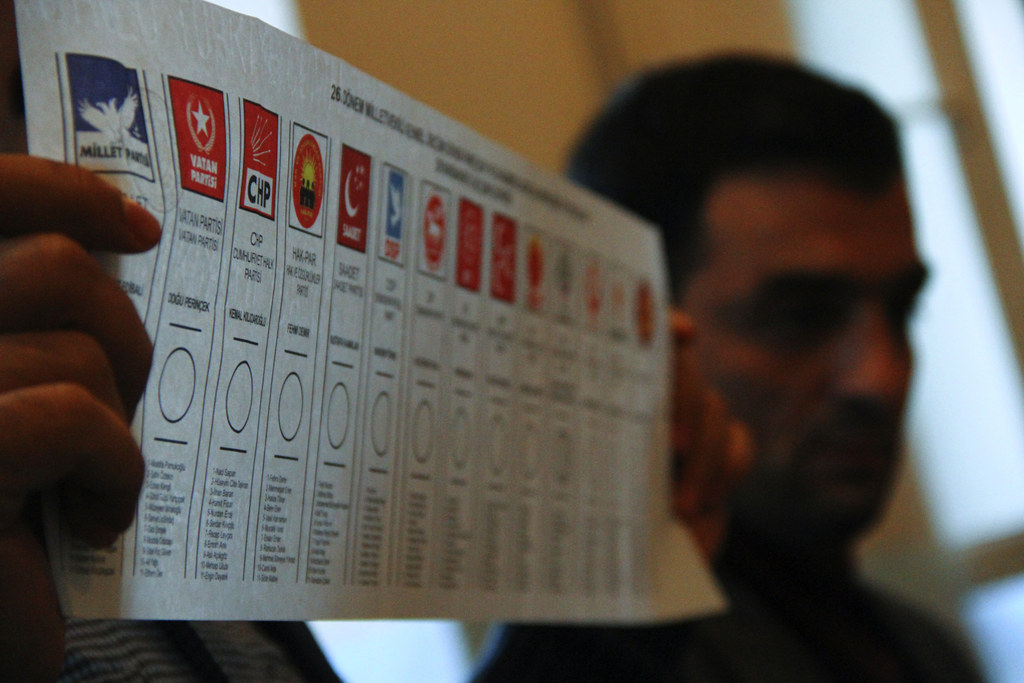 AKP leaders accuse the opposition of incendiary anti-government rhetoric that has scared voters. "I worry about the polarization," said Harun Armagan, a spokesperson for the AKP. "But it's a strategy that the opposition are using to get voters. The AKP is the only party that gets votes from every part of the society, including Turkish, Kurdish, and minorities. It is the nationalist Kurdish and nationalist Turkish parties and the CHP that are creating the polarization."
AKP originally managed to draw voters from outside its base of pious Turks by depicting itself as a big tent that included liberals and ethnic and religious minorities. But its appeal to other constituencies has faltered in recent years as Erdogan's ambitions have grown, alienating some voters.
Isa Kayhan, a 64-year-old ethnic Kurd and grocery store operator living in Istanbul's Fathi district, said she once voted for the AKP but is choosing HDP in this election.
"Erdogan didn't do anything for us," he said. "Now I vote for HDP and Demirtas. He's young. He's nice. He's smart. He's handsome. There's no one better than him."