How Angry Car Owners Became The Driving Force Of Ukraine's Protest Movement
The activists of Automaidan have faced vicious reprisals, including kidnapping and torture, for their central role in Ukraine's protests. "We're the revolutionary cavalry," a founder says.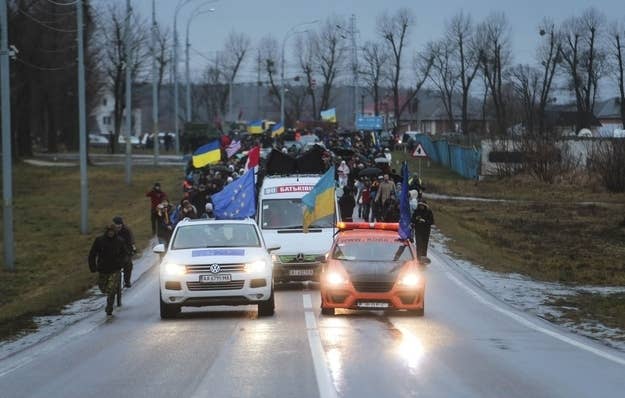 KIEV, Ukraine — Eight days after he vanished without a trace during a midnight police attack on Automaidan, the activist drivers' group he leads, Dmitry Bulatov was found wandering, covered in bruises and severely concussed, in a village near Kiev, his face encrusted with black streaks of blood. Unknown assailants with Russian accents had kidnapped him and taken him to a dark room, he said. They cut his face and sliced off part of his ear. They placed a bag over his head and drove nails through his hands into the door where he hung limply as they beat him, taking care not to break his bones.
After more than a week of torture, Bulatov said his captors dumped him in a forest Thursday, from where he wandered from house to house, knocking on doors until someone let him in to call friends in Kiev who rushed him to the hospital. Western diplomats and leaders of Ukraine's protests flocked to his bedside.
"What they did to Dmitry was a way to scare all active citizens," Vitaly Klitschko, a former boxer considered President Viktor Yanukovych's greatest potential challenger, later said, implying Bulatov's alleged torture was revenge for leading "this effective movement that fights the government." Geoffrey Pyatt, the U.S. ambassador to Ukraine, tweeted that Bulatov had "suffered as no human should."
International shock over Bulatov's alleged "crucifixion" has made him the puffy, disfigured face of resistance to Yanukovych's increasingly embattled government and a political football in international efforts to resolve the crisis. He was the talk of a major security conference in Munich last weekend, where a billionaire opposition leader convinced mortified European leaders to spirit him to Lithuania to recover from his injuries. Ukrainian officials have implied that he faked his injuries in order to discredit them: foreign minister Leonid Kozhara dismissed them as just "a scratch on one of his cheeks." Police hypothesized that he had crucified himself.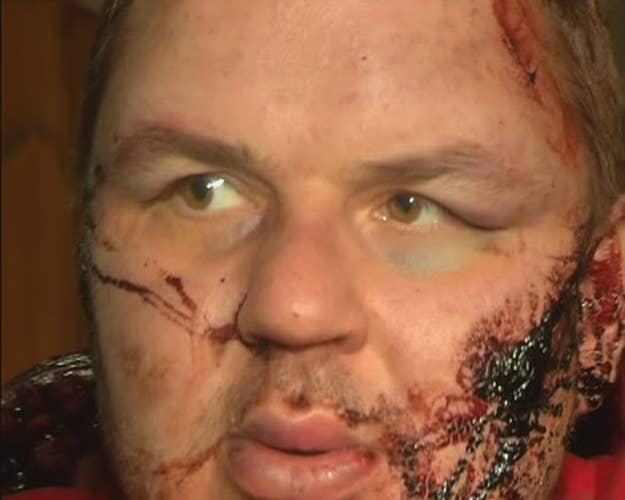 As Ukraine's political crisis enters its third month, Bulatov's plight is only the most prominent in a series of morbid incidents recalling less the euphoria of Ukraine's peaceful Orange Revolution in 2004 than the violence and paranoia of Pinochet's Chile in 1974. The opposition is now accusing the government of forming mafia-linked paramilitary death squads for a brutal extrajudicial crackdown on dissenters. Several activists' cars have been torched in the dead of night. Hundreds have been arrested. Dozens of others are missing. One turned up frozen to death in the woods after a brutal night of apparent torture. Bulatov and another activist who survived a kidnapping say their captors wanted to know whether they were pernicious pawns of the United States, reflecting apparent paranoia among the protest movement's enemies.
The grim turn on Kiev's streets, brimming with peaceful music festival-style euphoria only weeks ago, mirrors the political war of attrition behind closed doors. Negotiations between government and opposition have failed to yield a breakthrough and backed Yanukovych further into a corner, as one Ukrainian journalist put it, stuck "between war and defeat." The Kremlin, which bankrolled Yanukovych with $15 billion in December in an attempt to keep Ukraine within its sphere of influence, is visibly worried by his failure to stop the protests and is publicly mulling calling time on its investment. Protesters are refusing to leave occupied buildings in downtown Kiev until Yanukovych is overthrown. Hardline officials in Ukraine and Russia have called for the protesters to be removed by force, stoking fears of martial law and civil war.
Bulatov, a 35-year-old father of three, could hardly have imagined all this when he and a few friends founded Automaidan in late November. Enraged at Yanukovych's abrupt U-turn away from a deal with Europe toward Russia and subsequent police brutality against the protesters who had come out to protest it, they got behind the wheel to set up barricades protecting encampments on Kiev's Independence Square, known as the Maidan.
Partly, it was a way to stay mobile and a step ahead of police. Partly, it reflected the politicized nature of driving in Ukraine, where widespread loathing of corrupt traffic police and general middle-class discontent with the government have made car owners particularly active for years. At a deeper level, it symbolized their commitment to the cause: Apartments aside, few Automaidan members had anything more valuable to put at risk for the revolution than their cars.
"We're the revolutionary cavalry," Sergei Khadzhinov, one of Automaidan's co-founders, said with a laugh. "We try to sting the authorities where they're weakest."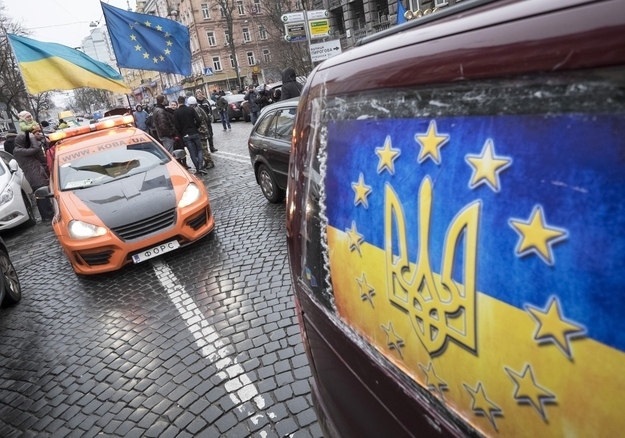 Before long, the activists of Automaidan were taking the fight straight to Yanukovych's government. They organized rallies outside officials' houses with Ukrainian and EU flags flying from their cars, honking horns and throwing eggs. Targets included the homes of security officials implicated in the violence; Putin-linked businessman Viktor Medvedchuk, nicknamed the "Prince of Darkness"; and the president himself, who lives in a $100 million palatial estate outside Kiev that has come to symbolize discontent with rampant corruption in Ukraine.
"They're well organized, highly mobile, they take the initiative, they know their rights, and they're middle class — that's why Automaidan are such a force and cause so many headaches for the police," said Volodymyr Fesenko, head of the Penta Center for Applied Political Studies.
Someone high up was clearly spooked. Medvedchuk sued them. "They want to go to war? I know how to go to war," he wrote on Facebook. Activists say traffic police began stopping them without cause throughout the city. The license plates made it easy; that is partly why Automaidan's leaders insist on protesting peacefully. Soon afterward, the owners of all 2,080 cars that took part in Automaidan's largest rally at Yanukovych's estate in late December received a court summons for allegedly blowing past traffic police without stopping that night. Almost without exception, according to Dmitry Iovdii, the head of Automaidan's legal defense fund, judges hurriedly revoked their driver's licenses for six months — the maximum penalty under the law.
If the government intended to scare Automaidan off, it had the opposite effect. Most of the drivers simply ignored the decisions or entrusted their cars to friends. New supporters flocked to them. "When [the government] started acting like that, Automaidan's active membership doubled," Khadzhinov said. "They forgot that the 21st century's here — thousands of people saw and discussed everything they did against us within half an hour on social media," Khadzhinov added.
By mid-January, when Yanukovych rushed a series of repressive laws through parliament essentially outlawing all forms of public protest, Automaidan were enough of a thorn in his side to warrant their own bill, which banned driving in groups of more than five cars. The group printed bumper stickers reading, "Don't follow me! I'm the fifth one!"
Popular fury over what activists call the "dictatorship laws" reignited Ukraine's protests, but also further sapped enthusiasm for their ostensible leaders, who had made daily speeches and endless demands from the Maidan for weeks but failed to extract concessions from Yanukovych. Automaidan, meanwhile, had begun to reflect the protests' moral center. On Jan. 19, Automaidan co-founder Sergei Koba spoke to a huge crowd revitalized by the passage of the laws three days earlier and demanded the political opposition, riven by infighting, choose a single leader. Defying chants from the crowd of "We want a leader!" and "Do something!", the politicians refused, accusing Koba of being a "provocateur" out to undermine the movement.
Dejected, a few hundred people traipsed off to nearby Grushevskogo Street. Within hours, violent clashes with police broke out. Protesters threw Molotov cocktails and fashioned medieval-style armor. Police used gas and stun grenades and shot protesters with rubber bullets. At least five people died, the first since the protests began; hundreds on each side were injured before a truce was declared four days later.
The next night, Automaidan activists say they discovered police plans to take the Maidan by force. According to co-founder Alexei Grytsenko, the son of a former interior minister, between 200 and 400 titushki, thugs hired by government supporters to roam the city at night, armed with chains and jacked up on stimulants, were to attack any Kiev residents rushing to defend the square, clearing the way for a swarm of police. A few hundred Automaidan activists wielding wooden sticks and wearing body armor set off to patrol the streets, checking reports on Facebook and Twitter that large groups of titushki were starting fights with passersby and smashing parked cars.
Within a few hours, the activists had managed to capture 30 of the titushki and deliver them to the Maidan, where they faced an impromptu people's night court. Some of them admitted they had only been given $25 for their trouble. Automaidan activists painted "SLAVE" on their prisoners' foreheads and released them. The other titushki had long since fled. The police raid never transpired.
But if that night made Automaidan heroes to the protest movement, it also made them public enemy number one for riot police. Three days later, at about 2 a.m., two cars of Automaidan activists were ambushed and beaten by a group of titushki. As soon as the titushki left, an activist present said, riot police immediately swarmed the area, arrested Automaidan members as they lay writhing on the ground, bundled them into paddy wagons, and drove off.
Seventeen other Automaidan drivers followed them to Grushevskogo Street, where clashes raged for the fourth day in a row. Riot police were waiting for them. According to the activists, riot police smashed their cars, dragged them out, and beat them mercilessly before arresting them. Two managed to escape: The remaining 15 are in jail for at least two months without bail awaiting trial for "hooliganism."
Theoretically, the activists are covered by an amnesty Yanukovych signed Friday after days of negotiations with opposition leaders. Whether it will come into effect is another matter, since it is conditional on protesters leaving occupied government buildings within 15 days — something they have refused to do. Law enforcement is still clearly out to get them. Hours after Bulatov was found, police announced charges against him, Grytsenko, and Koba for "organizing mass disturbances," which carries a maximum 15-year sentence. The charges did not specify what the activists had done and were dated a week earlier, during which time Grytsenko had moved freely around Kiev and given several interviews.
Speaking before the warrant for his arrest was issued, Grytsenko acknowledged the risk the group was taking. "You can't make yourself 100% safe," he told BuzzFeed. "When we were getting this together, the first thing we did was agree that we were taking a deliberate risk. Obviously nobody thought [the police] were going to hunt us, but there's no way back now."
Buoyed by its surge in popularity, Automaidan announced Monday that it would become a fully fledged political movement to "control what the authorities do, regardless of what color they are." They'll have to do it in siege mode. Some of the leaders now have armed guards. Others have gone to ground. Koba has fled to Austria. Grytsenko is in a safe house in Ukraine. Khadzhinov is also being held without bail for two months for leading a failed attempt to help seize a provincial government building.
Bulatov, for his part, had nowhere to go until Western officials negotiated his safe passage, and a court in Kiev closed the case against him. Activists and opposition lawmakers patrolled outside his room in a private clinic on Kiev's Left Bank around the clock to keep police away. Ukrainian media have run conflicting reports over whether the charges against him are still in force.
It's hard to imagine he's too bothered. In a video Grytsenko posted to Facebook Friday, Bulatov runs the gamut of his injuries from his hospital bed, then says: "You can't scare us, and we're not going to stop. I've got a lot of strong fighting spirit, I'll get better and then I'll keep going… We're going to get justice. That's what we've done, that's what we do, and that's what's going to happen."