YouTube is working on a redesign of its desktop site, and it's looking for feedback to help shape its new look. This morning, the company announced a design preview of the new site and invited the YouTube community to test it.
According to a YouTube spokesperson, the redesign is intended to declutter the site of the visuals that can sometimes distract from the video viewing experience, and to enable faster feature updates. Among the first of such updates is a Dark Theme that turns YouTube's typically white background black.

YouTube said in a statement that it wants the redesign to adhere to three main principles: "simplicity, consistency, and beauty." YouTube has also rebuilt the site's backend with a framework called Polymer that it says will allow for faster feature updates.
"It's a clean, fresh look that makes the content shine," the spokesperson told BuzzFeed News.
The changes are subtle for now. Here's YouTube's homepage before: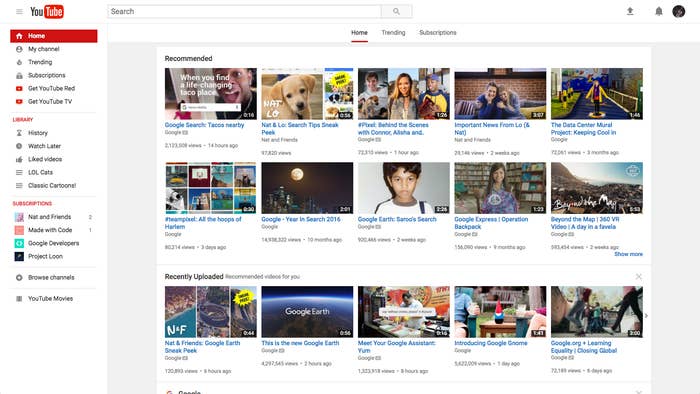 And here's the homepage redesigned.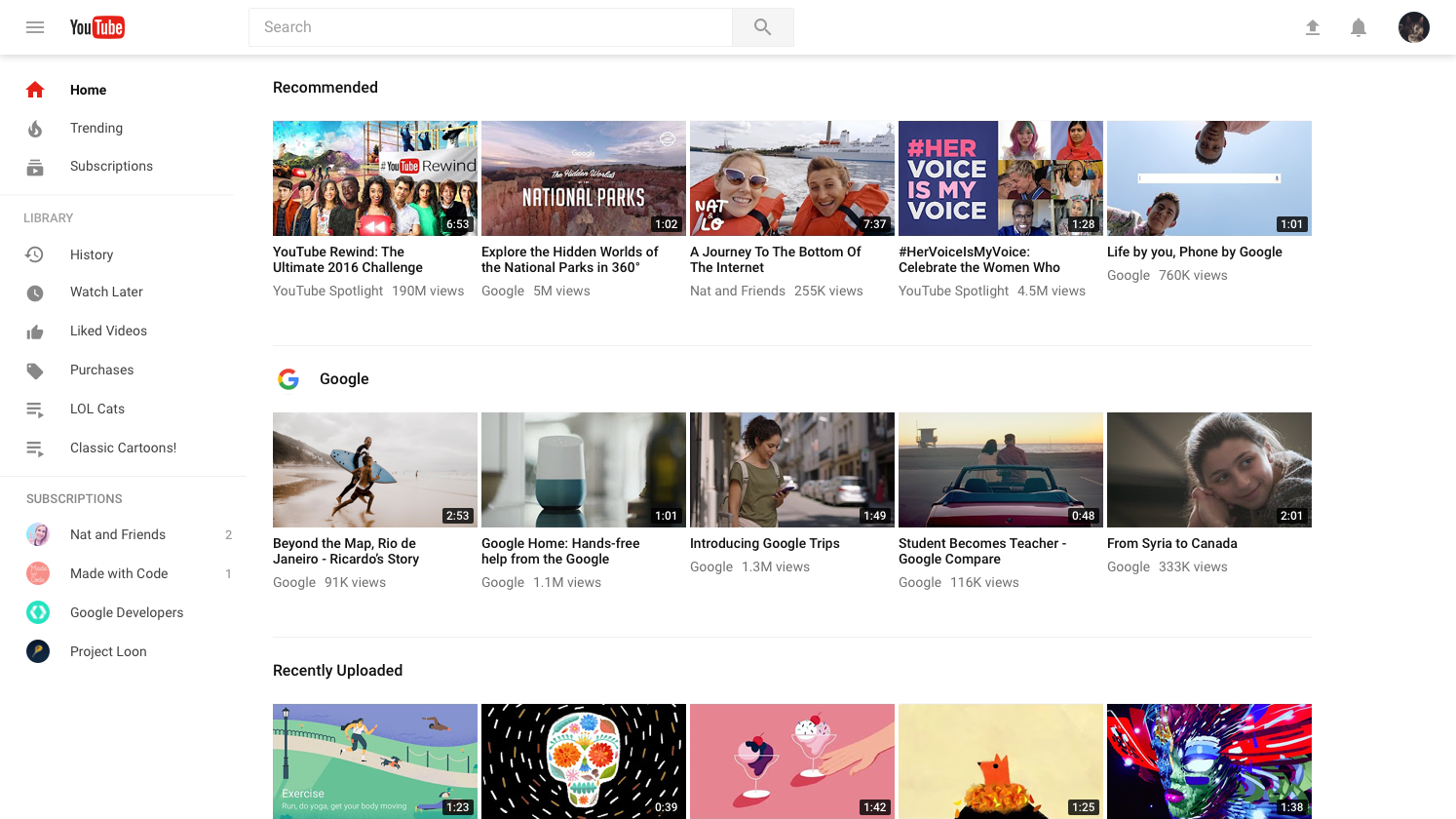 The thumbnail images for videos are slightly wider, and instead of two rows of recommended videos, you see one row of recommended videos and one row of videos from a creator's channel that you subscribe to. And the old grey columns on either side of the page have been removed to make the page simpler.
And here's the new "Dark Theme."
It's designed to cut down on glare and to make it easier to watch YouTube at night on your brightly lit devices.
Dark Theme is similar to Twitter's Night Mode:
YouTube said Dark Theme was the most-requested feature from YouTube users. Now you won't have to sear your eyeballs when you stay up past your bedtime to watch cat videos.
Channel pages are also getting a small facelift. Here's what they looked like before: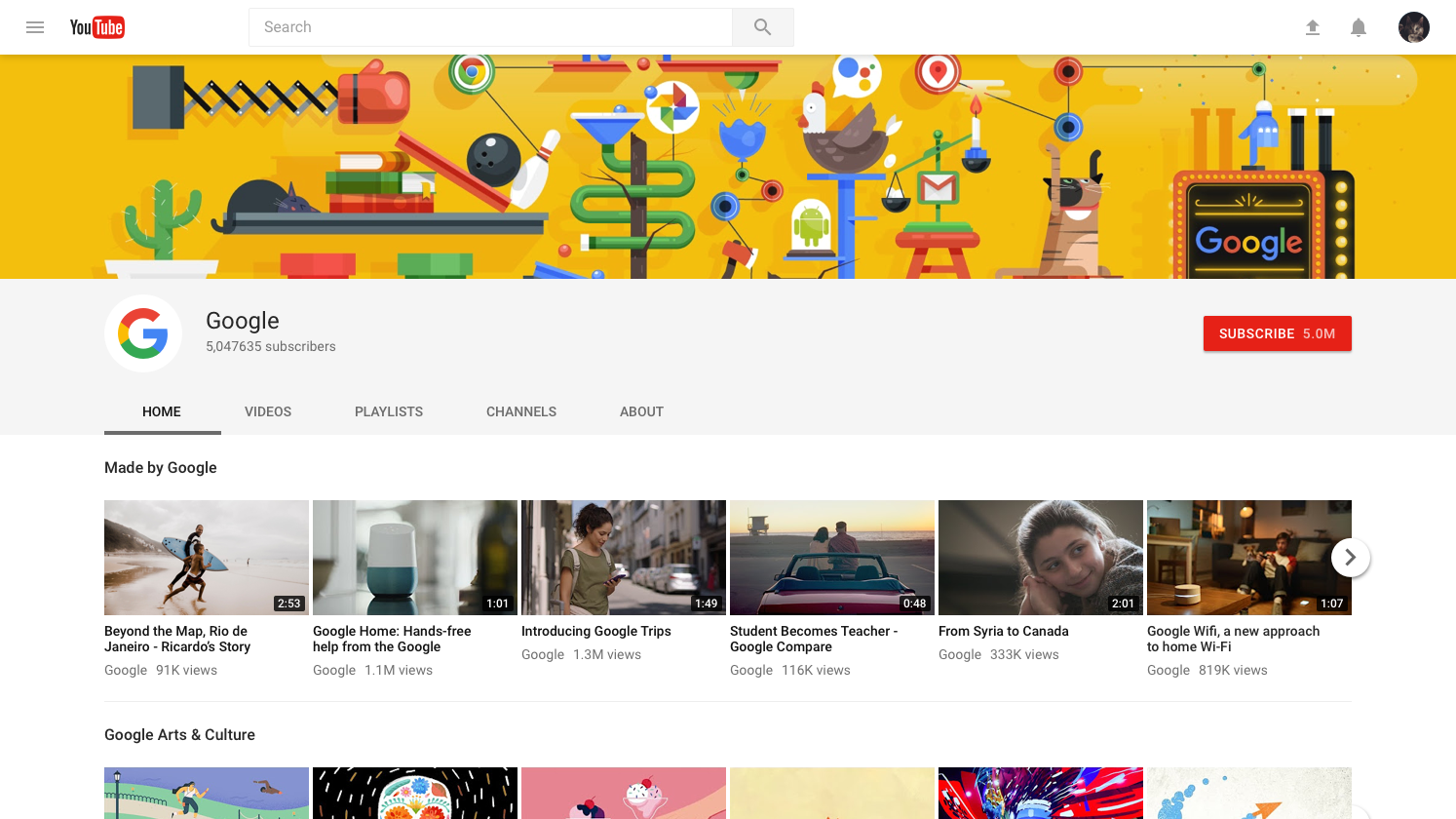 The tab on the right side of the screen that formerly recommended similar channels has disappeared, and the hero image at the top of the page now splashes across the entire page. The grey borders have been removed as well.

A YouTube spokesperson said of the expanded image, "It allows the creators to express themselves even more and show their audience who they are."
You can opt into the trial at youtube.com/new. If you don't like it, you can return to the current design by selecting 'Restore classic YouTube' from the Account Menu, where you can also leave comments. YouTube said it will cap the number of people participating in the trial "when we reach enough users and feedback," though it wouldn't specify how many people that was.