Twitter introduced a new feature on Wednesday: the "share" button.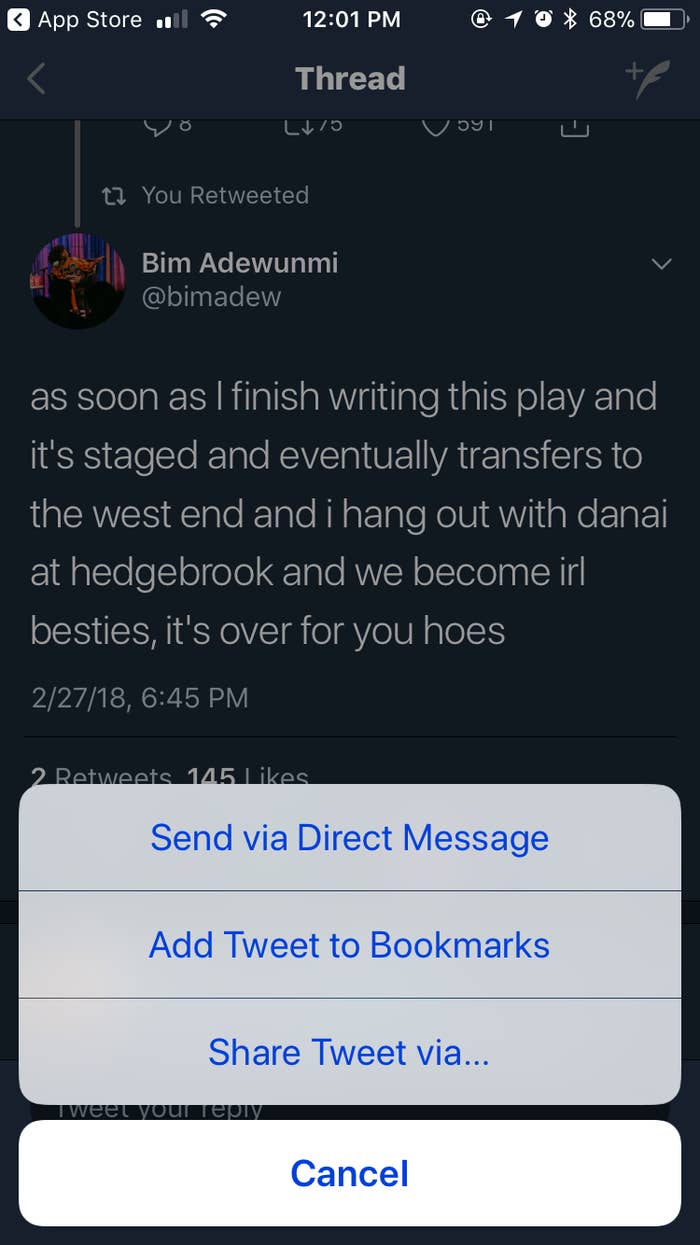 It allows you to:

DM tweets to people

Share tweets via email and text messages

Bookmark tweets for later

Here's how to use it, according to Twitter's blog: From a Tweet, tap the share icon and select "Add Tweet to Bookmarks."
"Found something historic? Don't want to forget a joke? Article that you want to read later? Save the tweet with Bookmarks, and come back to it whenever you want. Only you can see your bookmarks," Twitter announced.

You'll be able to access your private bookmarks via the profile tab that appears when you swipe left.
But it's only available if you're using Twitter's iOS app, Android app, Twitter Lite, or viewing Twitter from a mobile browser. The desktop version of Twitter won't have the bookmarks feature. Twitter declined to comment on why that is.
Part of the share button's function is similar to the envelope icon on the old version of the Twitter mobile app, which has been replaced.
The envelope allowed you to DM tweets to people (including yourself) or share them via email and text. Twitter's Share button appears as the typical sharing logos on iOS and Android.
But the private bookmarking function is an entirely new feature for something people have been doing forever.
Now you won't be faving things that you don't actually like or DM'ing them to yourself in some dual-personality meme chain.

According to Twitter product manager Jesar Shah, who wrote Twitter's blog post, a lot of people in Japan have been asking for the feature for quite some time.
Shah created a Twitter Moment giving a glimpse into the process of creating the bookmark feature, which she first called #SaveForLater.

Twitter in Japan and Japanese Twitter users were particularly involved with the creation of the feature.
The company's tweets asking for feedback on the feature racked up hundreds of retweets, and Twitter said it paid close attention to what users in Japan were saying.

"There's a week called Hackweek for Twitter where the company unites to come up with new ways to improve Twitter. For this Hackweek, #SaveForLater, which was based on the request from everyone in Japan, was put into consideration."

Now that it's finally here, people are stoked.