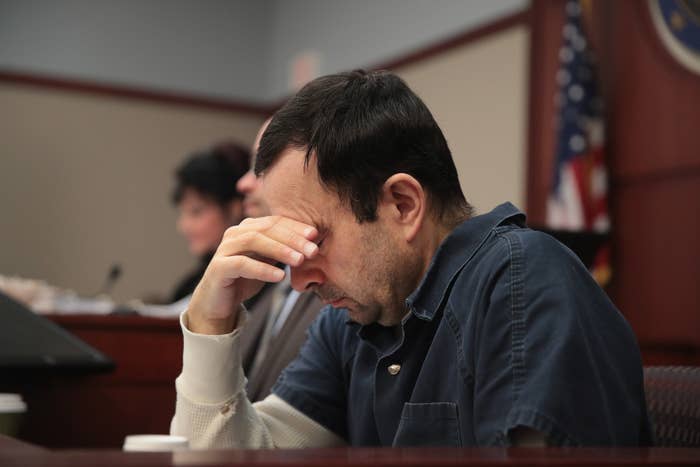 The top three board members of USA Gymnastics, the sport's governing body, have resigned amid a widening scandal over unimpeded sexual abuse against young female gymnasts.

The organization announced on Twitter that the board's chair Paul Parilla, vice chair Jay Binder, and treasurer Bitsy Kelley resigned Jan. 22. The USA Gymnastics site lists the three positions as "to be announced." According to the site, other members of other parts of the board — the National Membership Directors, Advisory Council Directors, Athlete Directors, and Public Sector Directors — still hold their positions.
On Twitter, USA Gymnastics President and CEO Kerry Perry, whose tenure began in December 2017, said in a statement, "We support their decisions to resign at this time. We believe this step will allow us to more effectively move forward in implementing change within our organization." Perry previously called the women speaking out against Larry Nassar "courageous" in a statement.
Nassar, once the organization's official doctor, pleaded guilty in November 2017 to 10 counts of first-degree criminal sexual conduct, admitting that he put his finger in the vaginas and rectums of some patients going back as far as 1998. More than a hundred of his victims, including several Olympic medalists, have read or will read impact statements at his sentencing in Michigan. He has already been sentenced to 60 years in federal prison on child pornography charges.
Aly Raisman, a six-time Olympic medalist in gymnastics, said USA Gymnastics was "rotting from the inside" during her powerful statement at Nassar's trial. She's also called out the organization on Twitter as "100% responsible" for Nassar's crimes.
"For this sport to go on we must demand real change. If we leave it up to these organizations history is likely to repeat itself," Raisman said in court.

People replying to the USA Gymnastics tweets about its board of directors seemed to be of the same mind as Raisman. One even called for Raisman to sit on the board herself.