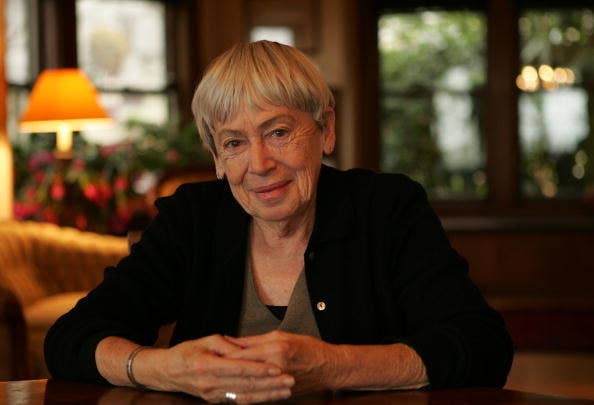 Ursula K. Le Guin, the best-selling author of beloved science fiction and fantasy novels like The Left Hand of Darkness and the Earthsea series, has died at her home in Portland, Oregon. She was 88.

"The family of Ursula K. Le Guin is deeply saddened to announce her peaceful death yesterday afternoon," her family tweeted Tuesday from her official account. No cause of death was immediately given.
Her writing often explored themes previously unseen in science fiction. Some of her most famous works tackled themes of gender and clashing cultures rather than what she called "hardware and soldiers" science fiction that only featured white men. The Left Hand of Darkness imagines a planet where inhabitants are sexless until they assume characteristics of either gender during estrus.

She said she thought of gender and sexuality as a "a tremendous playground, and it doesn't do any harm to have people's ideas shook up."
Le Guin's books have sold millions of copies worldwide, inspired other authors, and been translated from English into dozens of languages. She was lauded many times over the course of her career for her contribution to the genre, winning top awards, including the National Book Foundation Medal for Distinguished Contribution to American Letters in 2014 from President Obama. In 2003, she became the first woman to be named a Grandmaster of Science Fiction.
Her latest book, published in 2017, was a collection of essays titled No Time to Spare: Thinking About What Matters.
A documentary about the author, Worlds of Ursula K. Le Guin, is forthcoming, according to her website. Le Guin's son, Theo Downes-Le Guin, said on Facebook that he was excited to see the film.
She is survived by her husband, son, two daughters, two brothers, and four grandchildren, according to the New York Times.
An ardent proponent of science fiction pushing against and being accepted beyond the bounds of genre fiction, she accepted the 2014 National Book Foundation Medal on behalf of her "fellow authors of fantasy and science fiction, writers of the imagination, who for 50 years have watched the beautiful rewards go to the so-called realists." She called these writers "realists of a larger reality."
"Hard times are coming, when we'll be wanting the voices of writers who can see alternatives to how we live now," she said in her speech.
Other writers paid heartfelt tribute to Le Guin on Twitter.
Neil Gaiman, author of American Gods, Stardust, the Sandman series, and Coraline, wrote on Twitter that Le Guin's words are "written on my soul."
Classic horror novelist Stephen King wrote, "Ursula K. LeGuin, one of the greats, has passed. Not just a science fiction writer; a literary icon."
Margaret Atwood, author of The Handmaid's Tale, wrote that Le Guin had "an immense imagination" and a "strong and trenchant mind."
Mary Robinette Kowal, a puppeteer and author of Shades of Milk and Honey, wrote, "I'm sitting in an airport crying. Ursula Le Guin. You have taken my words with you."

John Scalzi, former president of Science Fiction and Fantasy Writers of America, just wrote, "God damn it."

Rick Riordan, author of the Percy Jackson and the Olympians series, wrote: "Sad news. I dedicated my most recent book to Ursula Le Guin, one of my biggest childhood influences."