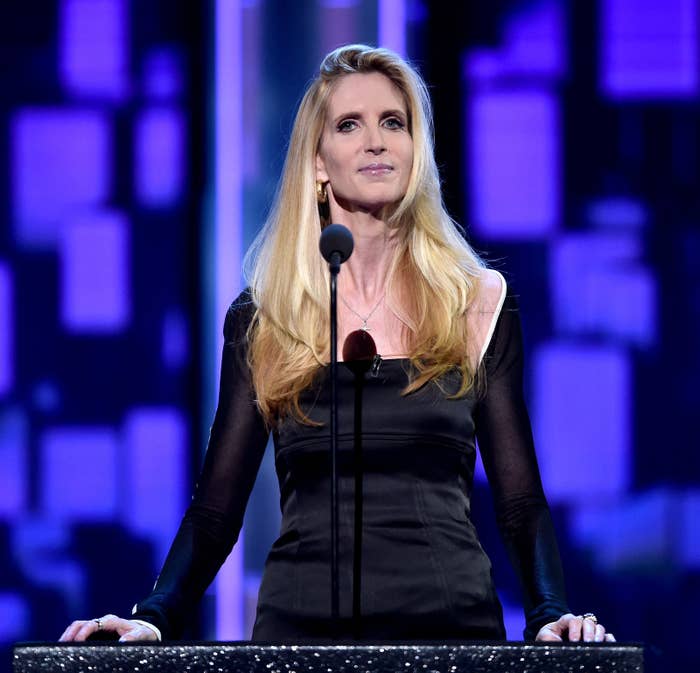 Officials at the University of California, Berkeley, have canceled a planned speech from conservative commentator Ann Coulter because of security concerns, just days after violent protests between supporters and opponents of Donald Trump broke out in Berkeley.
The speech, which was scheduled for April 27, was organized by the Berkeley College Republicans. On Twitter, Coulter said Tuesday that she still planned to speak in Berkeley on that date.
In a letter to Berkeley College Republicans obtained by BuzzFeed News, university officials said they had been unable to find a "safe and suitable" venue for Coulter's speech that would protect the safety of Coulter, attendees, and members of the community. Such a venue would require multiple exits and allow police to erect a perimeter, according to the spokesperson.
The university also wrote that it wanted to maintain the ability of student groups to invite speakers to campus, and reiterated Berkeley's "deep commitment to the values and principles embedded in the First Amendment of the U.S. Constitution."
According to the letter, the school's administration did not learn of Coulter's planned speech from the College Republicans, but through newspaper reports of the event. The university said it consulted with Berkeley police to review security threats and assess possible venues, but did not come to a satisfactory conclusion that would allow the event to move forward.

A spokesperson for the university told BuzzFeed News that Berkeley police had learned that the groups present at recent protests in the city were planning to converge again on the date of Coulter's appearance. Violent clashes between demonstrators on the far-right and far-left have erupted in Berkeley three times in recent months, including this past Saturday.

The spokesperson said that the university is looking to reschedule Coulter's speech for sometime in September, and said that police will require the event to end by 3:30 PM in order to protect commuters and students from clashing with any protests.
"We're working to schedule an event where the speaker and attendees can exercise their rights without disturbance. You can't do that at an event that doesn't happen."
The birthplace of the free speech movement in the 1960s, Berkeley has become a hotbed for political violence since President Donald Trump's election. Activists on both the left and the right have used the city, and the school, as a symbol for First Amendment rights — and their limitations — in the new political climate.
In February, a scheduled appearance by Milo Yiannopoulos, a former Breitbart and conservative provocateur, sparked violent protests and vandalism, with demonstrators smashing windows and starting fires both on campus and in downtown Berkeley. The protests became a flashpoint for conservative media, and prompted a tweeted threat from Trump to withdraw the university's federal funding.

UC Berkeley's decision to cancel Coulter's speech also comes on the heels of a controversy at Auburn University over a planned speech by white nationalist figure Richard Spencer. Although the school initially canceled Spencer's speech, a judge overturned that decision, allowing the alt-right leader to speak at the school Tuesday night. Protests and fights broke out before, during, and after his speech.
Coulter told The Hollywood Reporter Wednesday that she is planning to speak on April 27 anyway. She also tweeted a number of times about the cancellation and rescheduling:
Berkeley College Republicans did not immediately respond to request for comment.
Outside Your Bubble is a BuzzFeed News effort to bring you a diversity of thought and opinion from around the internet. If you don't see your viewpoint represented, contact the curator at bubble@buzzfeed.com. Click here for more on Outside Your Bubble.