A woman who allegedly harassed two people for speaking Spanish in a Colorado grocery store was confronted by another woman before being arrested in an incident captured on video.
The footage, which has been viewed more than 500,000 times since it was posted to Facebook, shows Kamira Trent shouting down Linda Dwire in an aisle of a City Market grocery store in the city of Rifle on Monday afternoon.
"I'm calling the cops. You leave these women alone! Get out!" Trent tells Dwire in front of two women from Mexico, Fabiola Velasquez and Isabel Marin, who had been speaking Spanish to each other.
"You come from a generation that's destroying this country," Dwire replies.
"No I do not. I have respect. You do not harass people," Trent counters.
"You will lose your country," Dwire says, pointing her finger at Trent. "You know what, you will lose this country."
As Trent and Dwire walk away, a store employee apparently alerted to the situation is seen following the two women out.

"You do not harass Hispanic women!" Trent is overheard saying.
Trent eventually called police, and Dwire was arrested, taken to Garfield County Jail, and charged with two counts of bias-motivated harassment, according to an arrest affidavit. She was released on bond and is due back in court in November.
City Market did not immediately respond to a request for comment.
According to interviews with the women involved, the conflict began when Dwire overheard Velasquez and Marin speaking in Spanish to each other, and interrupted to ask if the women lived in the US and whether they liked it. The two replied that they did, and Dwire told them to learn English, raising her voice as the confrontation went on.

Velasquez, who has been in the US for eight years and was accompanied at the market by her two daughters and son, told BuzzFeed News that Dwire was aggressive and kept putting her hand in her face.
Trent, who was also shopping in the aisle, said she overheard Dwire tell Velasquez and Marin, "You're in America. You're in my country. You can't speak Spanish here. You need to speak English if you're going to be in America."
Trent said she initially tried to deescalate the situation, stepping between Dwire and Velasquez and reminding Dwire it was a free country and that she couldn't tell the other women how to speak.
"She just got angrier and angrier. I was trying to get her away from the two women, but she wasn't going to leave them alone," Trent told BuzzFeed News. "What she said and the way she said it was wrong."
Dwire responded by telling Trent it wasn't her business. After about 10 minutes, the conversation between Trent and Dwire had spiraled into a shouting match, and Trent called the police. Velasquez said she and her friend would likely not have called the police themselves.
The arresting officer, Carlos Cornejo, wrote that when he arrived, he heard Dwire yelling "something to the effect of 'this is what is wrong with our country' and 'they should not be speaking Spanish here.'"
Dwire told the officer she was exercising her right to freedom of speech and that she found it offensive the two women were speaking Spanish because they "didn't have the respect to speak English."
In a call with BuzzFeed News, Dwire maintained that she is not racist and that she was not harassing the women.
"It has nothing to do with race. It's a patriotic thing," Dwire said. "When people come to my country, they need to love it enough to speak English."
Velasquez disagreed. In their accounts to police, she and Marin both contradicted Dwire, saying she had yelled at them and made them feel as if she would hurt them.
"If she wasn't racist, she wouldn't care what language we would speak," Velasquez later told BuzzFeed News. "It baffles me because I don't understand what concept they have about us [immigrants]. What are we trying to take away from them exactly?"
Dwire said she believes immigrants in the US who do not speak English are making a choice.
"They'd rather have their country here. I don't mind them coming here as long as they want to be an American and not go on our welfare system," she said. "When there are so many people that they don't learn English, that's what divides our country."
Dwire said she's confronted people in public places about not speaking English before and believes US immigration laws should stipulate that immigrants learn English.
She added that she has received threats since the incident and isn't sure if she'll be able to find an attorney to take up her case.

In a Facebook comment accompanying video of the incident, Velazquez wrote in Spanish, "I never thought this would happen to me."
"Thanks to another girl (that we didn't know) she defended us and called the cops. I think they took and arrested the woman that was bothering us. I always saw these videos on social media and I would get angry and today, it was my turn. I can say that I felt a great feeling of helplessness."
The clip also went viral on Twitter, racking up tens of thousands of retweets and more than 500,000 views. One tweet dubbed Trent a "shero."

People quickly identified Trent and started commenting on her Facebook profile picture, conveying thanks and offering her beds in their homes should she visit. Trent said one man offered to buy her tickets to a Chicago Bulls game if she were ever in that city.
Trent told BuzzFeed News she's been overwhelmed by all the attention, and that there hasn't been any backlash beyond "regular trollage."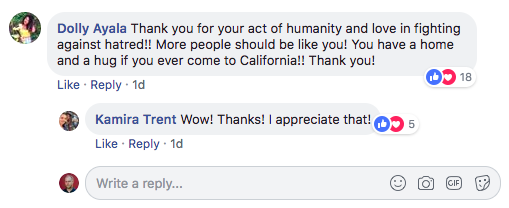 Trent said Velasquez and Marin thanked her later that evening, and the three hugged. She learned later that she had previously coached Marin's daughter alongside her own on an extracurricular volleyball team.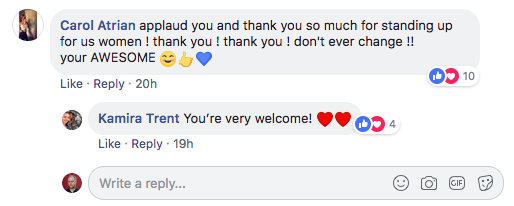 "It felt good to see someone who was born here defend us that way," Velasquez said.

To anyone in a similar situation, Trent offered this advice: "Stand up and say something. Letting that happen is really what's wrong with our country."