Three Teens Are Facing Felony Charges After A Pineapple-Tainted High Five Sent Their Allergic Classmate To The Hospital
The school doesn't serve pineapple because the student's allergy is so severe, so the high-fiver allegedly borrowed some, police say. Now she's charged with aggravated assault.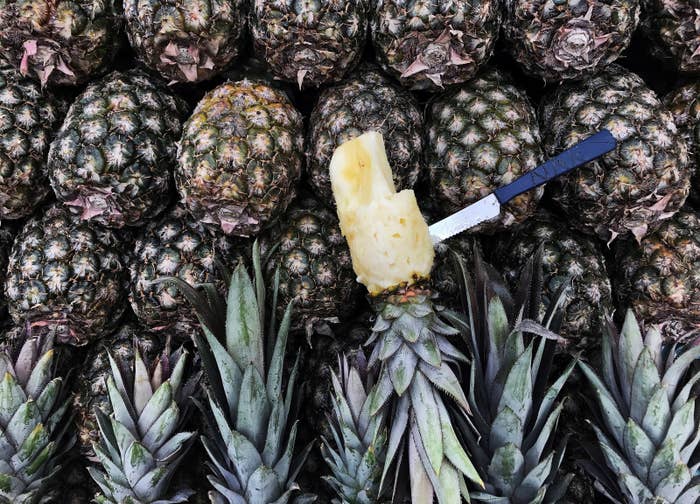 A teen girl and two accomplices face felony charges after police say one of them allegedly rubbed pineapple on her hand and high-fived a classmate who is highly allergic to the fruit, sending her to the hospital.
Butler Intermediate High School in Pennsylvania doesn't even serve pineapple because the 14-year-old victim's allergy is so severe, according to the Pittsburgh Post-Gazette. But the perpetrator, also 14, allegedly got the fruit from another student, rubbed some on her hand, and high-fived the the victim, local CBS affiliate KDKA reported.
The girl was taken to the hospital for treatment to prevent anaphylactic shock and released the same day.

The high-fiver was reportedly charged with aggravated assault, criminal conspiracy, simple assault, and reckless endangerment for the Dec. 15 incident. Two other students who allegedly assisted her, ages 13 and 14, face similar charges, according to KDKA.
None of the children involved were identified, and local police immediately responded to requests for comment.
"As with all student discipline issues, we are unable to provide a comment on the specific incident. However, it is our expectation that our students respect themselves and others," the school district said in a statement. "When that does not occur, the district will take appropriate disciplinary action and, if appropriate, contact law enforcement."
As schools become more sensitive to common allergies like peanut butter and gluten, teachers and experts say they have seen a rise in bullying related to food intolerances.
Amber Jamieson contributed additional reporting to this story.