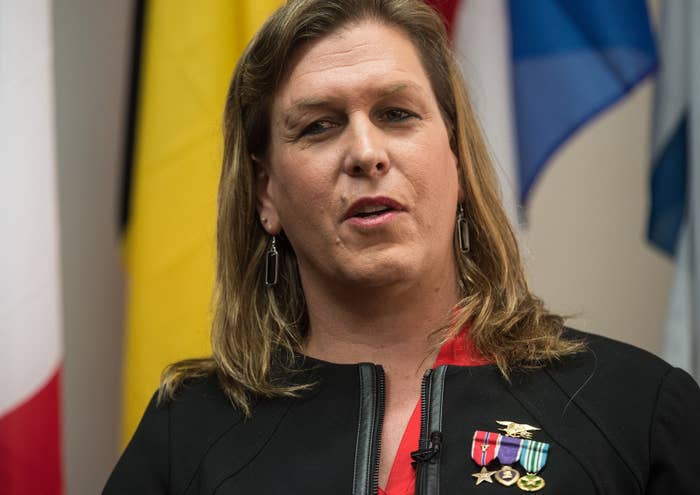 He made the statements ostensibly after consulting with military experts about the medical cost and "disruption" trans people would cause in the armed forces.
The statements, if turned into law, would be a reversal of the Obama administration's policies, which allowed trans members to serve, offered assistance for their transitions, and obligated soldiers to undergo diversity training on working with trans people. There is no official policy in place rejecting trans service members yet, but two trans recruits, one from West Point and the other from the Air Force Academy, were denied their commissioning into the military in May.
In response, Silicon Valley CEOs and companies have been making statements on social media that advocate for allowing trans people to keep serving in the military.
Some are using the hashtag #LetThemServe.

Twitter and Square
Tumblr
Apple
Microsoft's president and chief legal officer
Intel
eBay
Reddit
A Reddit spokesperson said in a statement, "We stand with our trans users—many of whom are members of the military—and hope that Reddit can continue to offer a platform to amplify their voices."
The company pointed to users in the forum r/IAmA, who hosted an "Ask Me Anything" Q&A with transgender West Point graduate Riley Dosh on July 16. Users in the forum r/science are in the middle of hosting AMAs with researchers and doctors who study transgender-specific healthcare. The first one was on Monday. There are a number of forums on Reddit created by users dedicated to breaking down stereotypes of transgender life and to building community among trans people (r/MtF, r/FtM, and r/transpositive).
In response to questions about the ban, Lyft said, "Lyft will always stand for inclusion and acceptance. It's central to who we are and the world we are working to create."

Snapchat and Yelp declined to comment. Amazon, IBM, Spotify Adobe, Oracle, Tesla, Palantir, Dell, and HP did not immediately respond to requests for comment or make posts on social media. We will update the story with comments as we receive them.

Some of the first CEOs to respond to Trump's tweets were those who did not attend his technology roundtable in June. The CEOs of Amazon, Apple, Microsoft, and Google's founder Eric Schmidt did attend that meeting.

The ACLU pointed out that Trump's tweets do not constitute an official change in policy.