People Are Creating Fake Starbucks Coupons For People Of Color After The Philadelphia Arrests
The coupon isn't real. There's even a fake statement about it.
A fake coupon offering people of color a free drink at Starbucks as an apology for the arrest of two black men has been spreading on social media.
Six days ago, a Starbucks employee called the police on two black men at a store in Philadelphia, who were then arrested. No charges were filed, and the Philadelphia police commissioner apologized to the two men. Starbucks also apologized and said it will close all its US stores and corporate offices for an anti–racial bias training the afternoon of May 29.
But the internet being what it is, hoaxes have sprung up around the company's response to the outcry.
One fake coupon states, "We're sorry. We know we can do better. Starbucks values all people of color, and we are working on employee sensitivity training. The best dialogue starts over a cup of coffee, and we'd like to buy you one."
In fine print, it adds, "1 free beverage. Limit 1 coupon per person. People of color only."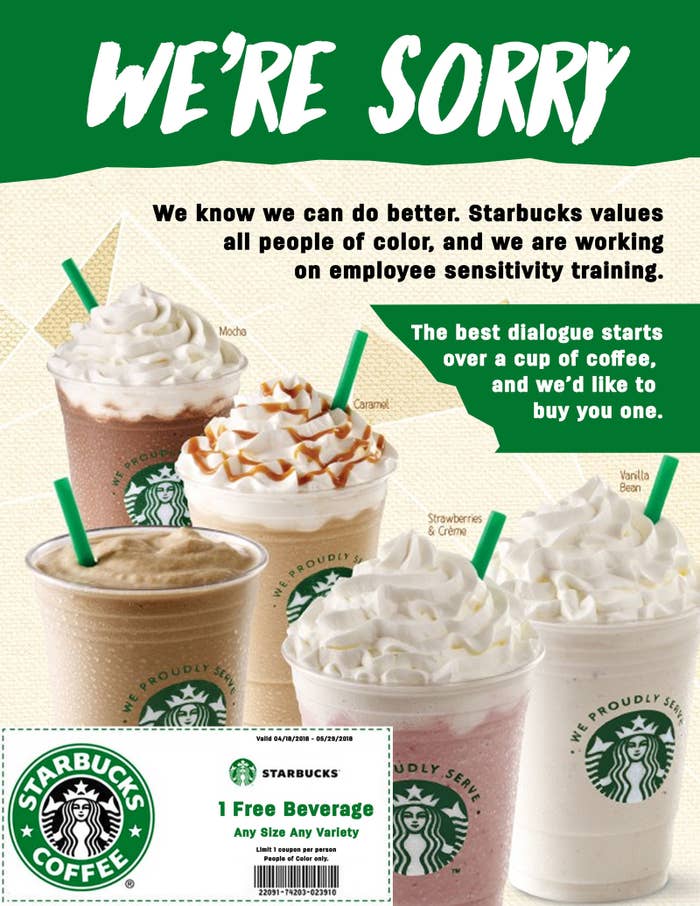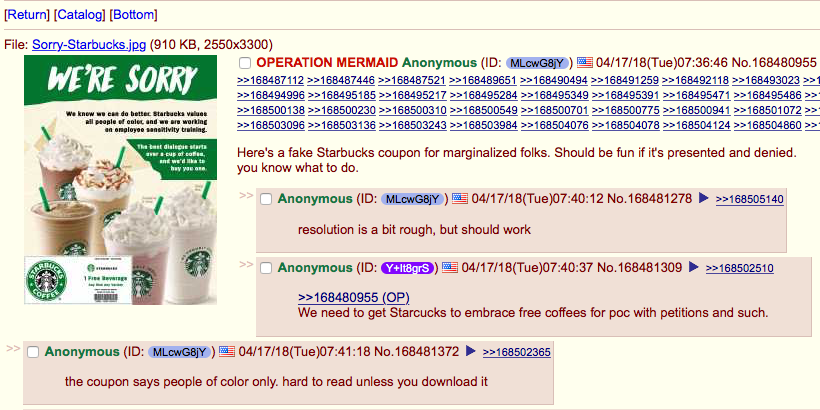 People on 4chan also created fake Starbucks coupons for beneficiaries of DACA, often called DREAMers, in August.
Another version of the coupon that had a more authentic appearance spread on Twitter.
It's unclear where the second version originated.
Starbucks confirmed none of the coupons are real.
"These are completely false and in no way associated with Starbucks," a spokesperson told BuzzFeed News.
The hoax may have started when Bryan Sharpe, a black man who goes by "Hotep Jesus" on Twitter, played a prank on a Starbucks barista when he asked for a "Starbucks reparations voucher" and livestreamed it. An unidentified white barista replied, "Is that a thing? Well, I'll give it to you" and gave him a cup of coffee.

He tweeted for others to try the prank, calling it the #StarbucksChallenge.

Sharpe later appeared on Laura Ingraham's show on Fox News to talk about the prank. And conservative commentator Ann Coulter referenced the idea that people of color were getting free coffee at Starbucks to her 2 million Twitter followers.
But after news outlets published debunks of the coupons, a fake statement from Starbucks about the hoax also appeared on Twitter.
The hoax states, "We here at Starbucks are very sorry to hear about people being tricked into believing a hoax perpetuated by Russian internet trolls that offered coupons entitling people of color to free coffee. ... Although this started as a hoax, after mountains of positive feedback on social media, we've decided to make it a reality."
The hoax went on to offer one free drink to any customer and 50% off food between April 19 and 26.
Starbucks confirmed the statement was also fake.