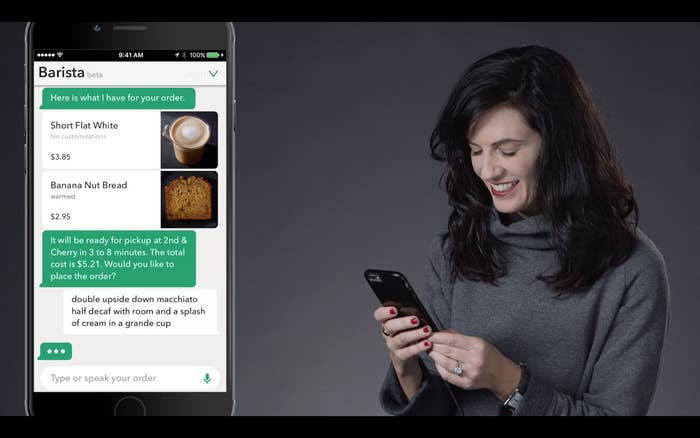 Starting this summer, you won't have to watch a barista roll their eyes when you order a double upside down macchiato half-decaf with room and a splash of cream in a grande cup. You'll have the option to talk to a non-judgmental chatbot.

Starbucks plans to add a virtual assistant, which you can talk to or text with, to its already-popular mobile ordering app this summer. The bot is called My Starbucks Barista, and it's available to about 1,000 people to beta test right now.
The chatbot will allow you to order via talk or text and add modifications, if for example, you specify that you want your "banana bread warmed." Just like a regular barista, it will respond with questions like, "What size?"
Starbucks has made a video of someone making the kind of detailed orders only a human might understand.
Voice-activated AI bots have become increasingly popular in the US, sparked in part by the success of Amazon's Echo speaker and AI assistant Alexa, which you can use to order items off Amazon, dim the lights in your room, or queue up streaming music. Siri, the voice-activated assistant Apple debuted back in 2011, hasn't quite pleased customers in the same way that Alexa has.
Starbucks has also given Alexa the ability to order Starbucks for you. It allows customers "to order their 'usual' Starbucks food and beverage items as they move throughout their day," according to the company. But if your usual order is complicated, you won't be able to change that order while you're talking to Alexa.

The same day as Starbucks announced the feature, the company was embroiled in controversy.
On January 29, Starbucks CEO Howard Schulz responded to Trump's immigration order from last Friday by saying that human rights in the USA were "under attack." He pledged to hire 10,000 refugees over the next five years at Starbucks locations around the globe. Some Trump supporters were livid.
Even still, the controversy probably won't hurt the popularity of Starbucks' ordering app.
People use the apps so often that Starbucks has had to redesign some stores in response. At an investor conference presentation in December 2016, Starbucks said that 8 million people had downloaded the app, with one third of them using Mobile Order and Pay. Mobile transactions accounted for 21% of Starbucks' US transactions in 2015, the same year it rolled out the Mobile Order and Pay throughout the US, according to Wired. That figure grew to 27% in 2016, the company said in a statement.