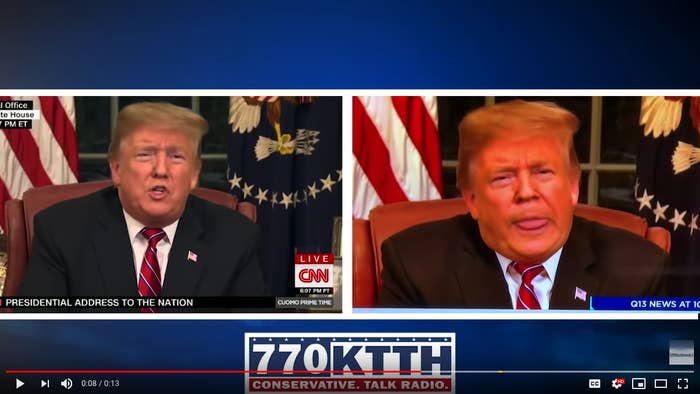 An editor at a Seattle TV station was reportedly fired after the channel aired a doctored version of President Trump's primetime address from the Oval Office on Tuesday.
The video was broadcast on the TV station Q13, a Fox affiliate owned by Tribune Media. It's not clear if the editor created the video or merely inserted it into the programming, but in a statement to BuzzFeed News, Q13 News Director Erica Hill said the employee was the sole person responsible.
"We've completed our investigation into this incident and determined that the actions were the result of an individual editor whose employment has been terminated," she said.
A local conservative radio station posted a side-by-side comparison of live footage from CNN and the manipulated video.

The altered version shows an oversaturated president with an oversize mouth, licking his lips and leaving his tongue out. It omits some of Trump's remarks as well — "Some have suggested a barrier is immoral. Then why do wealthy politicians" — before it cuts off.

The videos sync up as Trump says, "Hopefully we can rise above partisan politics in order to support national security."
Hill told the New York Times the footage "does not meet our editorial standards and we regret if it is seen as portraying the president in a negative light."
The controversy echoes an argument between CNN and the White House that involved press secretary Sarah Huckabee Sanders pointing to a "deepfake" video as justification for revoking reporter Jim Acosta's press credentials.
Deepfakes are videos doctored with the aid of artificial intelligence and software that convincingly create events that never happened. They're becoming more common online and have some experts worried that people will no longer trust video, once considered a medium immune to partisan manipulation.