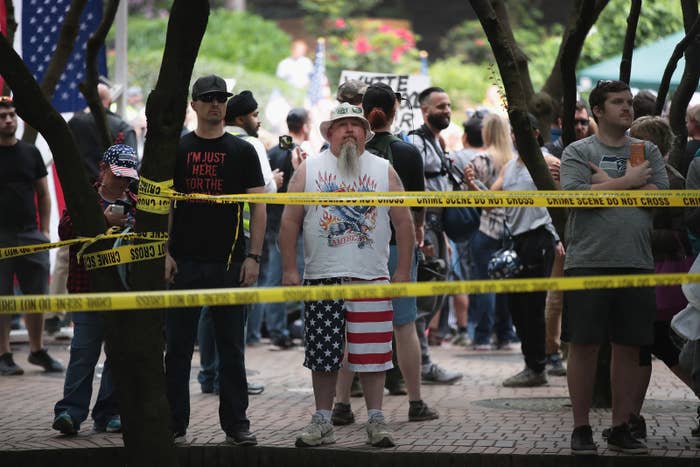 An alt-right, pro-Trump rally in downtown Portland Sunday prompted fears of violent clashes with counter-demonstrators roughly one week after police say a white supremacist fatally stabbed two people on a light-rail train while yelling hate speech.
Early in the day, pro-Trump demonstrators and counter protesters gathered and taunted each other while separated by police officers, some in riot gear, on opposite ends of a street in downtown Portland's Chapman Square.
One man on the alt-right side of the protest burned a black T-shirt with a symbol of anarchism, quite possibly aimed at the self-described anti-fascists — or antifa — protesters just feet away.
By mid-day, as the opposing demonstrations grew to more than a thousand people, two people had been arrested, according to the Portland Police Department.
Tensions escalated as the groups converged on Chapman Square in the late afternoon. Police reported that some protesters had hurled bricks and other objects at officers, and that the officers had responded with "less than lethal" force.
By the end of the day, the preliminary arrest total was 14, according to Portland Police's Twitter account.
Police also seized various weapons throughout the day, including homemade shields, poles, athletic gear, bricks, and wooden planks.
The alt-right organizers held their speeches later in the day, after which crowds began dispersing as police ramped up their presence downtown.
But as protesters continued to linger in the area, some were corralled into a small area. Portland Police Department tweeted that "those who have been identified as participating in criminal activity will be arrested," and that "others in the area will be identified and released, pending further investigation."
Eventually, officers began allowing people to leave, photographing IDs as they exited the cordoned off area.
The protests come just one week after three men were stabbed on a Portland commuter train after intervening to stop a man yelling anti-Muslim slurs at two women. Two men, Ricky Best, 53, and Taliesin Namkai-Meche, 23, were killed in the attack; a third Micah David-Cole Fletcher, 21, survived his injuries.
The suspect, Jeremy Christian, has been charged with murder and remains in police custody. At a recent court hearing, he ranted about free speech and patriotism.
"Free speech or die," he shouted. "This is America. Get out if you don't like free speech."
"You call it terrorism, I call it patriotism," he continued.
City officials feared tensions and high emotions after the stabbings could lead to violence at the free speech rally planned by the alt-right group Patriot Prayer near City Hall Sunday. Three counter protests were planned for around the same time as the Patriot Prayer rally, and Portland Mayor Ted Wheeler, who unsuccessfully appealed for the free speech rally to be canceled, told the public to "reject violence" at the events.
But besides the afternoon outbursts, clashes between far-right and far-left protesters were minimal. By the early evening, the demonstrations had disbanded without major incident, leaving downtown Portland quiet.