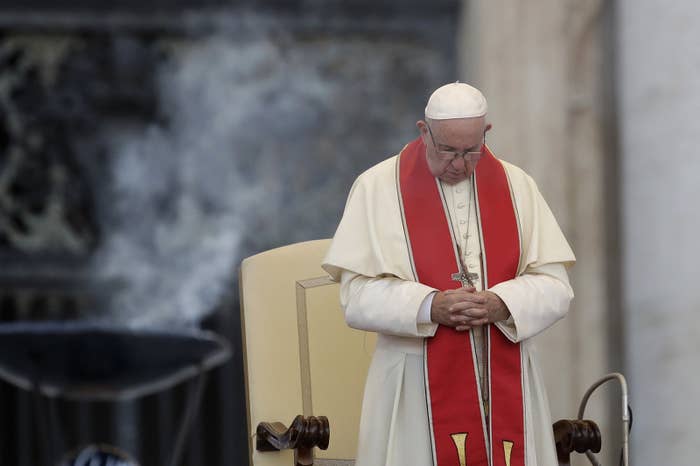 Pope Francis on Thursday responded to a damning report of alleged sexual abuse by hundreds of Catholic priests in Pennsylvania, saying, "there are two words that can express the feelings faced with these horrible crimes: shame and sorrow."

"The abuses described in the report are criminal and morally reprehensible. Those acts were betrayals of trust that robbed survivors of their dignity and faith," the statement from the Vatican added. "The church must learn hard lessons from its past, and there should be accountability for both abusers and those who permitted abuse to occur."
A grand jury report released Tuesday detailed horrific abuse of more than 1,000 children in Pennsylvania, allegedly by 300 priests. The report further described a pernicious, systematic cover-up the Catholic Church allegedly undertook to protect its own over seven decades.
Cardinal Donald Wuerl, the former longtime bishop of Pittsburgh who was faulted in the report for how he handled the priest transfers and abuse allegations, accused the Pennsylvania Attorney General's Office of mischaracterizing his actions. But grand jurors noted in the report that they subpoenaed and reviewed 500,000 pages of internal church documents that contained allegations of sexual abuse against mostly boys, and said they believe the actual number of victims could be in the thousands.
After the pope failed to mention the report in a public appearance Wednesday, critics slammed him for what they said was a laggard response. Meanwhile, several US bishops issued apologetic statements, with one calling the alleged abuse and cover-up a "moral catastrophe."
"The Holy Father understands well how much these crimes can shake the faith and the spirit of believers and reiterates the call tome every effort to create a safe environment for minors and vulnerable adults in the church and in all of society," the Vatican's statement added. "Victims should know that the pope is on their side. Those who have suffered are his priority, and the church wants to listen to them to root out this tragic horror that destroyed the lives of the innocent."
The Vatican did not respond to a request for further comment.