Fifty-one percent of the music industry's revenue comes from streaming, according to a report published Thursday by the Recording Industry Association of America.
Paid streaming services like Spotify and Apple Music accounted for just 9% of the industry's revenue in 2011, grew to 34% in 2015, and jumped to 51% in 2016 with 22.6 million people paying for them.
According to an accompanying blog post, "2016: A Year of Progress for Music," 78% of all US music is distributed through digital channels. Digital distribution overtook physical music sales — mostly made up of CDs — globally in 2015.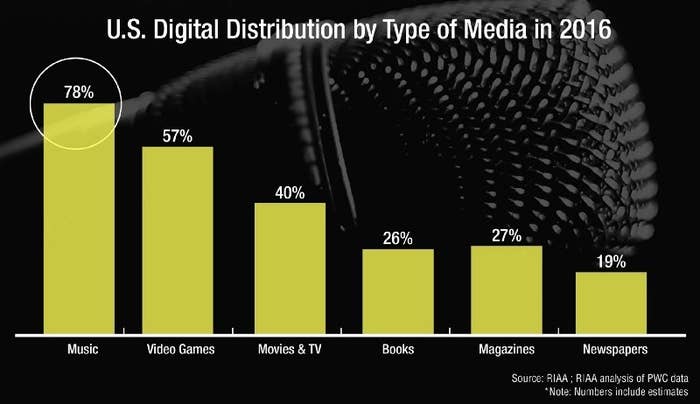 These are truly strange times. The music industry used to hate streaming. Now it's in love with it.
The precursors to online music streaming were free services like Kazaa and Napster that let you download pirated music. Limewire viruses, anyone? Spotify, too, though, tbh.
Streaming is here to stay. But it's still unclear if the music business will ever make as much money as it did during the heyday of CDs.
Overall industry revenue rose by 11.4% in 2016, which was the biggest increase in over a decade.

But it's still just a fraction of what it used to be.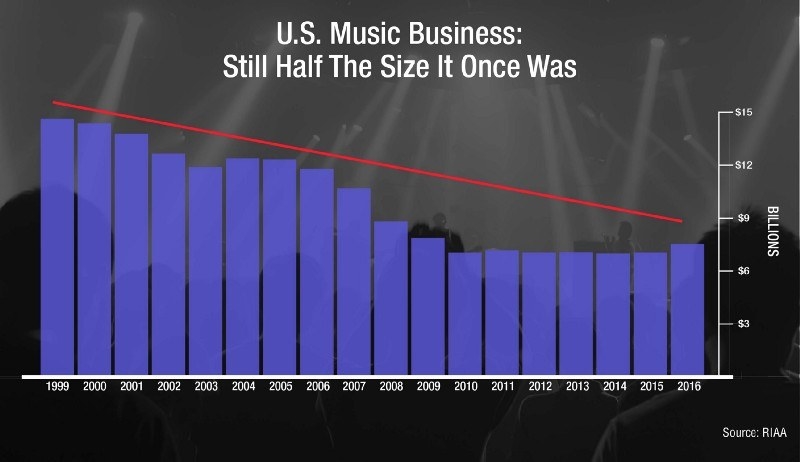 Spotify, the world's biggest streaming music service, is and always has been unprofitable. Maybe that'll change in 2017? The RIAA cautioned people that the industry's recovery from steep losses in the mid-'00s "is fragile and fraught with risk." Sales of CDs and song downloads are declining fast, especially as Apple more heavily favors its streaming service over iTunes. Digital music is hard.

Pandora, one of the first services to offer streaming radio and formerly the music industry's archenemy, just released an on-demand streaming service that faces stiff competition from Spotify and Apple Music. Investors are pressuring Pandora to sell itself, just as the company started to be on better terms with the recording industry.
Some things don't change, though. The music industry is still mad at YouTube for how little it pays artists:
The RIAA wrote, "a platform like YouTube wrongly exploits legal loopholes to pay creators at rates well below the true value of music." The RIAA launched Value the Music today in conjunction with other industry groups to lobby for policy changes that would monetarily favor artists and record labels.