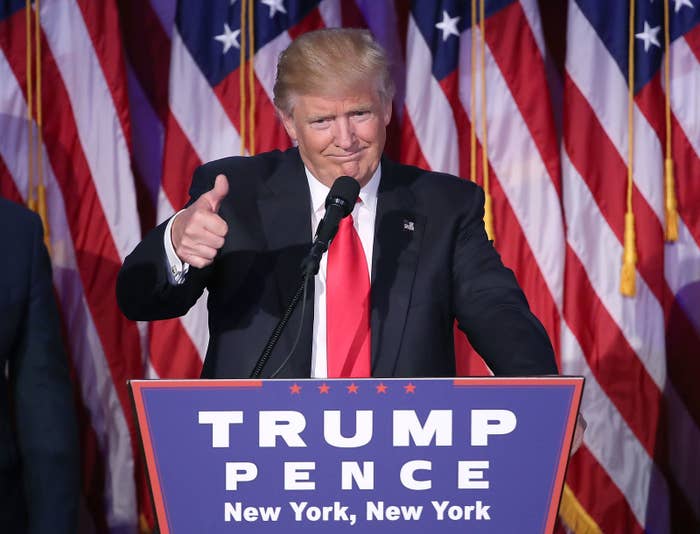 The Internet Archive, a publicly accessible repository of digital records based in San Francisco, has opened the gates to their Trump Archive, which includes nearly 750 televised speeches given by the president-elect.
The collection includes speeches and appearances dating back to 2009; it's been closed captioned, so you can search through it using keywords. The Archive plans to keep it updated throughout Trump's presidency.
The Archive wrote in a statement that it "hopes to make it more efficient for the media, researchers, and the public to track Trump's statements while fact-checking and reporting on the new administration." Its archive includes 500 videos checked for accuracy by Politifact, the Washington Post, and factcheck.org. The Internet Archive previously built an archive of political TV ads, which lives within its TV News Archive, as does the Trump trove.

It also hopes people will use the archive for "any creative use: comedy, art, documentaries, wherever people's inspiration takes them." You can cut clips together using an editor within the archive. The archive's creators call it "Popcorn."

In the near future, you may see another archive that focuses on Trump's cabinet or Paul Ryan's televised appearances. The Internet Archive is considering building other such databases. It said in a statement, "We consider the Trump Archive to be an experimental model for creating similar archives for other public officials."
Because the Trump Archive is largely hand-curated from the Internet Archive's trove of 1.3 million television clips, the organization is hoping to collaborate with artificial intelligence companies to more efficiently create searchable databases about public officials by recognizing faces and voices. Around five Internet Archive staff members created the Trump Archive over the course of a week and a half, according to Roger Macdonald, manager of the TV Archive.
Macdonald said the curators focused on fact-checking for the archive because "fact-checking is a great signal that there's some element of a speech that's of import to news or in the public interest." The archive's staff used the same approach when curating its collection of Political TV.
The history of the internet is fragile and a Google search won't always bring up what you need, which makes archives like this one so useful. The Internet Archive's most well-known product, the Wayback Machine, preserves websites even after they are deleted.