After Anthony Bourdain was found dead Friday of a reported suicide, the owner of a New York City Chinese restaurant said the famed culinary TV host "helped bring our family out from living in one room in Flushing to living the American Dream."
Xi'an Famous Foods got its start with its hand-pulled noodles at a small stand in Flushing. But that all changed after the stand was featured on Bourdain's No Reservations, leading to a boom in popularity and a massive expansion.
Jason Wang, the son of the restaurant's founder, said they would honor Bourdain by donating Friday's sales from all its 12 locations to the National Suicide Prevention Lifeline.
"Today's a day of extreme sadness for us here at Xi'an Famous Foods," the restaurateur wrote on Twitter. "I've lost a dear friend today, and we mourn with the rest of the world."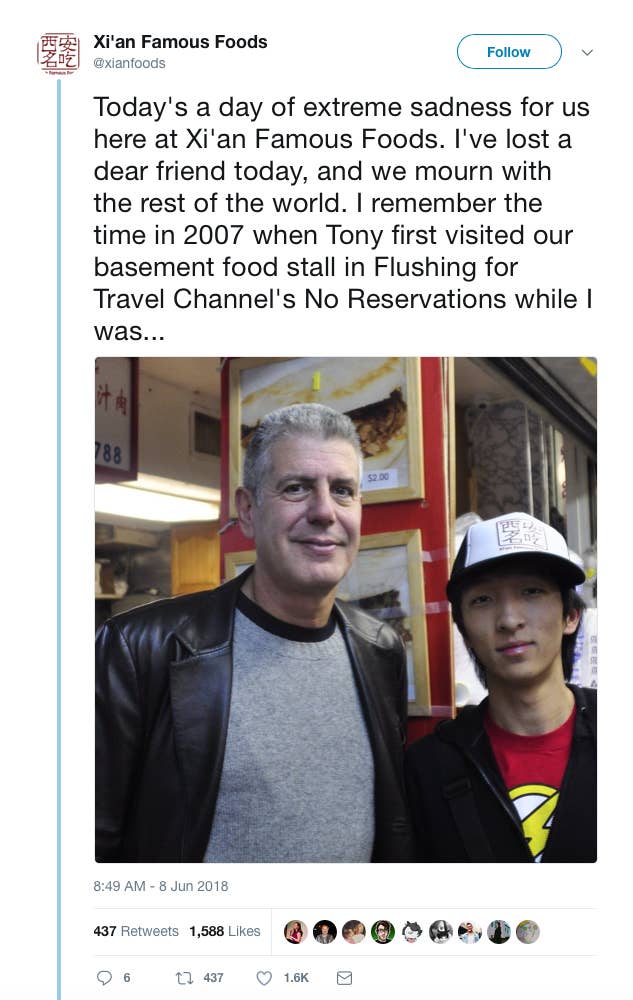 Wang told BuzzFeed News that based on last Friday's sales, he estimated the donation would be $50,000 to $60,000.
On Monday, the restaurant's announced on Twitter that it beat those expectations and had donated $73,509.76 to the Suicide Prevention Line.
When Bourdain approached Xi'an Famous Foods for his 2007 profile, Wang said his father called him and said there was "this tall guy here who seems to be famous." But Wang himself had to ask his college classmates who Bourdain was.
Bourdain tried the restaurant's lamb burger and said it "hits me right in the pleasure zone," adding that he'd "never had anything like this."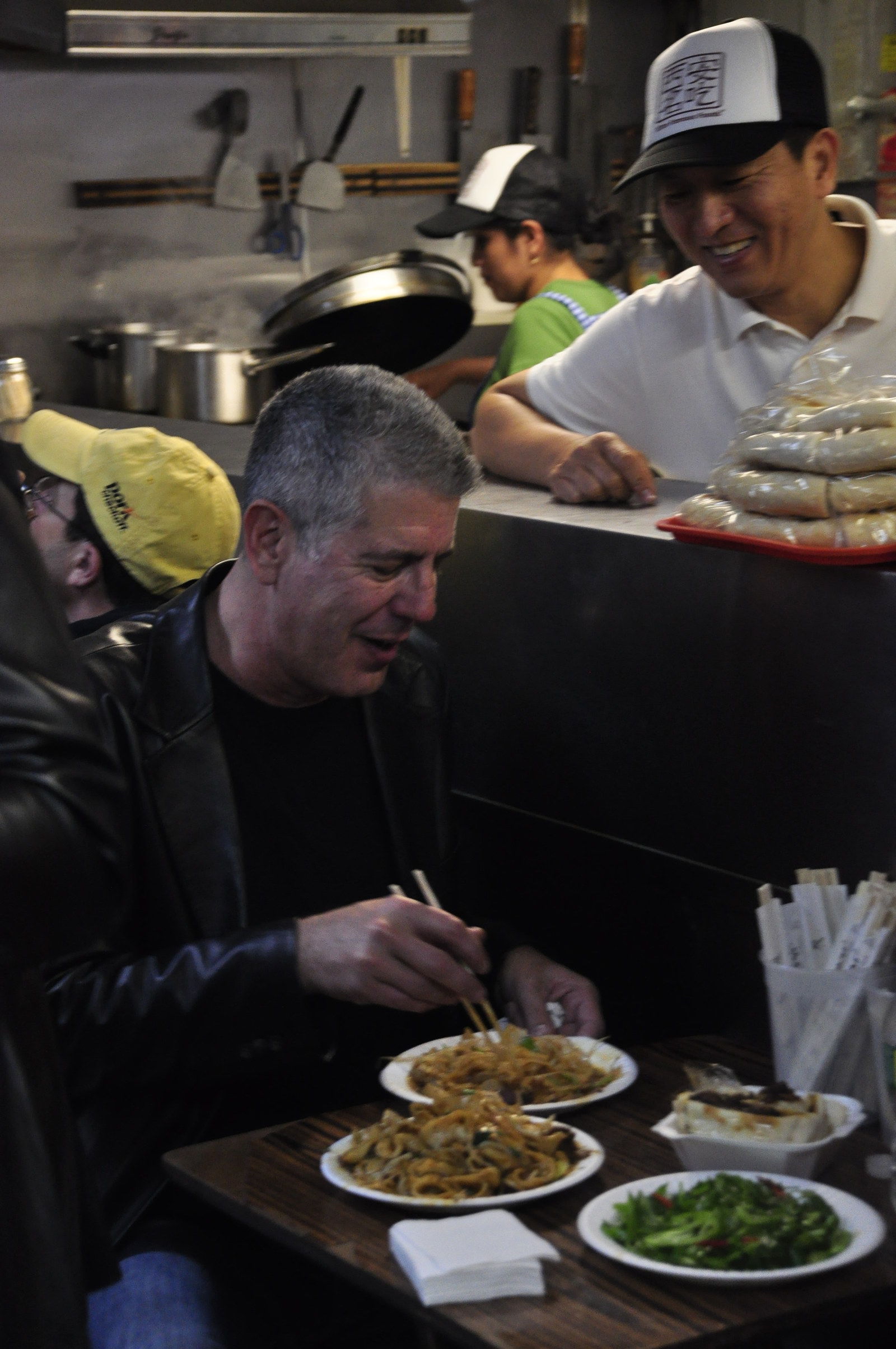 To pay for the original food stall, Wang's father, David Shi, moved the family into a shared room in a house with other people. After the episode of No Reservations aired, the restaurant started attracting far more visitors, and, one year later, they moved into an even bigger apartment than before. The business expanded to a second location two years after the episode, but the basement stall operated until October 2017.
Eight years later, Wang and Bourdain were interviewed together for the Wall Street Journal Magazine, and Wang felt he had to let Bourdain know how much that one episode had meant to his family.

"I approached Tony and told him, while he may have no idea what he has done for our family and business by simply saying he enjoyed the food, I wanted him to know it helped bring our family out from living in one room in Flushing to living the American Dream," the owner wrote on Twitter.
"We were able to grow our business and provide great food for our guests, and opportunities for our employees. I looked at him in the eyes and said, 'This is something we will always be thankful for, Tony,'" he recalled. "And he simply replied, 'I'm just calling out good food like it is, that's all.'"
Describing the conversation to BuzzFeed News, Wang said it was "hard not to tear up in that moment," but that Bourdain was "the same very chill guy."
"He basically said that he was just doing what he was doing, that we were the ones making the food and he just liked it," he said.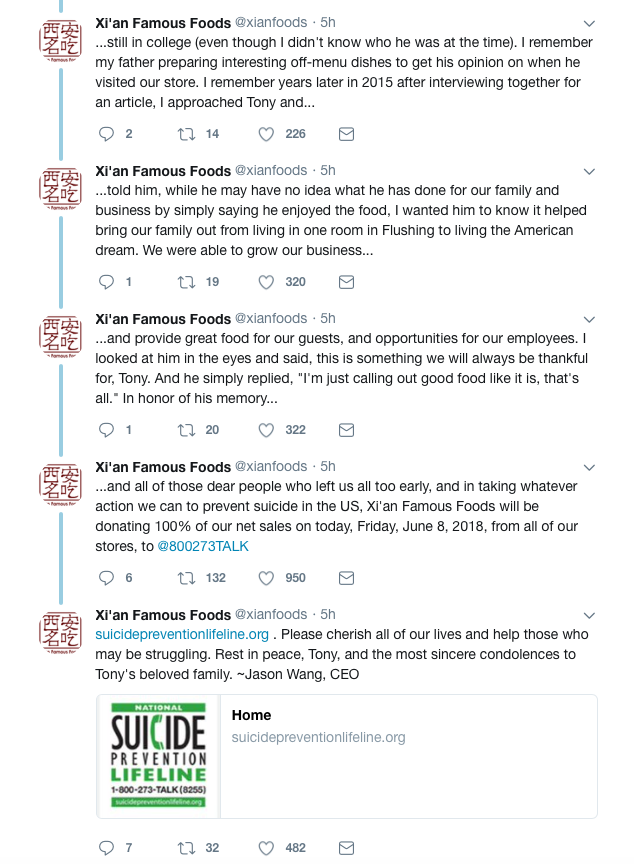 Wang said his father had dreamed for decades of owning a restaurant and sharing the food of his hometown Xi'an with others.
"That was his American Dream, and Tony contributed so much to it," Wang said. "It's important to show him respect and acknowledgment with more than just words. It's been a tragic week."
Bourdain visited the restaurant several times since 2007, and each time, Wang said, his father would whip up a new dish on the fly and test it out on his most influential customer.
If Bourdain liked the food, good, Wang said.
"My dad would use it as an excuse to say, 'Well, Tony liked it, so we should probably sell it.' But I think Tony was being more respectful, like if your grandmother were cooking for you. That's the kind of guy he was," Wang said.
He added that his father, who is the same age as Bourdain was, was saddened to hear of the death, and agreed that it was important to pay tribute to him with more than just condolences.
The National Suicide Prevention Lifeline is 1-800-273-8255. Other international suicide helplines can be found at befrienders.org.