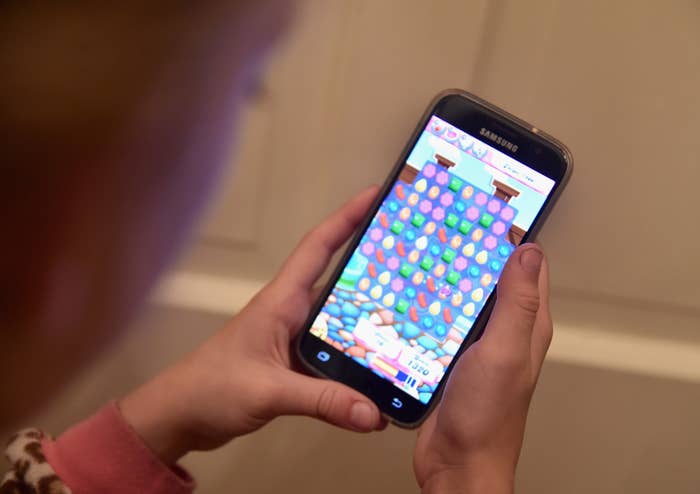 If you were wondering how games like Candy Crush and Clash of Clans rake in millions of dollars, look to Norway and North Dakota. That's where the games' power players live.

In a recent study, "iPhone's Digital Marketplace: Characterizing the Big Spenders," researchers at the University of Southern California analyzed receipts from 776 million iPhone transactions totaling $4.6 billion from March 2014 to June 2015, and found that geography and gender play big roles in who's buying digital goods from the App Store and iTunes.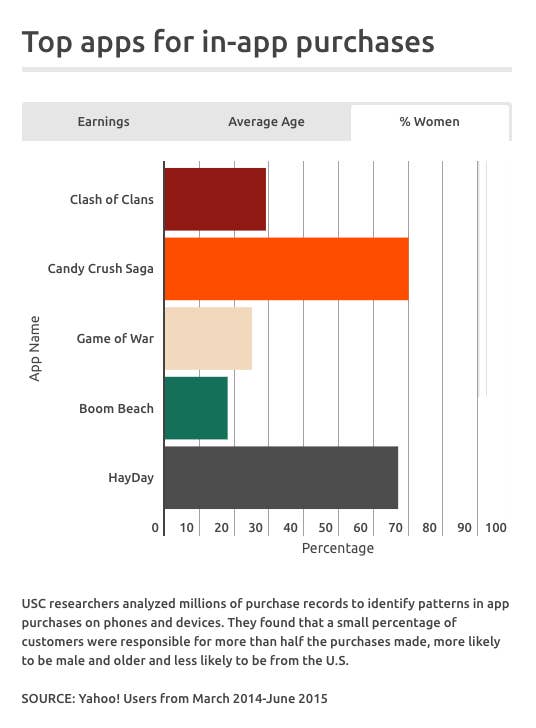 Researchers also found that in-app purchases account for 61%, or a whopping $2.8 billion, of all purchases made through Apple's stores. They defined in-app purchases as "bonuses or coins in games, for example," but also included subscriptions within an app to services like Netflix or Apple Music.
The researchers used six categories to sort the various purchases people made on their iPhones: "applications (apps), songs, movies, TV shows, books, and in-app purchases." Purchasing an application, for instance, means paying to download an app and is separate from in-app purchases.
Farshad Kooti, one of the authors of the study and now a data scientist at Facebook, said, "The purchasing gap surprised us. I didn't expect in-app purchases to dwarf all other kinds of media so vastly."
What's even more startling is that of those in-app purchases, 59% of them were made by only 1% of the 26 million people surveyed. That means this relatively tiny group was spending about $1.65 billion. By comparison, the bottom half of people who bought things in Apple's digital stores accounted for less than 2% of the total purchases.
Among the people studied, nationality was a determining factor in who spends the most in Apple's digital stores. Overall, Scandinavia had the highest concentration of "big spenders," the term researchers used for the 1% of people who spend almost 60% of the money. The researchers also noted that Greek, Turkish, and Romanian users were more likely to be fall into that category. People in the United States were not as prone to making in-app purchases, but of all the states, North Dakotans were the most likely to do so.

Kooti hypothesized that the reasons for the skew are counterintuitive: "People in the US are more likely to have credit cards, which are what you use to purchase things in the App Store, but since everyone has one, that leads to more casual app users and players than hardcore ones. People outside the US, by contrast, are less likely to have credit cards, so if they're playing these games and have entered their credit card information, they're likely to be much more serious about gaming and spend more money per person."
Gender also played a big role in who made a purchase and from what apps. Big spenders were 55% men and 45% women. Of the five most popular games, men heavily favored the war games Clash of Clans, Game of War, and Boom Beach. Women, by contrast, were more into Candy Crush Saga and the farmer-themed Hay Day.
Overall median spending during the time period studied was $31.10 among women, and among men it was $36.20. Peak age for spending was in the mid-30s for men, and mid-40s for women. Kooti hypothesized that, like gamers outside the US who have credit cards, older people who commit to familiarizing themselves with an iPhone game and playing it might be more likely to spend money because of the effort they've already put into the endeavor.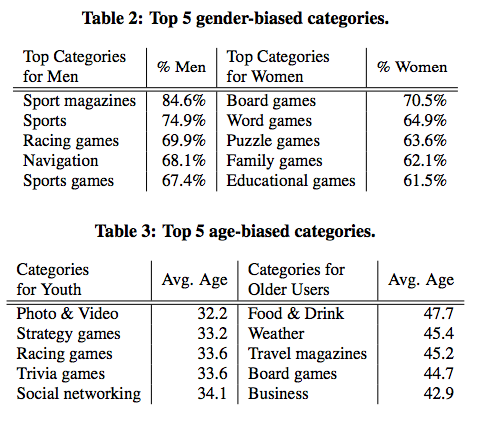 The apps these people spent money on are familiar names: Clash of Clans and Candy Crush Saga have been among the most-downloaded and top-grossing apps for years. After Candy Crush became popular, some people got hooked and couldn't stop buying lives and power-ups to feed that addiction. That obsessive gameplay has lured players into spending sprees that earned the games' creators millions.
It's also worth noting that the same company, Supercell, is behind Clash of Clans, Boom Beach, and Hay Day. The company seems to have optimized in-app purchases: there were 330% more purchases in Candy Crush Saga than in Clash of Clans, but the amount per transaction for the latter were much higher, leading to 210% more revenue for the war game.

The app market remains risky, though. Researchers found that around just 0.1% of the apps measured took home 71% of in-app purchase dollars.

Kooti advised future developers that the App Store is a gamble: "People don't pay attention to the fact that very few apps make any money at all. It's very risky to go after the App Store market, but the apps that do well do very, very well."
Besides in-app purchases, people spent money on individual songs from iTunes — 23% of the money — about a billion dollars — and buying apps outright — 7% of of the money, roughly $320 million. The study did not account for music purchases outside of iTunes. The people in the study purchased 430 million songs, and in the same period, they made 255 million in-app purchases, which had a much higher value per transaction, according to the study.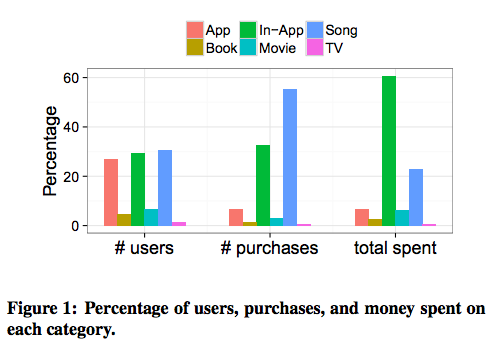 Apple raked in $20 billion from the app store in 2015, and that number likely rose in 2016. The company disclosed that it made $3 billion in December 2016 alone.

The study had one major limitation of note. It only targeted users of Yahoo! Mail, which Kooti said became irrelevant for two reasons: the sample size, 26 million people, was large enough to smooth out demographic differences, and the researchers were comparing percentages of populations that behaved certain ways rather than comparing raw numbers.