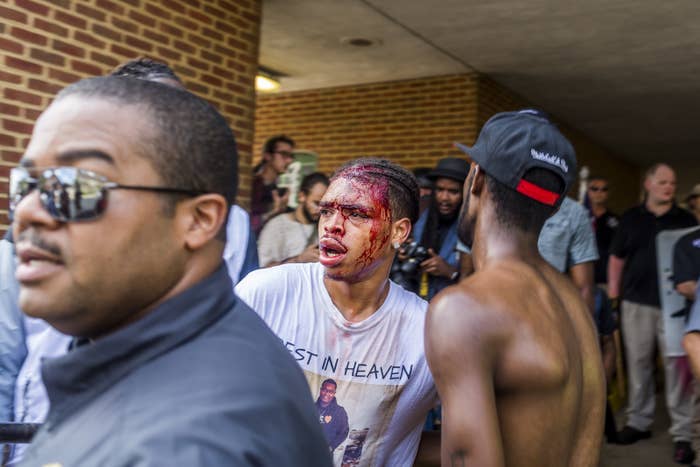 A Virginia judicial official has issued an arrest warrant for Deandre Harris, age 20, a black man who was beaten by white nationalists during clashes in Charlottesville in August. Harris turned himself in on October 12.
Harris is reportedly accused of attacking one of the men in the group that beat him during the deadly demonstrations on Aug. 12. The United Nations later cited the incident, naming Harris specifically, in a condemnation of racism in the United States following the white nationalist violence in Charlottesville.
According to Harris' attorney, Lee Merritt, a man named Harold Ray Crews filed the charges. Merritt's statement on Tuesday includes Harris' account of the events in question:
Harris and Crews had a brief encounter when Harris observed Crews appearing to spear an associate with the sharpened end of a confederate flag pole. Mr. Harris swung a flashlight in the space between the flag pole and Mr. Crews, failing to make significant contact before the brief scuffle ended.

Harris retreated from the encounter when he was pursued by several members of LOS, surrounded and violently beat with blunt objects sustaining several fractures, cranial lacerations and internal bodily injuries. Crews was injured in a completely separate subsequent incident not involving Mr. Harris whatsoever.

These facts would have been revealed and charges likely would have not been filed had the Charlottesville Police Department been allowed to follow the normal investigative procedures when an individual makes a criminal complaint.

Merritt also said his client plans to cooperate with authorities.
Harris raised $166,000 on GoFundMe for his medical expenses in the wake of the attacks.

"I was chased and beat with metal poles. I was knocked unconscious repeatedly. Every time I went to stand up I was knocked back down," Harris wrote at the time. "I was diagnosed with a concussion, an ulnar fracture, and had to receive eight staples in my head. I also have a laceration across my right eyebrow, abrasions on my knees & elbows, and a chipped tooth."
A statement from the Charlottesville Police Department, published in full by NBC 29, said Harris's arrest warrant was issued after a magistrate reviewed evidence presented by detectives. Further details would be provided once Harris is taken in to custody, police said.
Meanwhile, two men, Alex Michael Ramos, 33, and Daniel Borden, 18, are charged with "malicious wounding" for allegedly attacking Harris, according to NBC 29.
On October 11, the New York Times reported that a third man, Jacob Goodwin, age 22, had been arrested for assaulting Harris. Police took him into custody in Arkansas for extradition to Virginia.
The department did not immediately respond to a request for comment from BuzzFeed News.

The brawl was the subject of vigorous online debate in the months following the events in Charlottesville, with white nationalists scouring social media for information on Harris.
Brad Griffin, who blogs under the pen name Hunter Wallace at the neo-Confederate site Occidental Dissent, celebrated news of the arrest warrant Tuesday as a victory.
And Jason Kessler, a white nationalist who organized the Unite the Right rally in August, retweeted a celebratory tweet from @RedCville.

Both Griffin and Kessler have repeatedly pushed conspiracy theories at odds with facts about the events in Charlottesville in attempts to exonerate James Alex Fields, the 20-year-old Ohio resident who marched with white nationalist group American Vanguard on Aug. 12 before driving his car into a group of anti-racist protesters, killing 32-year-old Heather Heyer.

In the months since the marches, journalist Shaun King also waged a campaign to identify the men who assaulted Harris in the wake of the demonstrations. The Washington Post reported that the former New York Post columnist, who now writes for The Intercept, is credited with identifying Ramos and Borden.
BuzzFeed News captured the incident live on Facebook. The assault, which took place in a parking garage next to the police station, begins at the one-hour mark.