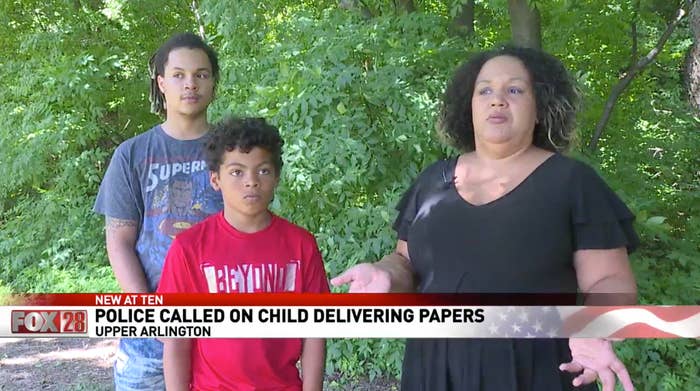 Someone called the police on a black family in Ohio who was delivering newspapers, prompting accusations of racial profiling.

Brandie Sharp told ABC 6 that she was delivering newspapers Friday evening in the Upper Arlington neighborhood of Columbus with her two sons, 11-year-old Uriah and 17-year-old Mycah, when she said she had to send Uriah back to retrieve some papers that were delivered to the wrong addresses. Then, she said, a police officer stopped and asked them what they were doing.
"I showed him the thing for the Dispatch, The Bag, the midday week paper that we get, and he said, 'Oh, really?' And by that time I was kind of like, 'OK, why are you questioning me about this?'" Sharp told ABC 6, which played audio of the 911 call.

"It looked like at first they were delivering newspapers or something, but I noticed they were walking up to the houses with nothing in hand and one of them came back with something," the caller can be heard saying. "I mean, I don't want to say something was going on, but it just but it just seemed kind of suspicious."

But Sharp later wrote on Facebook that her family appeared to have been racially profiled for doing "something as simple as delivering papers."

Arlington police officer Bryan McKean said the caller, who was not identified, called 911 from a nearby school playground after she saw Sharp driving up and down the street with her sons walking back and forth from the car.
"Our officer could see that they were probably delivering newspapers, but he wasn't sure, so he pulled up next to the car, did not exit the vehicle, and asked if they were selling door to door," McKean said.
"She said 'No, I'm delivering papers,' and produced some paperwork with the delivery route on it. He said, 'Ok, have a good day,' or something like it, pulled away, and waved to the little boy as he drove off."
Soliciting, or selling items door to door, requires a permit in Arlington. Delivering papers does not. Arlington police classified the call as "possible solicitors," and McKean said it is common for police to verify whether someone has a permit to solicit.
Sharp has not contacted the police department, McKean added.
"If she feels that our agency didn't act appropriately or with anything less than respect, we encourage her to contact us," he said.
Sharp did not immediately respond to request for comment.

A new ordinance in Arlington requires papers to be delivered to porches as opposed to driveways or other parts of a property.

Uriah Sharp told ABC6, "I was happy because [the officer] waved, but I wasn't happy because someone called the cops on us."
Anger over people calling police on people of color doing everyday things has inspired backlash across the country this summer. Calls on a group of black people barbecuing in Oakland inspired the nickname-cum-meme "Barbecue Becky," and a call on a young black woman selling water in San Francisco forced "Permit Patty" to resign from her job.